IDF expects significant increase in female combat soldiers during 2017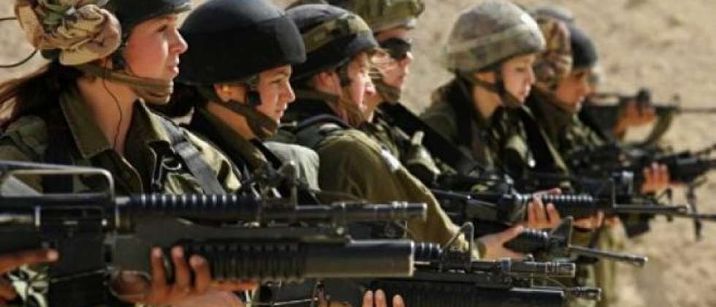 File photo of soldiers on shooting range
AFP
Number of women in combat roles expected to reach 1,130, up from 800 in 2016
The Israeli army is quickly expanding the number of female combat soldiers it deploys, according to the head of the IDF's new Border Defense Unit, Brigadier General Mordechai Kahana. Talking to reporters Thursday, he elaborated on the army's efforts to raise the number of female fighters serving in the IDF, with many of them stationed on the country's borders.
Brig. Gen. Kahana, who is also the IDF's Chief of Combat Intelligence, said that during 2017 the number of female combat soldiers would eventually surpass the current total of around 800, to reach 1130. He noted that in 2015, the number was only 350, less than half of what it is today.
The IDF Chief of Staff Lt. Gen. Gadi Eizenkot has in the past publicly expressed his support for female combat service. Enlarging the pool of potential recruits for combat units is seen as a security interest. Kahana explained that the IDF approaches the issue differently than the U.S. military, where women are expected to meet the same standards as men when it comes to being accepted for combat service.
The IDF has made a number of modifications that have enabled more women to complete combat training successfully. Kahana said the IDF allows female recruits more time to achieve the minimum level of physical fitness needed for combat. Foods with a higher level of calcium have been introduced into the diets of female trainees and changes have been made to certain equipment. For example, switching kneepads for smaller models and replacing Tavor assault rifles with lighter M-16s. Changes have also been made in terms of infrastructure (showers, restrooms, etc.) as well as the provision of relevant medical care.
Of the total 1130 female combat soldiers to be deployed this year, 50 will serve in the army's infantry units, a further 200 in the artillery corps, and the rest - and vast majority - in reconnaissance roles (Combat-Intelligence). These reconnaissance fighters are typically placed in one of the IDF's mixed battalions that include both male and female fighters. There are currently three of these battalions, codenamed Caracal, Lions of the Jordan and Bardalas (Cheetah). A fourth mixed battalion is currently being put together and is set to become operationally active in November of this year. This as yet unnamed battalion will account for the major spike in female combat soldiers expected in 2017. The mixed battalions are stationed on Israel's borders, specifically those with Egypt and Jordan.
Shai Ben-Ari is i24News' senior military correspondent