Liberman offers Gazans airport, sea port for return of Israeli hostages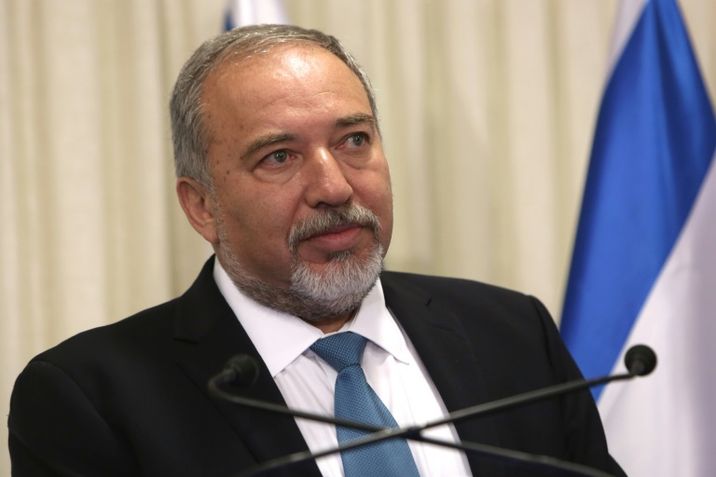 The Palestinian leadership was quick to condemn the apppointment of hardliner Avigdor Lieberman (pictured) as defence minister
Menahem Kahana (AFP)
Lieberman says Israel would turn Gaza into a prosperous territory if its people toppled Hamas
Defense Minister Avigdor Lieberman on Thursday sent a message to the people of Gaza, saying that Israel would allow the construction of an airport and a sea port in the coastal enclave if the ruling militant Hamas organization would return the remains of two Israeli soldiers as well as three Israeli civilians believed to be held captive.
The Gaza-based terror group is holding the remains of Israel Defense Forces (IDF) soldiers Oron Shaul and Hadar Goldin, who the army says were killed during the 2014 summer conflict with Gaza. Hamas claims Shaul is alive and in captivity.
The group is also holding Israeli citizens Avraham Mengistu, who independently crossed into Gaza on September 7, 2014, and Hisham al-Syed, an Arab-Israeli of Bedouin origin whose family reported him missing on April 20, 2015.
Lieberman added that Israel would turn the Gaza Strip into a prosperous territory if its people toppled the enclave's Islamist rulers, or if the militant group changed its ways.
"The moment Hamas gives up on tunnels and rockets, we will be the first ones to invest and build them a seaport, an airport, and industrial zones by Kerem Shalom and Erez crossings," he said. "And of course, and this is the first and most important step, [facilitate] the return of the bodies of our soldiers and the citizens who are held captive by Hamas,"
"We can be partners to turning Gaza into the Singapore of the Middle East, but for that to happen the residents of Gaza need to get rid of the Hamas leadership," he added, noting that "we are able to immediately create about 40,000 jobs for the residents of Gaza."
He warned Hamas of a tough response to "provocation", after a projectile fired from Gaza earlier this month saw the Jewish state retaliate with force.
His remarks came 10 days after a rocket fired from Gaza hit southern Israel without causing any casualties, triggering retaliatory tank fire and air strikes that wounded three Palestinians.
While Israel was not seeking a new war, "any provocation will be met with a powerful response," Lieberman said, quoted by the website of COGAT, the defense ministry body responsible for coordinating Israeli activities in the Palestinian territories.
Israel has maintained a blockade of the enclave for the past 10 years, limiting the entry of goods and crippling the economy in a move it says is necessary to contain Hamas, with which it has fought three wars since 2008.
Lieberman said Hamas was responsible for the dire economic situation in Gaza, and vowed to help the territory if it ceased preparations to attack Israel, or if Gazans ousted the Islamists.
(Staff with agencies)
You need to be logged in in order to post comments. Sign up or log in
February 17, 2017 8:47 PM
Israel is giving another chance for peace and prosperity, even to the enemy. Love live Israel.