French FM says US position on Mideast peace 'confusing'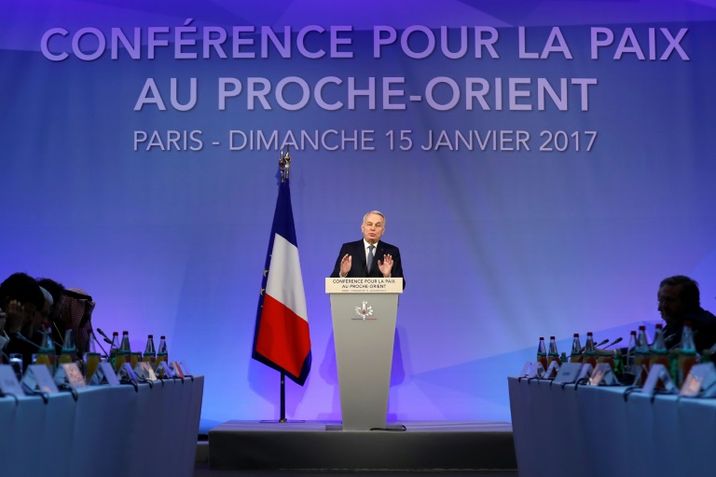 Jean-Marc Ayrault à l'ouverture de la réunion sur le conflit israélo-palestinien, le 15 janvier 2017 à Paris
Thomas SAMSON (AFP)
Ayrault reaffirms French to two-state solution as 'guarantee for the security of Israel'
Washington's position on the Israeli-Palestinian conflict remains "confusing", French Foreign Minister Jean-Marc Ayrault said after talks with his US counterpart Rex Tillerson in Germany on Thursday.
"I have got a bit more clarity (on the US position) even if on the Israeli-Palestinian issue it remains very confusing and concerning and I made a point of telling him that," Ayrault said, a day after President Donald Trump stepped back from the US commitment to a two-state solution as part of a final peace deal.
Ayrault said he had reaffirmed France's commitment to the two-state solution and its belief that this is the only viable way forward.
"A possible Palestinian state will also be a guarantee for the security of Israel," he said.
At a meeting in Washington on Wednesday with Israeli Prime Minister Benjamin Netanyahu, Trump shelved Washington's decades-long commitment to a two-state solution, breaking with the international consensus that it provides the only way forward.
His move sparked widespread criticism and dismay but was welcomed by Netanyahu as a long-overdue recognition of reality.
Trump's predecessor Barack Obama had repeatedly warned Israel that if it did not agree a two-state deal with the Palestinians, it would never reach an accommodation with the Arab world. 
Trump's nominee for ambassador to Israel, David Friedman, on Thursday disavowed possible Israeli action to annex parts of the West Bank and said that the two-state solution remains the "best possibility" for peace in the region."
The attorney who is a close friend to Trump was grilled for nearly three hours by the Senate Foreign Relations Committee about his past inflammatory rhetoric, support for Israeli settlement building and his ability to be open to viewpoints from across the political and social spectrum.
Friedman was interrupted only a few sentences into his opening statement by pro-Palestinian activists waving Palestinian flags and shouting "free Palestine!" They were later joined by American Jewish activists who yelled at Friedman "you don't represent us!"
At least six protesters were escorted out of the hearing during the first half hour of the hearing for interruptions.
Echoing Trump, Friedman told lawmakers that he would be "delighted" if Israel and the Palestinians could achieve a two-state solution and welcome any deal reached between the two to end their conflict.
He said that the two-state solution remains the "best possibility" for peace in the region, however, Friedman expressed doubt over the Palestinian's commitment to peace.
"I would be delighted to see peace come to this region where people have suffered on both sides for so long," he said, further stating "I do not support Israeli annexation of the West Bank."
"I have expressed my skepticism about the two-state solution solely on the basis of what I have perceived as unwillingness to renounce terror and accept Israel as a Jewish state."
He said that the groundwork for such an accord was reached at the 1993 Oslo talks between Israel's then prime minister Yitzhak Rabin and the late Palestinian leader Yasser Arafat.
But he argued that, since then, Palestinian violence against Israel has only increased.
"One of the primary commitments was chairman Arafat's commitment to begin to educate his people to stop hatred," he said.
"We haven't made progress since then, and terrorism has increased four-fold since before Oslo."