Hamas rejects Israeli offer of aid for disarmament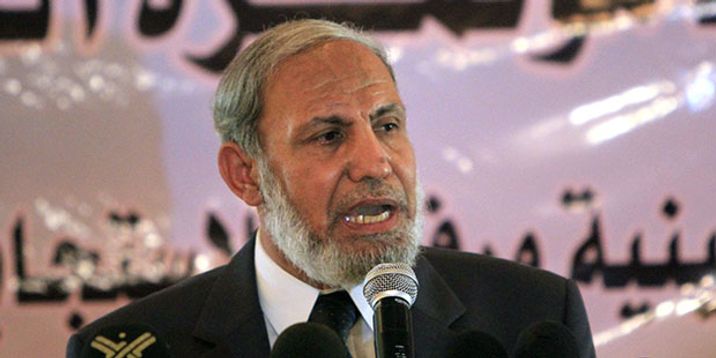 Hamas leader Mahmoud al-Zahar
AFP
Israeli defense minister said Israel would help rebuild Gaza if terror group gives up rocket arsenal
A senior Hamas leader on Friday rejected an offer of substantial assistance to the Gaza Strip by Israeli Defense Minister Avigdor Liberman in return for the terror group giving up their rocket arsenal and attack tunnels.
Responding to Liberman's statement on Thursday Hamas spokersperson Mahmoud al-Zahar said that if Gaza wanted to be like Singapore it would have done so already, Israeli media reported Friday.
Liberman said that Israel was willing to help rebuild Gaza economically as soon as Hamas swears off terror.
Zahar also rejected calls by Libermann for Hamas to return the bodies of fallen IDF soldiers as well as three Israeli civilians currently being held in Gaza in exchange for economic prosperity.
He added that Hamas will only release the captives when Israel releases "all the heroic Palestinian fighters from all factions," referring to Palestinian terrorists held in Israel jails,
Speaking at the launch of a new Arabic, Hebrew, and English language website of the Coordinator of Government Activities in the Territories (COGAT) — the Defense Ministry body that coordinates activities between Israel and the Palestinian territories — Liberman offered economic growth and prosperity for the residents of Gaza if they would only end the violence against Israel.
"The moment Hamas gives up on tunnels and rockets, we will be the first ones to invest and build [Gaza's residents] a seaport, an airport, and industrial zones by the Kerem Shalom and Erez crossings," Liberman said.
"We are able to immediately create about 40,000 jobs for the residents of Gaza."
Liberman also said that the Hamas would have to agree to give up on cross-border attack tunnels, give up on rockets, "and of course, and this is the first and most important step, [facilitate] the return of the bodies of our soldiers and the citizens who are held captive by Hamas."
Israel withdrew all its troops and civilians from the Gaza Strip in 2005 and two years later the Hamas terrorist organization took power after elections and a bloody coup.
The group seeks the destruction of the Jewish State and has fought three major rounds of conflict against it since taking power.
Thousands of rockets have been fired into Israel from the Strip, targeting small communities near the coastal enclave as well as major cities such as Tel Aviv and Jerusalem. 
It also dug dozens of attack tunnels crossing the border underground, some of which were successfully used to launch attacks against Israeli soldiers. 
You need to be logged in in order to post comments. Sign up or log in
February 17, 2017 1:24 PM