UN slams 'excessively lenient' sentence given to Israeli soldier over killing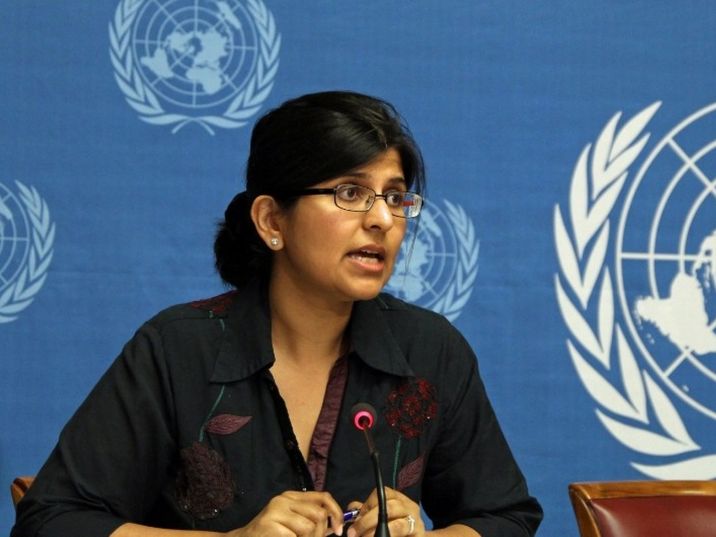 Ravina Shamdasani of the UN High Commissioner for Human Rights
AFP
UN human rights spokeswoman Shamdasani says UN is 'deeply disturbed' by 18-month sentence
The United Nations on Friday slammed an 18-month sentence given to an Israeli soldier for killing a wounded and unarmed Palestinian terrorist, calling it "excessively lenient" and "unacceptable."
"We are deeply disturbed at the lenient sentence given by the Tel Aviv Military Court earlier this week to an Israeli soldier convicted of unlawfully killing a wounded Palestinian in an apparent extrajudicial execution of an unarmed man who clearly posed no imminent threat," UN human rights spokeswoman Ravina Shamdasani told a news briefing in Geneva.
"This case risks undermining confidence in the justice system and reinforcing the culture of impunity," she said. "This is a chronic culture of impunity we are talking about."
Manslaughter carries a maximum punishment of 20 years under Israeli law, she added.
More than 200 Palestinians have been shot dead by Israeli security forces since the most recent upsurge in violence began in the West Bank in September 2015, she said, adding that Sergeant Elor Azaria is the only member of the Israeli Defense Forces to have been brought to trial.
36 Israelis, two Americans, a Jordanian, an Eritrean and a Sudanese national, have been killed in Palestinian terror attacks since October 2015. 
The vast majority of the 245 Palestinians shot dead by Israeli forces in the same time were killed while carrying out stabbing, shooting, or car-ramming attacks.
Azaria, 21, was found guilty of manslaughter for killing Abdul Fatah al-Sharif in the southern West Bank city of Hebron in March last year.
He also received 18 months in suspended sentences and was demoted from sergeant to private.
The March 2016 shooting was caught on video by a rights group and spread widely online.
It showed Sharif, 21, lying wounded on the ground, shot along with another Palestinian after stabbing and wounding a soldier.
Azaria then shoots him in the head without any apparent provocation.
The case, which came against the backdrop of a wave of Palestinian knife, gun and car-ramming attacks that erupted in October 2015, has stirred controversy.
Some on the right have defended the soldier, a French-Israeli national, but military officials said the trial was important to maintain the institution's reputation.
Right-wing Education Minister Naftali Bennett and Culture Minister Miri Regev led calls for a pardon.
"Israel's security demands he be pardoned," Bennett wrote on Twitter.
"Elor was sent to protect Israelis at the height of a wave of Palestinian terror attacks. He cannot go to jail or we will all pay the price."
Defense Minister Avigdor Lieberman called on people to respect the ruling.
But he said: "You have, on the one hand, an exemplary soldier, and on the other, a terrorist who tried to kill Jews".
The reaction from Palestinians and rights groups, however, was anger and disappointment.
A spokesman for the Palestinian government told AFP the sentence was a "green light to the occupation army to continue its crimes".
Sharif's father Yusri told journalists at the family home near Hebron in the southern West Bank the sentence was a "farce".
"What does a year and a half mean? Was he an animal to be killed like this, in this barbaric way?"
Magdalena Mughrabi from Amnesty International said Azaria's initial conviction had "offered a glimmer of hope for accountability for unlawful killings by Israeli forces".
"(But) the 18-month sentence for Elor Azaria does not reflect the gravity of the offence."
Sari Bashi, Israel and Palestine advocacy director at Human Rights Watch, called the conviction an "important message about reining in excessive use of force".
She warned, however, that pardoning him would "encourage impunity".
(staff with agencies)