Congressional delegation to explore embassy locations in Jerusalem: report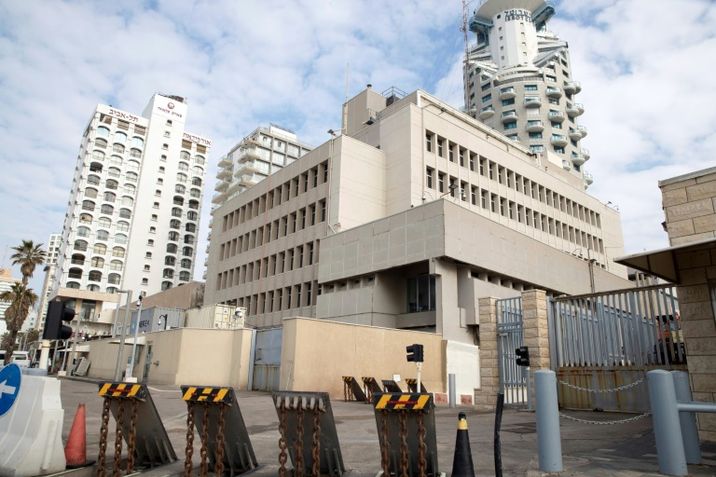 The US embassy in the Israeli coastal city of Tel Aviv
Jack Guez (AFP)
Delegation to examine issue 'from a practical standpoint as well as politically'
A congressional delegation will arrive in Israel Saturday to examine possibilities of relocating the U.S. embassy from Tel Aviv to Jerusalem, a statement from Likud MK Yehuda Glick said.
The statement said that two members from the House of Representatives, Ron DeSantis (R-FL), who serves as chairman of the Subcommittee on National Security, and Dennis Ross (R-FL), who was appointed Middle East envoy under former President Bill Clinton, will join the delegation.
The Communications Director for Congressman Ross, however, told i24NEWS that the congressman "is actually not attending this trip."
According to the statement, the aim of the visit, which begins Saturday evening and ends Sunday, is to "closely examine the issue of transferring the US embassy from Tel Aviv to Jerusalem - both from a practical standpoint as well as politically."
MK Yehuda Glick will brief the delegation about the "unique history and political reality of Jerusalem, past and present."
The statement added that the members of the delegation will meet with Prime Minister Benjamin Netanyahu and explore potential sites to house the embassy, so that the delegation may return to the U.S. "with an accurate analysis of the matter, in order to update the US administration and Congress."
A press conference is scheduled for 16:00 GMT in Jerusalem on Sunday.
US President Donald Trump vowed to relocate the embassy during his campaign, but his administration has been largely mum on the issue since his inauguration.
The last official statement from the White House on the matter came at the end of January, when Press Secretary Sean Spicer told reporters that the administration was "at the very beginning stages of even discussing" the subject.
The intention to move the embassy has been welcomed by Israel, but slammed by the Palestinians and many other countries and international organizations as a move that could sink the peace process.
The status of Jerusalem is a flashpoint issue in the Israeli-Palestinian conflict. The Palestinians claim East Jerusalem as the capital of their future state, while Israel has declared the entire city as its capital. Most countries have their embassies located in Tel Aviv.
i24NEWS has contacted the office of Congressman DeSantis for confirmation.
This is a developing story