Following U.S. request, Israel to make goodwill gestures to Palestinians: report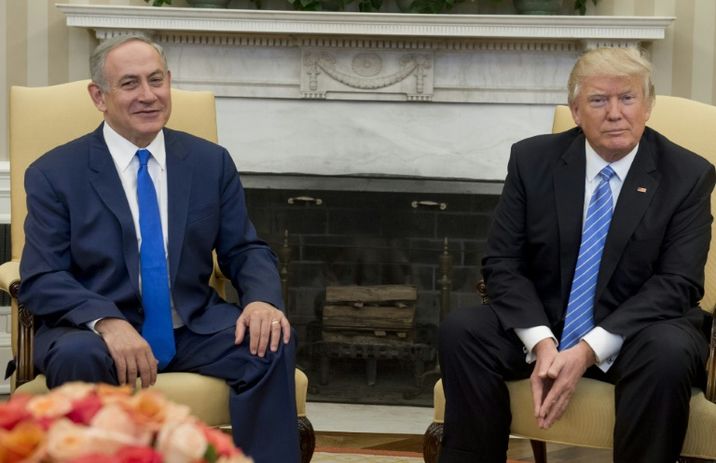 US President Donald Trump and Israeli Prime Minister Benjamin Netanyahu hold White House talks on February 15, 2017
SAUL LOEB (AFP/File)
Gestures intended to show Israel is committed to the peace process
US President Donald has asked Israeli Prime Minister Benjamin Netanyahu to extend some goodwill gestures to the Palestinians to show that Jerusalem is serious about the peace process, the Haaretz daily reported Sunday.
According to the report, Netanyahu stated in the weekly security cabinet meeting on Thursday that he intends to comply with the request and has already begun planning the tokens of goodwill which would include both the West Bank and Gaza.
The report cites three Israeli ministers and two senior government officials with intimate knowledge of the ensuing discussion within the meeting, as some were present, and others were briefed afterwards. All asked to remain anonymous.
The sources told Haaretz that while Netanyahu didn't go into detail about his plans, however, one measure which was floated in the report included allowing Palestinian construction in Area C in the West Bank. Comprising over 60 percent of West Bank land area, Area C is under the full administration of Israel.
The measures "should have an immediate effect on the Palestinians' economic situation," Haaretz said, adding that Netanyahu was scheduled to meet Sunday with the Israel Defense Forces' Coordinator of Government Activities in the Territories, Maj. Gen. Yoav Mordechai and other officials to begin preparations.
Meanwhile, Natali Bennett, chair of the right-wing Jewish Home party expressed skepticism that the gestures would "expand into moves with major foreign policy implications," and stated that he expects the Prime Minister to present the gestures to the cabinet for approval before implementing them, said Haaretz.
The security cabinet meeting is the same one in which ministers unanimously approved the construction of a new settlement for Jewish residents evicted from the evacuated illegal outpost of Amona.
Netanyahu also told members of his security cabinet that Israel would also make a unilateral commitment to curb West Bank settlement construction as a gesture of goodwill to Trump and his administration.
Following up on the commitment to slow settlement construction, Netanyahu told the security cabinet that the IDF Civil Administration's Higher Planning Committee which authorizes all settlement construction, would be restricted to meeting once every three months, instead of its current weekly meetings.
The reasoning behind this reduction was two-fold, said Haaretz. Firstly, it would reduce the number of media reports following authorizations and the international condemnations that follow, and the second effect of the move would be to slow the pace of settlement construction and number of plans approved.
According to Haaretz, a senior member on the Yesha Council of settlements in the West Bank expressed reservations over the move, arguing that the cancellation of a single meeting could put plans for something as small as repairs on hold for six-months.
Earlier Sunday Israel's Army Radio reported that ongoing discussions between Israeli Prime Minister Benjamin Netanyahu and US president Donald Trump's special envoy for international negotiations, Jason Greenblatt, have been put on hold after working groups from both sides failed to reach understandings.