Assad: Terrorists in Syria 'are fighting for Israel'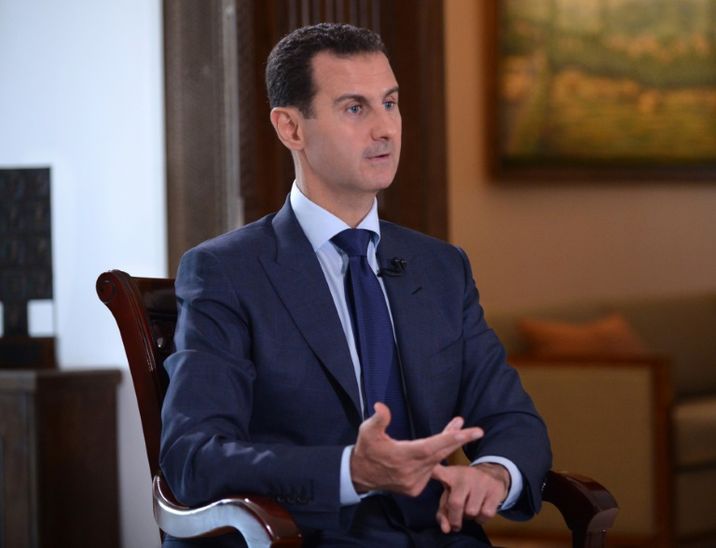 Syrian President Bashar al-Assad denies that his forces targeted the slain Sunday Times journalist Marie Colvin
SANA/AFP
'Israel is doing its best to support these terrorists in every place the Syrian Army advances,' Assad claims
Terrorists fighting in Syria are fighting for Israel, Syrian President Bashar al-Assad claimed in an interview published Thursday.
In the interview with Croatian newspaper Vecernji List, which was also published on the Syrian state-run SANA news site, the Syrian President was asked about "continuing Israeli aggression" in Syrian territory and whether he was "concerned about the possibility of a Syrian-Israeli war."
Assad stated that "the reality is that we are living this war," but stopped short of calling it a Syrian-Israeli war.
"You can assume in any case that these terrorists are fighting for Israel," he told Vecernji List. "Even if they are not a regular Israeli army, they are still fighting for Israel."
He went on to claim that Israel, "Turkey, the United States, France, Britain, Saudi Arabia, Qatar, and other states," have the same agenda when it comes to his country and said that "our victory over the terrorists is a victory over all those states put together."
"That's why Israel is doing its best to support these terrorists in every place the Syrian Army advances," he said. "They attack in one way or another in order to provide support to the terrorists and in order to stall the momentum of the Syrian Arab Army in facing them."
Tensions between Syria and Israel escalated last month, with Israel allegedly carrying out multiple strikes, targeting Syrian military outposts and a Hezbollah convoy believed to be carrying weapons.
Israel confirmed its involvement in only one of the strikes, after the Syrian regime fired anti-aircraft missiles at Israeli jets, triggering warning sirens in Israel's Jordan valley region.
In a rare statement on the matter, Israeli Prime Minister Benjamin Netanyahu defended Israel's right to protect itself from the transfer of advanced weapons to the Lebanese terror group Hezbollah.
"Our policy is very consistent," Netanyahu said. "When we detect attempts to transfer advanced weapons to Hezbollah, and we have the intelligence and feasibility to carry out an operation, we will work to prevent it."
When it comes to the Syrian civil war itself, Israel has adopted official position of non-interference, however, The Jewish state has transferred Syrian casualties to Israeli medical centers for treatment, and established a directorate for offering humanitarian aid.
Since the start of the Syrian conflict, projectiles have exploded periodically inside Israeli territory, causing damage but no injuries.
While most were presumed to be stray shots, Israel has accused Syria of aiming at Israeli targets on several occasions, briefly returning fire.
The IDF has said that it holds the Syrian regime, led by President Bashar al-Assad, responsible for any aggression coming from its territory.
Read more: Lieberman says '100 percent certain' Syria gas attack ordered by Assad
You need to be logged in in order to post comments. Sign up or log in
It is in Israel's best interest to be the only strong stable regime in the region. Israel would like to settle the Golan Heights and tap into the newly discovered oil fields in the region. If you don't believe that US foreign policy is controlled by Israeli interests, read it in their own words at Haaretz and the Jewish Daily Forward.