Palestinian kills British exchange student in Jerusalem light rail stabbing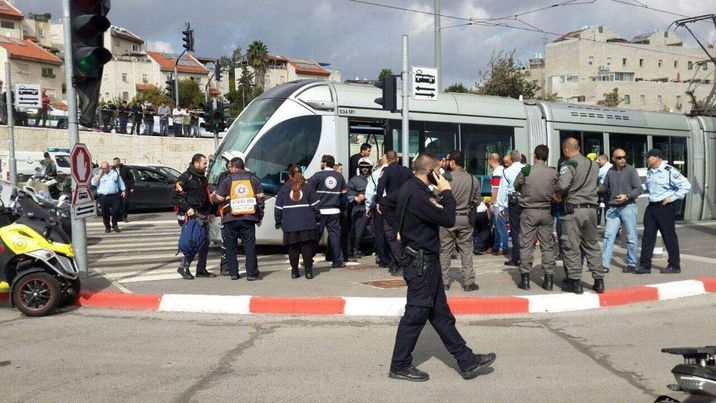 Une Israélienne poignardée à Jérusalem, vendredi 14 avril 2017
Victim named as 21-year-old Hannah Bladon; suspect apprehended and interrogated
A 21-year-old British exchange student was killed on Friday in a stabbing attack on Jerusalem's Light Rail outside the Old City.
Hannah Bladon, a University of Birgmingham student who was studying in Israel as part of an exchange program, was critically wounded and taken to Jerusalem's Hadassah Hospital on Mount Scopus, where doctors tried unsuccessfully to save her life.
The attack occurred around 10:00 GMT near Tsahal Square just outside the Old City where Christian commemorations were under way for Good Friday as Jews marked the week-long Passover holiday.
A spokesperson for Israeli Police said the Palestinian attacker, identified as 57-year-old Gamil Tamimi from the East Jerusalem neighborhood of Ras al-Amud, was apprehended and taken in for interrogation.
"According to an initial investigation, it seems he suffers from mental problems," a police spokesperson said.
The Shin Bet security service confirmed police suspicions, saying Tamimi attempted to commit suicide earlier this year by swallowing razor blades.
A 30-year-old pregnant woman and a 50-year-old man who were lightly injured in the ensuing chaos also received medical treatment, medics from the Magen David Adom emergency service said.
Police had been on high alert for Passover when tens of thousands of Jews pray at the Western Wall inside the Old City and some visit the flashpoint Temple Mount compound above it.
The compound, which is the third holiest site in Islam and the holiest site to Jews is the source of constant tensions.
Jews are allowed to visit but are strictly forbidden from praying at the site.
Palestinian fear that Israel will seek to change those rules and the constant promotion of conspiracy theories supporting these fears have been the source of repeated violence.
A wave of terror attacks which erupted in October 2015 has claimed the lives of 41 Israelis, two Americans, one Jordanian, an Eritrean and a Sudanese, according to an AFP count.
260 Palestinian were also killed, most of whom while carrying out knife, gun, or car-ramming attacks.
Others were shot dead during violent protests or clashes with Israeli security forces.