Protesters rally for Palestinian hunger-striking prisoners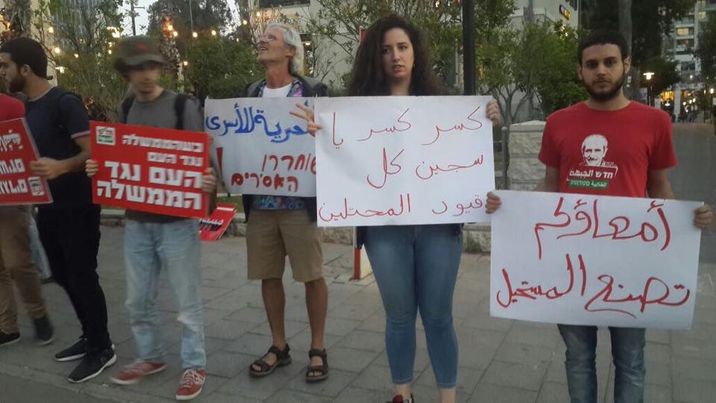 Protesters demanding rights for hunger striking Palestinian prisoners, May 3, 2017
i24NEWS
As Abbas was about to meet Trump in DC for the first time, they chanted 'freedom, freedom'
Thousands of Palestinians rallied Wednesday in the West Bank city of Ramallah in a show of support for Palestinians on hunger strike in Israeli prisons.
Gathering as Palestinian president Mahmud Abbas was about to meet US President Donald Trump in the White House for the first time, they chanted "Freedom, freedom".
Israelis also stood in solidarity with the prisoners at a rally in Tel Aviv with signs reading "the nation against the government."
About 1,500 Palestinians are fasting in a protest launched on April 17 by jailed leader Marwan Barghouti.
Those taking part are ingesting only water and salt.
It is unclear how many have been on strike for the full period as some of the original participants have since pulled out while others appeared to have joined.
Supporters of the prisoners say 50 more will join the hunger strike from Thursday, among them prominent Palestinian faction leaders such as Ahmed Saadat, of the Popular Front for the Liberation of Palestine (PFLP).
The prisoners are demanding improved conditions including family visits, better medical care and phone access.
Relatives have received no news about their loved ones and live in a state of "permanent anxiety," says Mahmud al-Ziadeh, whose son Majd has been in prison for 15 years.
Hind Afena has not seen her sons Ahmed and Salah since they were jailed six months ago and one year ago respectively.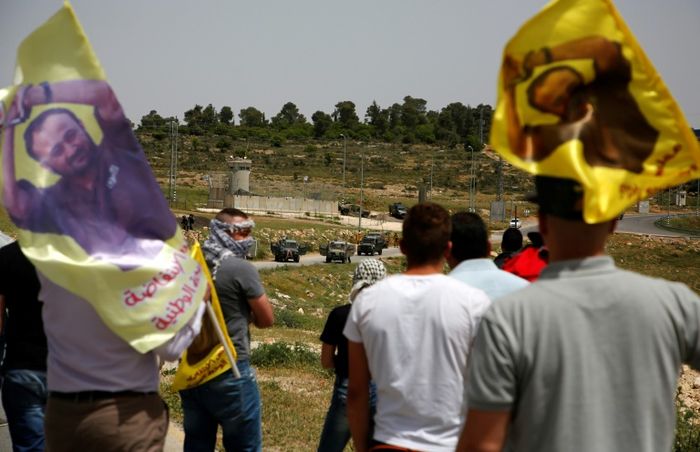 Prison authorities deny her visits "for security reasons," she says.
Barghouti, a senior member of Abbas's Fatah party and a highly popular figure among Palestinians, is serving five life sentences over his role in the second Palestinian intifada, or uprising.
"I am addressing you from solitary confinement, among thousands of prisoners and on their behalf, and among hundreds of prisoners who have decided to launch this hunger strike for freedom and dignity that will continue till their legitimate demands are met," he wrote in a statement released Wednesday by the Palestine Liberation Organisation (PLO).
"Israel cannot silence us, nor isolate us, nor break us," it said.
"This hunger strike aims to confront the ongoing and escalating unjust Israeli occupation policies against prisoners and their loved ones. We stress our determination to undertake this struggle whatever the cost."
A Fatah rally in support of the prisoners in the Gaza Strip was called off, rights group Al-Mizan said, because "many Fatah members" were summoned to the offices of security forces of bitter foe Hamas, which seized control of the strip from Fatah in 2007.