US begins airlift of equipment to be used during Trump's visit to Israel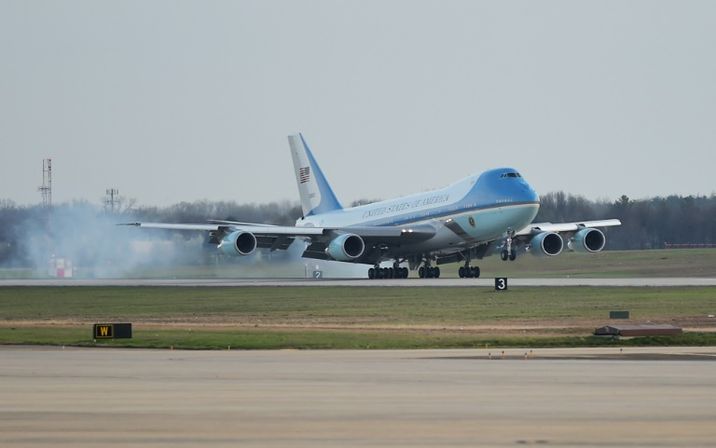 Air Force One, a Boeing 747, lands at Andrews Air Force Base in Maryland
Mandel Ngan (AFP/File)
The cost of securing US President Donald Trump during his visit to Israel is estimated to be $100 million.
An airlift of tons of equipment to be used during US President Donald Trump's upcoming visit to Israel has already begun, according to a report in Israel's Channel 2.  
Approximately thirty C-17 American planes are expected to be needed in order to transport some 56 vehicles including 14 limousines as well as Trump's presidential limousine known as "The Beast."
Trump's armored limousine, which is specially equipped to be heavily shielded from gunfire, grenades and explosive devices and to be resistant to biological and chemical attack, will reportedly land in Israel in the coming days ahead of Trump's arrival.
Moreover, three trucks will be carried over as well, containing armored glass to be installed in the windows of Jerusalem's King David hotel where Trump will be staying.
Trump will also be traveling with a large delegation from the US, numbering close to one thousand individuals. The delegation will not only include many of Trump's White House officials, logistics personnel and security personnel but also a number of journalists.
Trump's delegation is large enough for the Dan Hotels chain in Israel to have reserved three hotels in Jerusalem exclusively for all the personnel who are accompanying Trump. In addition to having closed the King David Hotel to the public, the Dan Hotels has also reserved the nearby Dan Boutique and Dan Panorama as well.
Approximately twenty Secret Service personnel are also expected to accompany Trump as during his visit to Israel. The US Secret Service has already begun coordinating with the Israel Security Agency to make the necessary security precautions before Trump's arrival.
In all, Trump's visit to Israel is estimated to cost the US taxpayer approximately $100 million.