David Friedman, new US ambassador to Israel, arrives in Jerusalem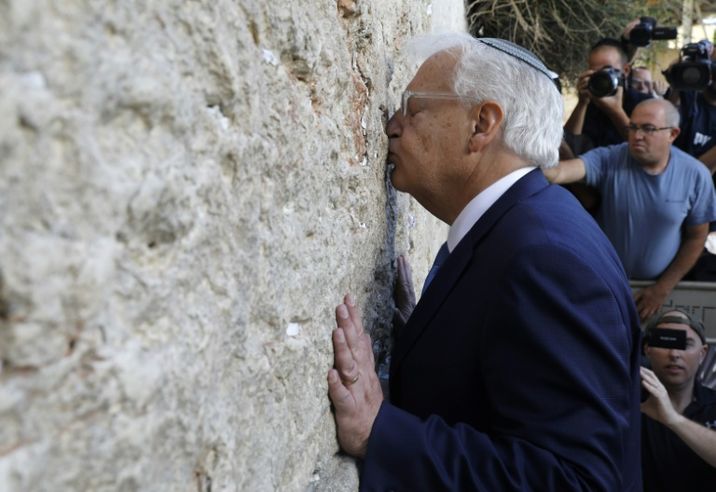 David Friedman, the new American ambassador to Israel, kisses the Western Wall in Jerusalem on May 15, 2017
Menahem KAHANA (AFP)
Trump's controversial pro-settlement pick for US envoy sparked protests and outrage among activists
The controversial newly appointed US ambassador to Israel, David Friedman, arrived in the country on Monday to take up his post just one week ahead of US President Donald Trump's first official visit to Israel.
Friedman, along with his wife Tammy and daughter Talya, were greeted at Tel Aviv's Ben Gurion International Airport by Israeli Foreign Ministry representative Meron Reuben.
Later Monday, Friedman is expected to meet with Prime Minister Benjamin Netanyahu. He is slated to present his credentials to President Reuven Rivlin on Tuesday.
After his arrival in Tel Aviv, Friedman visited the Western Wall in Jerusalem, praying there and kissing the sacred site, the holiest location where Jews are allowed to pray.
Friedman, a frequent visitor to Jerusalem, did not comment to reporters but did speak near the wall with Steven Tyler of American rock band Aerosmith, in town for a concert.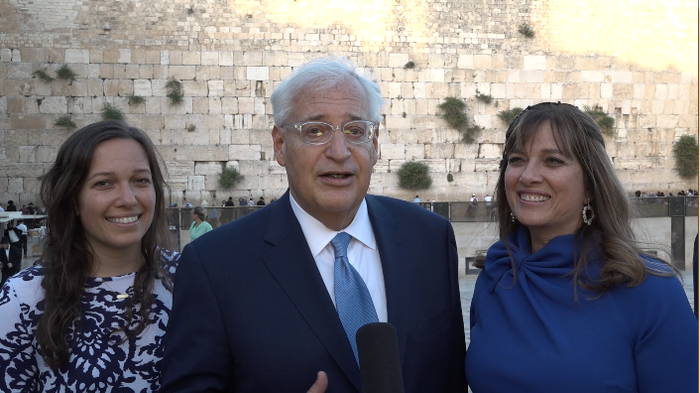 "I prayed for the health of my family," he said, "I prayed for the President and I wished him success especially in his upcoming trip."
"God bless the United States and God bless [Israel] and of course the great and unbreakable ties between them" he added.
Friedman's nomination sparked controversy, with protests from activists repeatedly interrupting his confirmation hearings earlier this year.
The Jewish-American bankruptcy lawyer has expressed skepticism over the two-state solution to the Israeli-Palestinian conflict, the basis of years of US peace efforts.
He has also advocated breaking with decades of precedent by moving the American embassy from Tel Aviv to the disputed city of Jerusalem, a prospect deeply alarming to Palestinians.
He has also clashed with American Jewish progressive groups, notably dubbing liberals "worse than kapos", a reference to Jewish collaborators who worked as guards in Nazi concentration camps.
Friedman's support for settlements has drawn particular attention. He serves as president of American Friends of Bet El Institutions, an organization that supports a large West Bank settlement just outside Ramallah.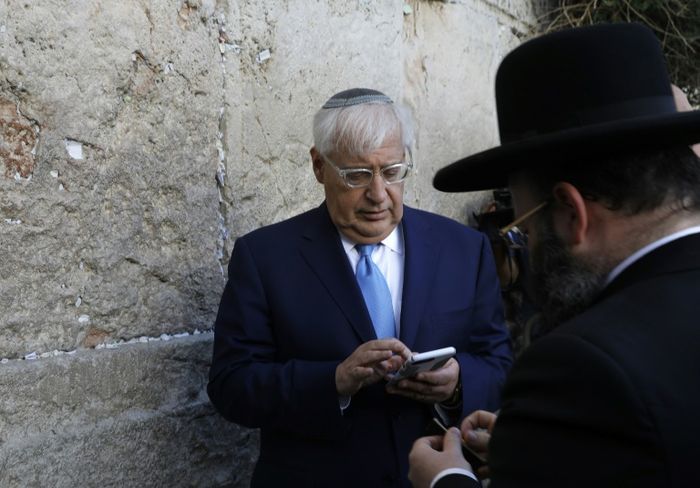 However, in his confirmation hearing Friedman changed course, claiming he would be "delighted" if Israel and the Palestinians could achieve a two-state solution and that it remains the "best possibility" for peace in the region.
"I would be delighted to see peace come to this region where people have suffered on both sides for so long," he said, further stating "I do not support Israeli annexation of the West Bank."
He went on to say that his skepticism for the solution was based solely on an "unwillingness to renounce terror and accept Israel as a Jewish state," and expressed doubt over the Palestinian's commitment to peace.
He also told the committee that he thought expanding settlements past their current borders would be "unhelpful."
Prime Minister Benjamin Netanyahu praised Friedman's appointment and Senate confirmation, saying at the time that he "will be warmly welcomed as President Trump's representative and a close friend of Israel."
(Staff with agencies)