Israeli President Rivlin meets with Jordanian sheikhs on Israel visit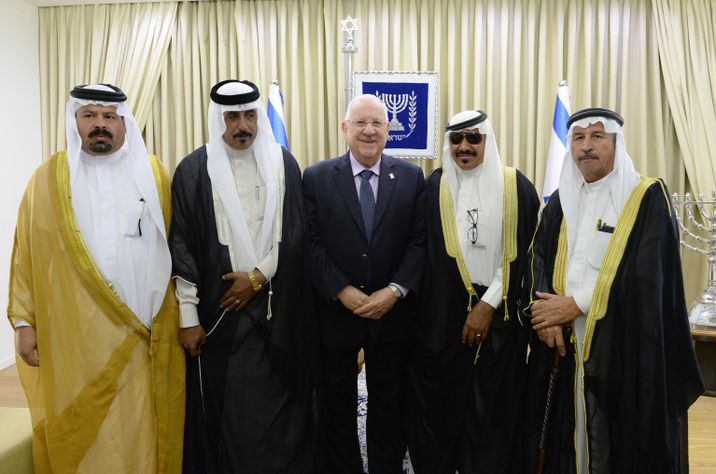 Israeli President Rivlin and Jordanian sheikhs
Mark Neiman (GPO)
Israel and Jordan have had full diplomatic relations for over 20 years
Israeli President Reuven Rivlin on Wednesday met with a delegation of Jordanian sheikhs representing different tribes across Jordanian society.
The delegation from Israel's neighbor to the east was in Israel for a five-day visit to meet people from different parts of Israeli society and strengthen ties.
President Rivlin, who grew up in Jerusalem and whose father translated the Quran and other works from Arabic to Hebrew, told the sheikhs: "Our history in Israel, and of my family, is of 210 years of continuous connection with the Arab communities in the Land of Israel, and of course with the Bedouin sheikhs, from whom my father learned much."
"Israel and the Hashemite Kingdom are working together in the understanding that we are destined to live together in this land," he added, using the official term for Jordan, which signed a peace agreement with Israel in 1994.
"We believe wholeheartedly that everyone of us needs the ability to serve God according to their faith," the President stressed. "When you go around Jerusalem you see how Muslims go to the mosques, Christians to church, and Jews to synagogue. In every group there are extreme elements, but we must seek out that which we share in common, and not that which divides us."
"We have come from the land of a hero of peace, King Hussein, a land of agreement, cooperation, and giving, a land of peace and tolerance," responded the sheikhs, thanking Rivlin for the warm welcome.
"We came here in order to implement the peace process, in the name of the leaders of the Hashemite Kingdom, and we bring words of peace to all with whom we speak."
Israel and Jordan have had full diplomatic relations for over 20 years, but security relations remain relatively unpublicized because of the Israeli-Palestinian conflict – especially with an estimated half of Jordanians having Palestinian roots.
The visit comes just days after a spat between the usually friendly neighbors, when a Jordanian citizen stabbed a police officer in Jerusalem's Old City and was subsequently killed by security forces. 
In a statement that made no mention of the stabbing attack on Saturday, Amman called the shooting death of the attacker, identified as 57-year-old Jordanian citizen Muhammad Abdullah Salim Al-Kassji, "a heinous crime" and demanded full details on the circumstances leading to his death.
Israel accused Jordan of playing  a "double game," stating they should condemn terrorism whenever and wherever it occurs, after Amman lashed out over the "heinous" killing.
"It is outrageous to hear the backing given by the Jordanian government spokesman to the terrorist attack today in the Old City of Jerusalem. A security video clearly shows a Jordanian tourist stabbing an Israeli police man," a statement from the Prime Minister's office said.
"It's time for Jordan to stop this double game. Just as Israel condemns terror attacks in Jordan, so must Jordan condemn terror attacks in Israel. Terrorism is terrorism," the statement added.
 Police called the attack an act of terror.
Jordanian Foreign Minister Ayman Safadi stated in a press conference on Sunday that Jordan is a stabilizing force in the Middle East and continues to combat terror in response to the accusations made by the Israeli Prime Minster's Office, Arabic media reported.