Palestinian militant groups in Gaza call for 'day of rage' Friday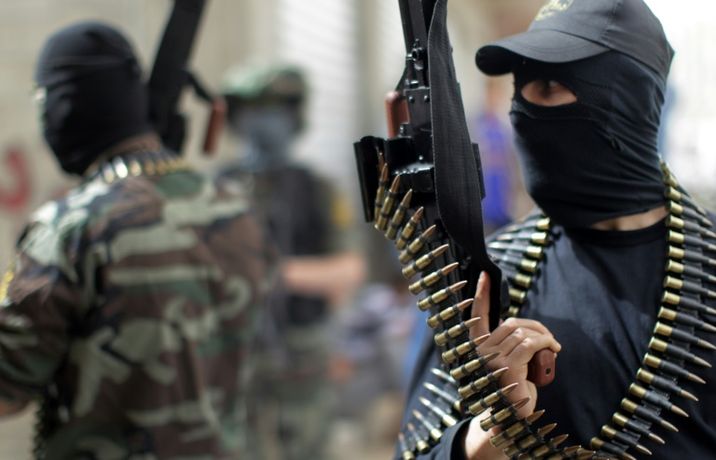 Islamic Jihad fighters chant anti-Israel slogans during a 2013 rally in the Gaza Strip refugee camp of Jabalia
MAHMUD HAMS (AFP/File)
A Palestinian was killed by a Jewish settler who drove through a demonstration and was pummeled by rocks
In solidarity with the Palestinian prisoners on a mass hunger strike, several militant factions in the Gaza Strip on Thursday have called for a "a Day of Rage" to take place Friday.
They threatened escalation if Israel does not accept the demands of the hunger striker which saw some 1,000 prisoners take part.
Several demonstrations have ignited across the West Bank in solidarity with the prisoners since the so-called "Freedom and Dignity" strike, orchestrated by imprisoned Fatah member Marwan Barghouti, was launched on April 17.
On Wednesday Barghouti reportedly began refusing water in an effort to increase pressure on Israel to meet prisoners' demands.
On Monday, Israel published a list of 19 demands made by Barghouti in a letter sent to Prisons Service head Commissioner Ofrah Klinger, including access to 20 TV channels, air conditioning, longer visits with his family, and unlimited supply of newspapers and the ability to return to his academic studies for Palestinian prisoners.
The letter is not dated and it is unclear when it was written.
Last week, one Palestinian was killed by IDF gunfire as clashes escalated, according to Palestinian media.
A second was shot by a settler on Thursday after his car was pummeled by rocks and projectiles driving through a large demonstration near Harawa, claiming he was "about to be lynched" by the Palestinian protesters.
More to follow.
You need to be logged in in order to post comments. Sign up or log in
In perpetual rage. That is why they that hunger for killing.