Netanyahu takes to Twitter to lambaste Abbas for 'poisoning minds of young Palestinians'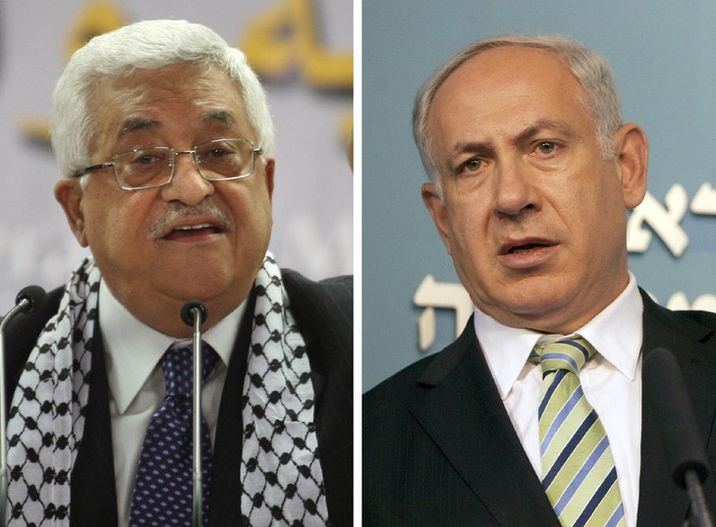 Photo-montage de portraits du Premier ministre israélien Benjamin Netanyahu (d) et du président de l'Autorité palestinienne Mahmoud Abbas
AFP
Israeli premier took Palestinian leader to task over naming Jenin square after terror mastermind
Israeli Prime Minister Benjamin Netanyahu late on Monday took to Twitter to lambaste Mahmoud Abbas over the Palestinian leader's alleged support for terror.
"Palestinian President Abbas tells the world that he educates Palestinian children for peace. That's a lie," the Israeli premier charged.
"Naming yet another public square for a mass murderer teaches Palestinian youngsters to murder Israelis," Netanyahu continued, "that's the very opposite of peace."
Netanyahu referred to the newly unveiled "Martyr Khaled Nazzal Square" in the West Bank city of Jenin, named after the architect of the Ma'alon Massacre, a 1974 terrorist attack that saw 22 Israeli schoolchildren and their three teachers killed following a two-day hostage standoff.
"President Abbas: stop poisoning the minds of Palestinian youth," Netanyahu admonished. "Educate for peace, not terror."
The outburst took place as Jared Kushner, the Middle East Adviser and son-in-law to US President Donald Trump, is set to visit both Israel and the Palestinian Authority in a continuation of the US' push for restarting peace negotiations.
Kushner will join Trump's special envoy to the Middle East Jason Greenblatt, as the current administration looks to draft an American statement of principles for negotiating the peace talks between the longstanding adversaries.
US President Donald Trump has repeatedly voiced his eagerness to reach a peace agreement, calling it "the ultimate deal."
Kushner and Greenblatt joined Trump in a landmark visit to the region in May where he met with both the Israeli Prime Minister Benjamin Netanyahu in Jerusalem and his Palestinian counterpart President Mahmoud Abbas in Ramallah. Following the meetings, Trump said he believed both leaders were "ready to reach for peace."