Assailant shot dead after stabbing attempt at IDF checkpoint north of Jerusalem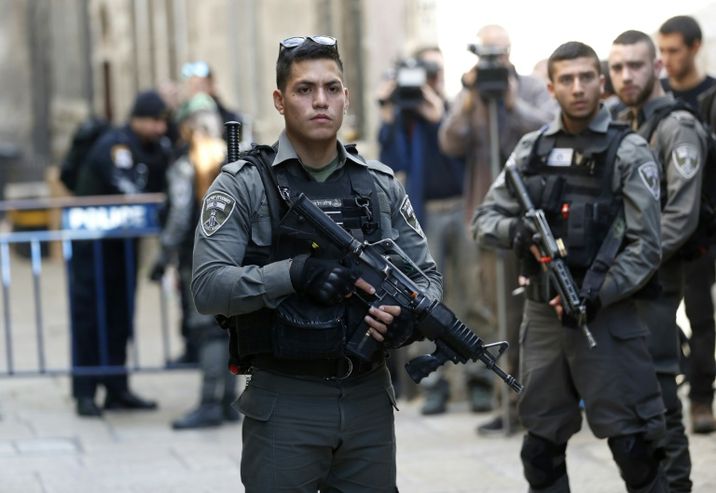 Israeli security forces stand guard following a stabbing attack in Jerusalem's Old City on April 1, 2017
Thomas COEX (AFP)
Israeli soldiers manning a checkpoint north of Jerusalem in the West Bank on Tuesday shot dead a Palestinian assailant who had attempted to target them in a stabbing attack.
The army said in a statement that "an assailant armed with a knife attempted to stab IDF forces operating on a road between Adam Square and Kalandia."
"In response to the immediate threat, forces fired towards the attacker and a hit was confirmed," it said, confirming the assailant's death.
There were no reports of injuries to Israeli security personnel.
The incident took place between the Geva Binyamin settlement (also known as the Adam settlement) and the Qalandiya checkpoint in the West Bank, some 12 kilometers northwest of Jerusalem.
The Palestinian Health Ministry in Ramallah later identified the assailant as 23-year-old Bahaa Harbawi, from the Al Ezaria neighborhood of east Jerusalem.
The attack comes just days after an Israeli policewoman was fatally stabbed outside Jerusalem's Old City on Friday, in a coordinated shooting and stabbing attack carried out by three Palestinian assailants who were shot dead at the scene.
Unrest that broke out in October 2015 has claimed the lives of 272 Palestinians, 42 Israelis, two Americans, two Jordanians, an Eritrean, a Sudanese and a Briton, according to an AFP tally.
Israeli authorities say most of the Palestinians killed were carrying out knife, gun or car-ramming attacks.