US State Department bars employees from visiting Temple Mount in wake of attack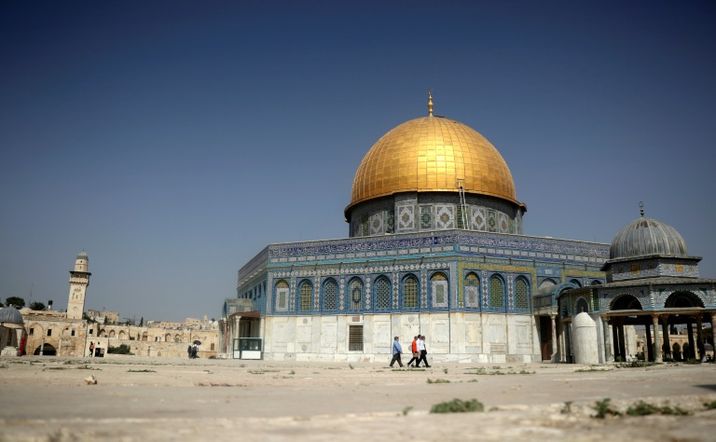 L'esplanade des Mosquées à Jérusalem le 17 juillet 2017
THOMAS COEX (AFP)
Israel heightened security measures in the Old City after attack leaves two police officers dead
The US State Department extended a warning on Monday, baring its employees and their families in Jerusalem from visiting the temple Mount, in the wake of an attack that left two police officers dead on Friday.
The restriction has now been extended until July 24.
"Based on continued tensions and the potential for clashes in the Old City, the restriction of US government employees and their family members from entering the Old City is extended from now through Monday morning, July 17 at 9:00 am, without prior approval from the US Consulate General," it said in a statement on Friday.
"We recommend that private US citizens take into consideration these restrictions and the additional guidance contained in the Department of State's travel warning for Israel, Jerusalem and the West Bank when making decisions regarding their travel in the Old City and in Jerusalem," it added.
Riots erupted in Jerusalem on Monday with reported injuries as protesters clashed with police.
Palestinian Prime Minister Rami Hamdallah criticized Monday the latest Israeli security measures on the Temple Mount in Jerusalem, as his political party called for mass civil disobedience later in the week.
"The city of Jerusalem is witnessing unprecedented Israeli violations and the blatant targeting of the Aqsa Mosque and its closure and the imposition of restrictions on worshipers," Hamdallah said earlier on Monday as reported by the Gaza-based Watania News Agency.
The Israeli measures, which include newly-installed metal detectors outside the Temple Mount's nine gates, may lead to a deterioration in the security situation and an escalation in tensions between the Palestinians and the Israeli army, Hamdallah added.
The metal detectors were installed in response to a terror attack on Friday, where three Israeli-Arab assailants attacked two Israeli policemen on the Temple Mount, killing both of them. The site is holy to both Muslims and Jews.