Hungarian PM says country committed a 'sin' by not protecting Jews during WWII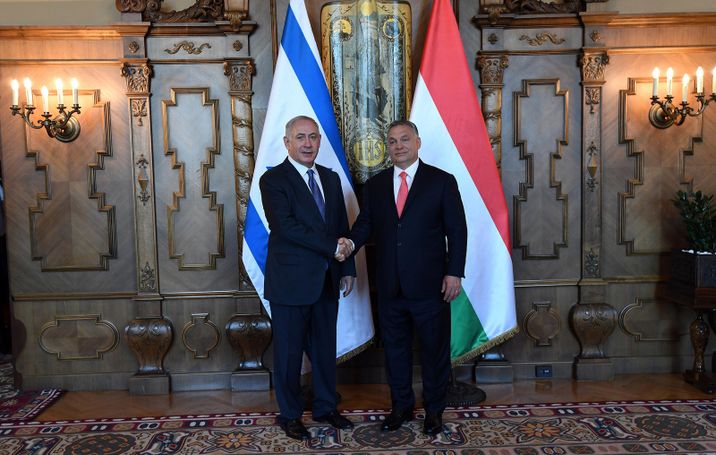 Prime Minister Benjamin Netanyahu and Hungarian Prime Minister Viktor Orban on July 18, 2017
PMO
Netanyahu is the first Israeli prime minister to visit Budapest since the fall of communism in 1989
Israeli leader Benjamin Netanyahu on Tuesday praised Budapest for "standing up for" the Jewish state, at talks with Hungarian premier Viktor Orban who is under fire at home for allegedly stoking anti-Semitism.
In a claim of responsibility, Orban says Hungary committed a "sin" by not protecting Jews during WWII.
"I want to thank you for standing up for Israel in international forums, you have done this again and again," Netanyahu told Orban at the press conference in Budapest.
He added that Hungary, as the birthplace of modern political Zionism founder Theodor Herzl, was "at the forefront" of countries fighting anti-Zionism.
The landmark trip brings together two right-wingers enamored of US President Donald Trump and with a disdain for the left-leaning liberal global order bankrolled, as they see it, by the likes of US billionaire George Soros.
"The (Israeli) prime minister is a great patriot and success belongs to those who are patriots, who don't push national identity and interests aside," Orban said Tuesday.
"Israel's history teaches that we will lose the things we don't fight for."
The hardline policies of the pair -- described as "spiritual brothers" by Hungarian media -- have sparked tensions with Brussels.
The two leaders will sign a bilateral cultural agreement and a deceleration of intent to cooperate on technology and innovation.
The cultural agreement will allow join-funding for cultural events as dozens of Israeli performances happen in Hungary every year. The agreement will allow more Israeli musicians, artists and performers to travel to Hungary.
The Israeli Innovation authority will work with its Hungarian counterpart to promote cooperation in the private sector between the two countries with an emphasis on high-tech, self-driving cars and other new technological developments.
Netanyahu arrived in Hungary for a state visit late Monday, as its capital city remained blanketed in swastika-graffitied posters of Hungarian-born Jewish philanthropist George Soros.
Preparations for the trip has been affected by the posters, which many in the Hungarian Jewish community see as fostering anti-Semitic animus and vandalism.
Orban, has made political cause with the far-right and often expresses admiration for the country's wartime fascist leader, Miklos Horthy.
Last week, Hungarian officials announced that the posters would be taken down by the weekend. The billboards heralded a campaign against Soros for his pro-refugee and pro-immigrant stance.
The posters were being removed in order not to embarrass Netanyahu, Hungarian media reported.
Yet according to the Times of Israel, at least half-dozen prominently displayed billboards stayed up in the capital city. Hungarian officials said the advertisements would stay up until the advertising space was purchased by another entity.
(Staff with AFP)