LIVE BLOG: Israel military court upholds ruling on Hebron shooting soldier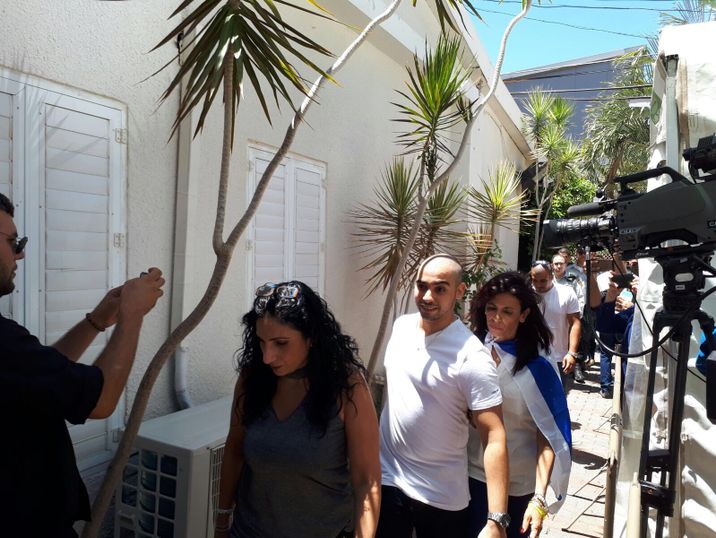 Elor Azaria, 30 July 2017
Shai Ben Ari/i24NEWS
Prime Minister Benjamin Netanyahu, Israeli lawmakers renew calls to pardon Elor Azaria
An Israeli military appellate court rejected all appeals made in the case of Israel Defense Forces (IDF) soldier Elor Azaria, who was convicted of manslaughter for the fatal shooting of a disarmed and wounded Palestinian terrorist in Hebron, and upheld the soldier's 18-month prison sentence.
Azaria was convicted of manslaughter in February 2017 after he was caught on film in March 2016 shooting Palestinian terrorist Abdel Fattah al-Sharif as he lay prone and immobilized on the ground after carrying out a stabbing attack against Israeli soldiers in the flashpoint West Bank city of Hebron.
Azaria's lawyers appealed the conviction in March but faced backlash from the prosecution, which made a separate appeal, asking for a harsher sentence. All appeals were rejected, however, and the soldier's 18-month prison sentence was left intact.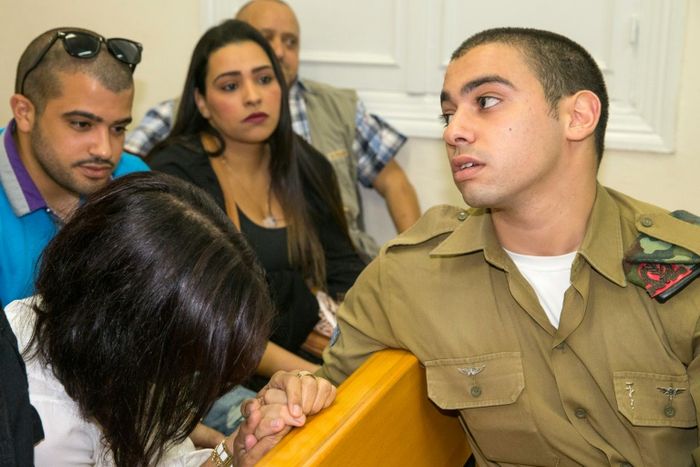 The soldier's conviction has deeply divided Israeli public opinion between those who believe he was wrongly tried and those who say the conviction was the right and proper consequence of his actions.
It also led to strong statements across the Israeli political spectrum, with some politicians, including Prime Minister Benjamin Netanyahu, calling for him to be pardoned, while others decried the fact that Azaria was prosecuted on a charge of manslaughter rather than murder.
Azaria was released from military prison to house arrest, as his period of mandatory army service came to an end and he awaited a decision from the military court of appeals.
Until his release to house arrest, Azaria served his time in open detention on a military base in central Israel with periodic furloughs home and frequent visits from family members.
Azaria's defense lawyer reportedly wanted the soldier released to his parents' home but with a curfew at sunset so that he could go out during the day.
However the court ordered him into full house arrest with the only exception allowing him to leave the house to attend Sabbath prayer services with his parents.
Sunday 30 July 2017
4:24 PM
IDF Chief of Staff Gadi Eisenkott says will 'seriously consider' a lesser sentence for Elor Azaria if request is submitted
3:59 PM
Family of slain Palestinian terrorist says they were surprised by the verdict of the appeals court. "We were certain Elor Azaria would be exonerated" the family said in a statement, according to Channel 2 news. The family said it "opposes all forms of violence, by Palestinians and Israelis alike."
3:15 PM
Elor Azaria's mother Oshra yells at the military court judges that "the terrorists are laughing at us to our faces." "All these terrorists are laughing at us," she repeats. His father Charlie yells at the prosecutors: "you're castrating the army."
3:14 PM
Appeals court rules that Azaria will begin his prison sentence on August 9, unless the Supreme Court accepts his appeal by then.
2:22 PM
Lawyers of IDF soldier Elor Azaria will request delay of prison sentence and appeal case at High Court. Defense wants a 30 day delay in carrying out the sentence, prosecution asks for no more than "a few days" delay.
11:21 AM
Culture Minister Miri Regev backs pardon, saying that "Azaria should have been home long ago."
11:20 AM
Education Minister Naftali Bennett calls for pardoning Azaria while urging citizens to refrain from directing backlash towards the IDF. "Now, after a year and a half of suffering, the time has come pardon Elor Azaria. On behalf of our soldiers who are on the front line, and in order to prevent the loss of our power of deterrence, Elor Azaria must return home," Bennett said. "I have full faith in Chief of Staff Eisenkott and IDF commanders. In no scenario is there a place for calls as there were in the past."
11:20 AM
Defense Minister Avigdor Lieberman urges the Azaria family not to continue the appeals process and instead to submit a request for pardon to the IDF Chief of Staff. "I ask the Azaria family not to file another appeal and to turn to the [IDF] chief of staff with a request for a pardon...I have no doubt the chief of staff will take into consideration all the difficult circumstances and his being an outstanding soldier," Lieberman said.
11:19 AM
Supporters of Azaria protest outside IDF headquarters in Tel Aviv
11:18 AM
Netanyahu says he still backs pardoning Azaria. "My opinion has not changed with regards to granting amnesty to Elor Azaria, as I expressed after the verdict," he wrote on Twitter. "When the subject is brought up for practical discussion, I will forward my recommendation for amnesty to the relevant parties."
11:11 AM
Judges reject Azaria's claim that warning cries heard on the scene of the crime lead to Azaria opening fire
9:18 AM
Judges uphold conviction of soldier Elor Azaria who killed incapacitated Hebron terrorist
8:21 AM
Judges say the movement of the wounded assailant did not represent clear and present danger which could justify opening fire
8:09 AM
Judges reject Azaria's claim that he shot due to fears of a knife or hidden explosives
7:57 AM
Judges uphold original court's finding that Azaria's testimony was untrustworthy
7:41 AM
Judges note that Azaria's own testimony was also inconsistent
7:31 AM
Judge says general essence of witness statements is the same, despite inconsistencies
7:22 AM
Judges reject defense's objections over the witness testimony of an officer who said Azaria stated "the terrorist deserved to die." Say that the witness gave trustworthy testimony which was supported by two other officers
7:11 AM
Judges will not allow defense to submit as evidence the recent shooting of Israeli police officers at Temple Mount by terrorist who was incapacitated
7:05 AM
Reading of the verdict begins
6:54 AM
Azaria's father, Charlie, says they will act within the legal channels
6:45 AM
Elor Azaria embraced by Israeli lawmaker Oren Hazan