One Israeli soldier injured by friendly fire in overnight raids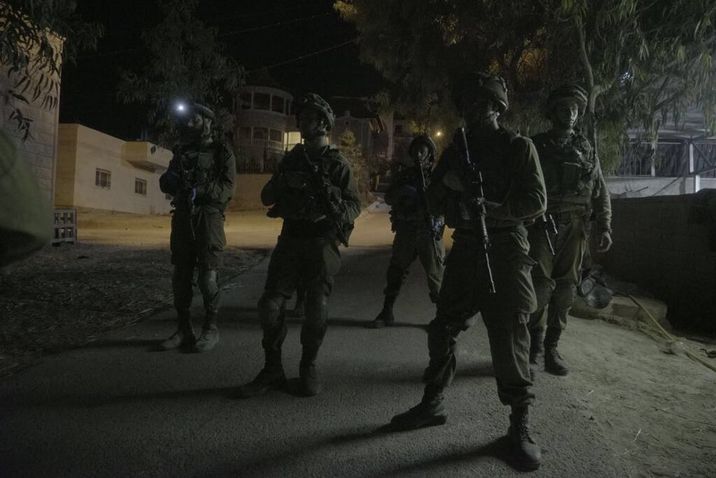 Soldiers from the Israel Defense Forces (IDF) carry out overnight raids in the West Bank, August 3, 2017
IDF Spokesperson's Unit
Father and brother of terrorist who killed three family members in Halamish attack detained for investigation
One Israeli soldier suffered from moderate injuries after being shot by friendly fire during overnight raids in the West Bank early Wednesday morning.
The soldier was injured while Israel Defense Forces were conducting a raid in the Dheishe refugee camp, just outside of Bethlehem. IDF soldiers opened fire on two suspects, wanted for arrest for their alleged involvement in terrorist activities. Both suspects were injured, one moderately and one seriously.
The incident in currently under investigation.
Overnight, Israeli security forces arrested 25 suspects, of which, 22 were allegedly involved in terrorist attacks against soldiers and civilians.
As a part of the raids, IDF forces detained the father and brother of 19-year-old Omar al-Abed, who, last month, infiltrated a family home in the West Bank settlement of Halamish and fatally stabbed three family members.
Al-Abed, from the nearby village of Kaubar, broke into the family's home during a Shabbat dinner and brutally stabbed a grandfather and his two adult children to death --Yosef Salomon, 70, Chaya Salomon, 46, and Elad Salomon, 36 -- while the young grandchildren were hidden in a room by their mother, Elad's wife. Tova Salomon, 68, the wife and mother of the deceased, was seriously injured but survived.
Al-Abed's father and brother are currently under investigation.