Israel moves ahead on underground wall around Gaza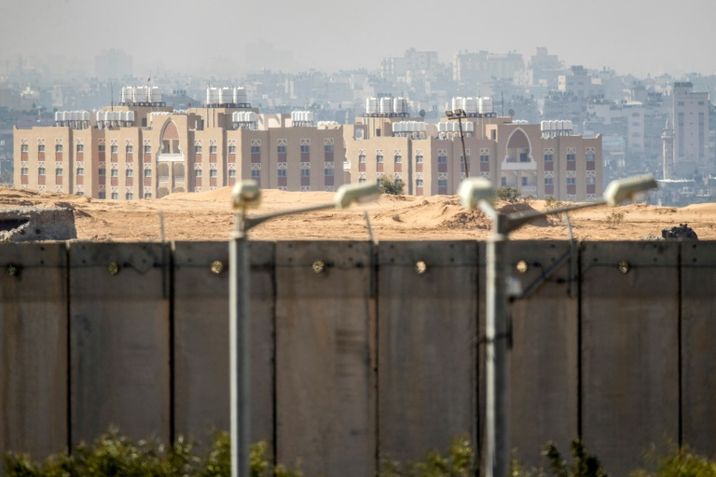 Des bâtiments dans la bande de Gaza, depuis la frontière avec Israël, le 7 février 2017
JACK GUEZ (AFP/Archives)
Border wall will be able to detect underground tunnel activity, prevent infiltrators from entering Israel
The head of Israel's Southern Command announced Wednesday that the IDF will be constructing a barrier along Israel's border with Gaza, Haaretz reported.
Israel Defense Forces Southern Command chief Maj. Gen. Eyal Zamir said the project would cost some $833 million. The six-meter high wall would have sensors to detect underground activity, dozens of meters deep into the ground.
"I think the other side will have to reevaluate the situation in view of the barrier's construction," Zamir said. "If Hamas chooses to go to war over the barrier, it will be a worthy reason (for the IDF) to go to war over – but the barrier will be built."
Israel has recently laid the groundwork for constructing the project, opening factories around the border and flattening the ground ahead of the barrier's construction.
IDF sources told Haaretz that by October of 2017, about 1,000 workers will be working on the project on a full-time basis.
A fence already stands along the border but Israel will reinforce it and, in addition, construct a new wall, with space between the two to allow for tank deployment and other military vehicles.
Sensors in the wall will alert the military of underground tunnel digging and the barrier will be equipped with a mechanism that can destroy tunnels built by Hamas in the future.
The announcement comes one day after three people were injured, including one critically, as Israel bombed Hamas sites in the Gaza Strip, Palestinian security and medical sources said, hours after a rocket hit the Jewish state.
A security source said that Israeli warplanes had struck two bases belonging to Hamas' military wing in northern Gaza, causing significant damage.
Israel and the Islamist Hamas, who run Gaza, have fought three wars since 2008.
Since the most recent conflict in 2014, a fragile ceasefire has been observed along the largely closed border.
Missiles and rockets are periodically fired into Israel, generally by hardline Islamist groups opposed to Hamas.
But Israel holds Hamas responsible for all rocket fire from Gaza, regardless of who carried it out, and usually retaliates within hours.