Police release footage of Jerusalem stabbing attack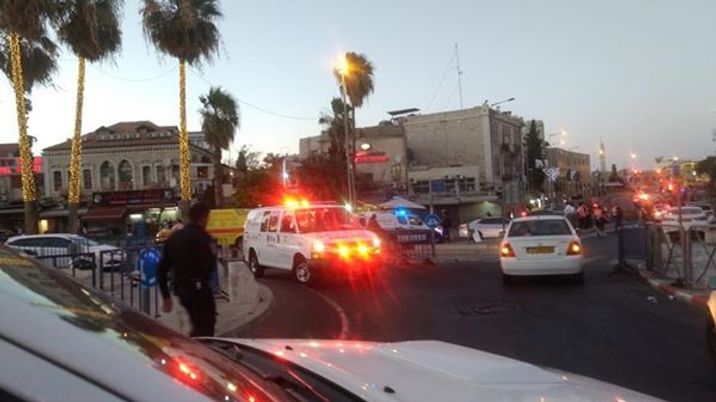 Jerusalem's Damascus Gate on June 16, 2017
Magen David Adom Israeli emergency services
Police stationed nearby immediately responded to the incident and were able to overpower the assailant
Israeli police released footage of an Arab female attacking a religious Jewish man near Damascus Gate in Jerusalem's Old City Saturday,
According to police, the suspected attacker was a thirty year-old Jerusalem resident. The footage showed her crossing the street and then taking out a knife and attacking a passerby, who managed to run away.
Local media said after failing to serious injure her first victim, she then ran to a nearby bus stop and attacked a Christian Arab light rail worker who she mistook for a Jew because of a Hebrew inscription on his shirt, stabbing him in the shoulder.
Police stationed nearby immediately responded to the incident and were able to overpower the assailant. She was arrested and taken in for questioning.
The victim was taken to a nearby hospital for treatment according to Israel's emergency medical services, Magen David Adom.
Video of stabbing in #Jerusalem earlier today. Middle aged woman attacks a religious Jewish man pic.twitter.com/xqoCgHWZ2k

— Shai Ben-ari (@ShaiBenari) August 12, 2017
Damascus Gate is one of the main entrances to the Old City for both East Jerusalem residents and religious Jews from neighborhoods in the west of the city, and several attacks have taken place in recent years.
Last month, the Old City was the site of violent unrest between Israel and the Palestinians after three Arab Israelis shot and killed two Israeli police men at the ultra-sensitive holy compound the Temple Mount/Haram al-Sharif.
In response, Israeli authorities upped the security measures around the site spurring mass protest from worshipers and deadly clashes in the West Bank.
The crisis abated when Israel removed metal detectors from the compound but tension remains high.