US trying to organize peace summit between Trump, Abbas and Netanyahu: report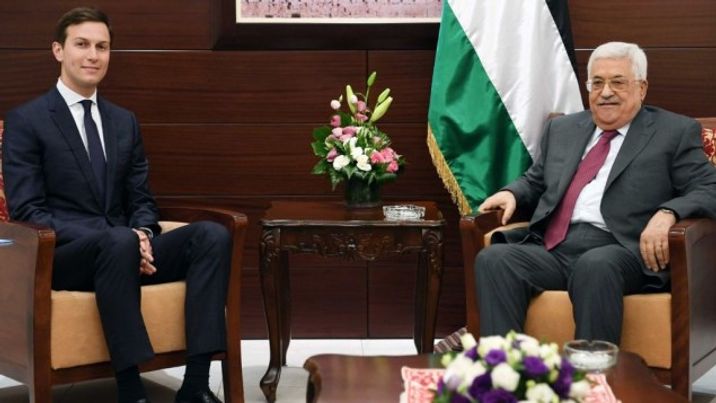 Jared Kushner et Mahmoud Abbas à Ramallah
Autorité palestinienne
PA would reportedly agree to a summit but is demanding a private meeting between Abbas and Trump at the UN
The Trump administration is trying to arrange a summit between Israeli Prime Minister Benjamin Netanyahu, US President Donald Trump and Palestinian Authority President Mahmoud Abbas, Hebrew newspaper Yisrael Hayom reported Sunday.
A Palestinian official told Yisrael Hayom that the PA would agree to the summit but is demanding a private meeting between Abbas and Trump on the sidelines of this year's UN General assembly in New York next week.
Palestinian sources said that, if Trump does have a private meeting with Abbas at the GA, it will only be after Abbas delivers his UN address as the Americans are waiting to see if the PA president will say anything that incites violence against Israel.
According to Yisrael Hayom, Palestinian officials believe this tactic is a coordinated effort by the Americans and the Israelis to put pressure on Abbas.
The Trump administration has denied these claims, saying they never spoke with the Palestinian Authority about the speech Abbas will deliver at the UN and that the two parties are continuing to engage in productive dialogue.
Palestinian sources also confirmed to Yisral Hayom that Abbas was planning to criticize Israel very harshly during this year's speech at the GA, slated for September 10, due to an excess of pressure that was placed on him by members of a senior American delegation which was in the region last month to advance peace talks.