Netanyahu doubles down on Iran policy on Argentina visit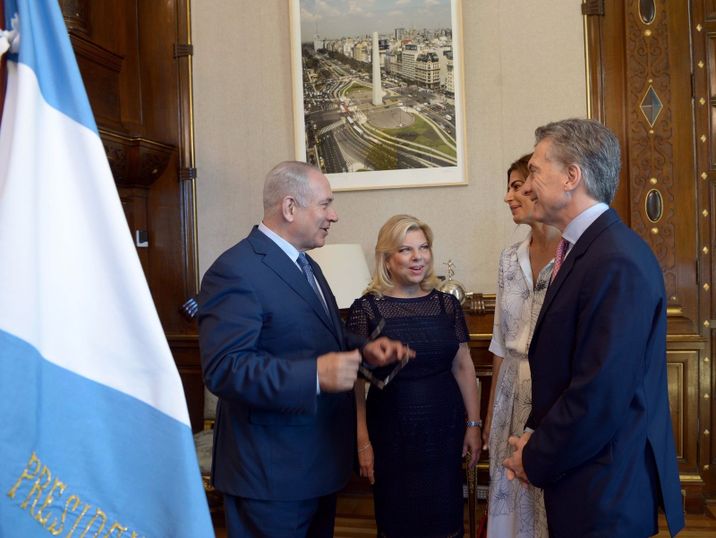 Israeli Prime Minister on a state visit to Argentina September 12, 2017
GPO
Israeli prime minister warns Iranian-backed terror and bid for nuclear weapons comprise global threat
Israeli Prime Minister Benjamin Netanyahu asserted Tuesday that Iran-backed terror poses a threat to the entire world, during his visit Argentinian President Mauricio Macri in Argentina on Tuesday.  
"We know that Iran and Hezbollah initiated these attacks," Netanyahu said, referring to a deadly attack on the Israeli embassy in Argentina 1992, "and I can say that the Iranian terror has not ceased since then."
The Israeli prime minister said Iran continues to support terror across the globe.
"They have a terror machine that surrounds the entire world," Netanyahu said. "Through Hezbollah, they operate terrorist cells across many continents, including in Latin America."
Netanyahu warned of the severe threat Iran will pose once it gains nuclear capabilities.
"In the case of Iran, it is not only terrorism, but also the pursuit of a nuclear weapon that worries us and should concern the entire international community, and we understand the concern that atomic weapons will reach the hands of rogue states," said Netanyahu.
The comments come amid tension in the White House as US President Donald Trump has to certify in mid-October whether he believes Iran is abiding by the nuclear deal and that sticking to it is vital to US national security interests.
If, as seems increasingly likely, Trump decides not to give the green light, Congress will then have 60 days to debate whether to re-impose sanctions on Iran.
You need to be logged in in order to post comments. Sign up or log in
September 12, 2017 9:43 PM
Iran like NoKo is a world pariah!