Hamas leader agrees to Egyptian proposal on Israel prisoner exchange: reports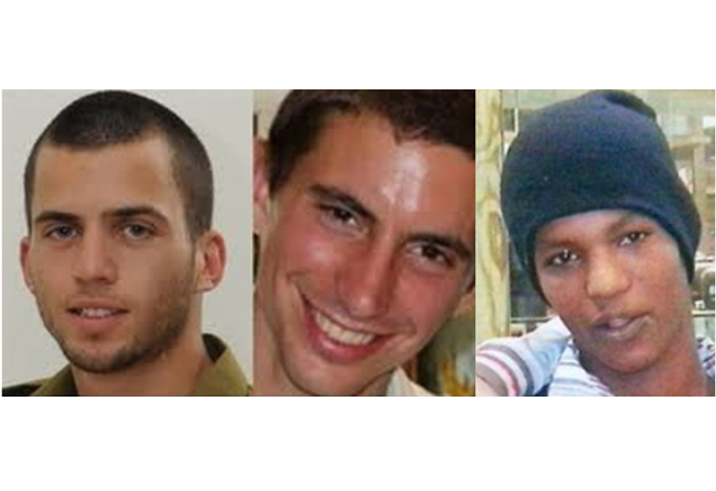 Oron Shaul (L), Hadar Goldin (C) and Avraham Mengistu(R)
Hamas leaders says he has agreed to an exchange but Israel has yet to respond
Hamas leader Yahyah Sinwar has reportedly agreed to a prisoner exchange with Israel, for the return of three Israeli citizens, as well as the bodies of Oron Shaul and Hadar Goldin -- two soldiers believed to have been killed in the 2014 war in Gaza, Arabic media reported on Thursday.
According to the report, Sinwar said that these developments came in response to the Egyptian proposal, which was presented to the Hamas delegation during its stay in Cairo two weeks ago.
The information then reached the Israeli government but, according to the report, the Israelis have yet to respond.
The report states that Sinwar did not disclose the details of the proposal for the exchange but, two weeks ago, Maan Arabic media outlet newspaper unveiled some of the terms put forward by Egypt.
The Egyptian plan reportedly included Israel handing over the bodies of 39 Palestinians (including 19 members of Hamas) killed in the 2014 conflict with Hamas. In return, Hamas would be compelled to disclose the fate of the Israelis thought to be held in Gaza.
Hamas is believed to be holding the bodies of two Israeli soldiers killed in the 2014 conflict, Oron Shaul and Hadar Goldin. In addition, Avera Mengistu crossed into Gaza in September 2014 during what his family said was a time of acute mental ill health. Two Bedouin citizens of Israel, Hisham Al Sayeed and Jumaa Abu Ghanima, are also believed to be in the coastal enclave.
The President of the International Committee of the Red Cross said on August 7 that he "cares deeply" about the Israeli captives being held to ransom by Hamas in Gaza after it was reported that the chief of the international NGO, Peter Maurer, raised the issue of the three captive civilians and bodies of two fallen soldiers when he met Hamas' leader in Gaza, Yahya Sinwar.
"I care deeply for the for missing Israeli nationals," Maurer said, noting that the Red Cross also works on behalf of Palestinians detained by Israel. "We are doing all we can to relentlessly push Hamas to account for them, treat them as provided under international law and spare their families the unbearable uncertainty.