Israel heightens alert, deploys Iron Dome amid tensions on Gaza border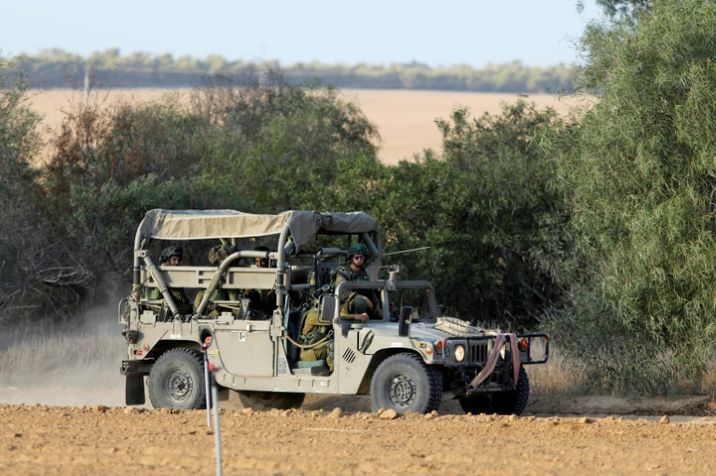 Des soldats israéliens patrouillent à proximité de la frontière avec la bande de Gaza, le 30 octobre 2017
MENAHEM KAHANA (AFP/Archives)
Islamic Jihad threatens to 'avenge' deaths of 12 militants killed in tunnel explosion
The Israel Defense Forces took several measures, including deploying its Iron Dome anti-missile system in the center of the state, to heighten Israel's alert level on Monday, amid tensions on the southern border with Gaza and the Islamic militant group Islamic Jihad, Haaretz reported.
The move comes after Islamic Jihad declared it would avenge the deaths of 12 of its members who were killed during an explosion on Israel's border with Gaza.
The army also announced it arrested a "senior operative" overnight in Arraba near Jenin in the north of the West Bank, Israel's military said.
A source with Islamic Jihad confirmed that one of its leaders, Tareq Qadaan, was detained as part of an "arrest campaign".
There were no immediate details on whether others were arrested.
The militant Islamic group has been exchanging threats with the Jewish state in recent days.
In a statement released on Sunday, the group proclaimed Israel's threats are a "declaration of war" and stated its intention to "punish" Israel for the deaths of its members in the destruction of an underground tunnel in Gaza last month.
"Israel has killed 12 Palestinians in Gaza and another one in the West (Bank) over the last two weeks," Khaled al-Batash, a senior Islamic Jihad official said.
"When they kill men of the resistance, and especially from Islamic Jihad," he continued, "we have no other choice but to punish the occupier, and continue to strengthen the buildup of forces from a conflict."
Israeli Prime Minister Benjamin Netanyahu, meanwhile, warned Palestinian militant groups against carrying out revenge attacks saying at his weekly cabinet meeting that Israel "will react forcefully to whoever tries to attack us or attacks us from any arena."
"I mean anyone -- rebel factions, organizations, anyone," he said in an apparent reference to Islamic Jihad. "In any case, we hold Hamas responsible for any attack against us originating from Gaza or organized there," he said of the Islamist group that runs the Palestinian enclave.
You need to be logged in in order to post comments. Sign up or log in
November 13, 2017 9:34 PM
Any attack by Islamist must result. with elimination of Hamas.