Israel finds Breaking the Silence spokesman did not assault Palestinian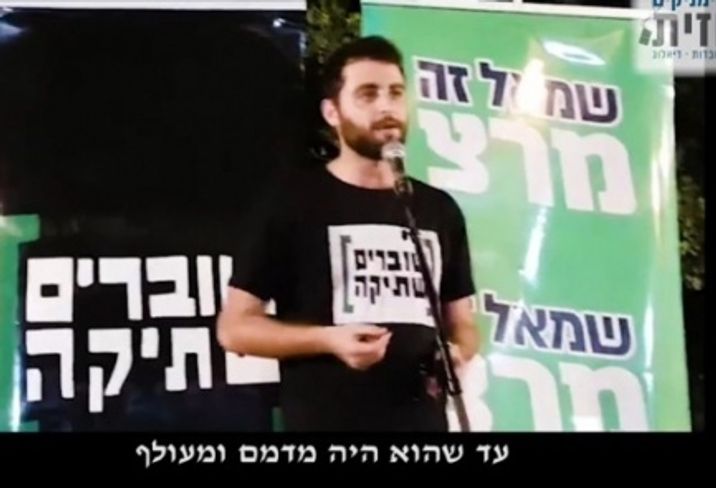 Dean Issacharoff, porte-parole de Breaking the Silence
NGO spokesman claimed to have beaten a Palestinian who denies claims he was ever assaulted
Israel closed its investigation of Breaking the Silence spokesman Dean Issacharoff on Friday after the State Attorney's Office found the NGO leader's claims that he assaulted a Palestinian man during his military service were false.
Israel's justice ministry announced earlier this year the opening of an investigation into the spokesman of Breaking the Silence, the left-wing NGO hated by the country's right-wing government, after he claimed to have beaten a Palestinian man.
Hassan Julani, the Palestinian in question, told Israeli authorities that while he had indeed been arrested in 2014, per Issacharoff's account of the incident, he was not assaulted by Issacharoff or any other soldier during the episode.   
The NGO collects and often publishes testimonies from current and former Israeli soldiers of abuses they allegedly carried out during their military service.
Much of Israel's right, including many government ministers, accuse the rights group of treason and have sought to curtail its work.
Military service, two years and eight months for men and two years for women, is compulsory for Israeli Jews.
Issacharoff told a rally organized by the NGO he had beat up a Palestinian while on military duty in the West Bank city of Hebron.
Justice Minister Ayeler Shaked then ordered the police to open an investigation into Issacharoff after a video of his speech was posted online.
"In this video Dean Issacharoff says he struck a Palestinian, who bled and lost consciousness, without any operational reason, while claiming that this scene took place in front of his superiors and other soldiers," a justice ministry statement said.
When the video was released, Yehuda Shaul, a founding member of Breaking the Silence, told AFP Issacharoff told the story to illustrate the violent nature of Israel's occupation.
"If the justice minister was really interested in investigating what the army has done in the occupied Palestinian territories she would also investigate me."
"I used Palestinians as human shields," he added, saying hundreds of supporters were willing to give testimony on abuses committed while serving in the army.
"The fact they are going only after Dean shows us this is a politically motivated."
Breaking the Silence is well respected abroad but hated by many Israeli leaders.
In April, Prime Minister Benjamin Netanyahu cancelled a meeting with German Foreign Minister Sigmar Gabriel after he refused to scrap a meeting with Breaking the Silence during a visit to Israel.