Terror suspect convicted for murder of 20-year-old IDF Sergeant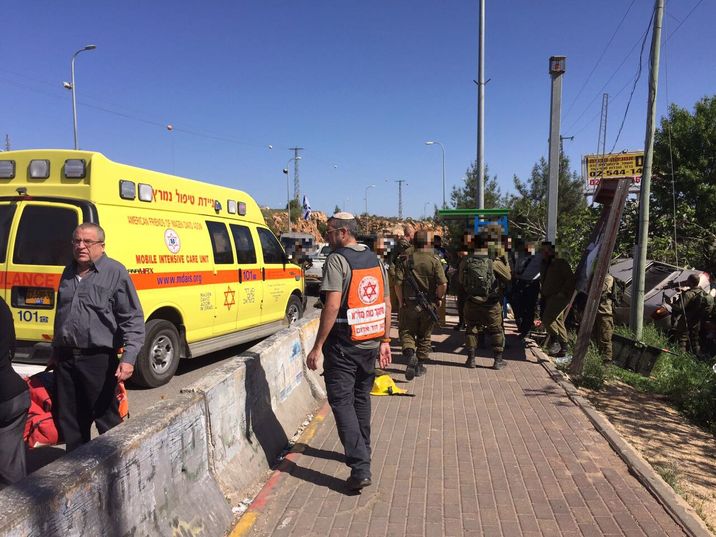 The scene of a suspected car ramming attack near Ofra in the West Bank on April 6, 2017
Hatzalah
The 20-year-old IDF soldier, Sgt. Elhai Teharlev was murdered in a car-ramming on April 6.
An IDF court located outside the Palestinian city of Ramallah, has sentenced a terror suspect to two life sentences for the murder of 20-year-old IDF soldier, Sgt. Elhai Teharlev. 
The convict, Malek Ahmed Mousa Hamed from the Palestinian town of Silwad, murdered Teharlev in a car-ramming attack on April 6 outside the West Bank settlement of Ofra, located just north of Jerusalem. Another soldier who, at the time was guarding a bus stop with Teharlev, was lightly injured in the attack.
Hamed was also found guilty for three counts of attempted murder of the lightly injured soldier and two other civilians who were unharmed in the incident. The terrorist was also convicted with one count each for associating with and aiding the Hamas terror organization.
The court found Hamed also liable for NIS 280,000 in reparations to Teharlev's family members.
According to the indictment, Hamed admitted to previously attempting, within the four months preceding the car-ramming on April 6, to commit two other terror attacks, one of which would have been a stabbing of an Israeli and the other another car-ramming attack against soldiers and civilians.
During both attempts, Hamed reconsidered after seeing security forces who were deployed.