Draft dodgers in Israel receive financial support from US organization: report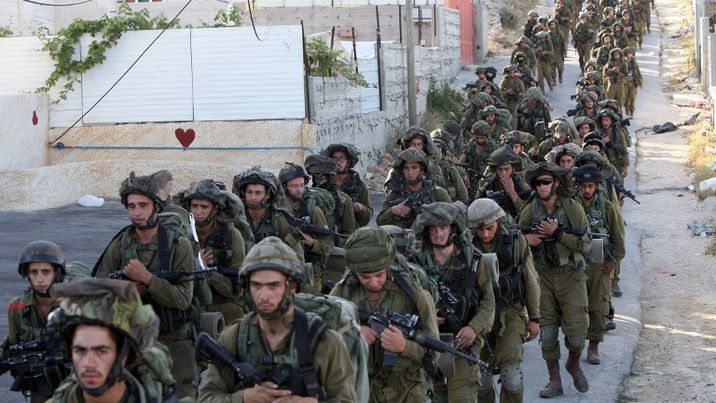 IDF soldiers in Hebron on June 17, 2014.
AFP
An Israeli NGO has specifically focused on the US organization, 'Refuser Solidarity Network.'
An Israeli NGO has expressed concern that organizations within Israel advocating for youth to refuse the mandatory draft into the IDF are receiving financial support from sources in the US, according to a report in the Jerusalem Post.
The NGO, "Reservists On Duty," which was established in 2015 by IDF reserve combat soldiers and officers, works to counter Israeli NGOs that assist the Boycott, Divestment and Sanctions movement against the Jewish state (BDS).
The Post reported that the NGO wrote to Dermer regarding 63 Israeli 12th graders who declared their refusal to serve in the IDF, in a letter originally revealed by Yedioth Ahronoth.
"The military carries out a racist government policy that violates basic human rights," the letter, addressing Israeli officials, said. "We therefore have decided not to participate in the occupation and oppression of the Palestinian people."
"The organization that sponsored and supported the creation and signing of this letter is called 'Mesarvot,' roughly translated as 'dodging,'" the Reservists On Duty explained to Dermer.
"Shockingly enough, this organization is financed by an American based organization called RSN (Refuser Solidarity Network)."
On its website, RSN admits that it "provides grants to Israeli refuser organizations" and has already spent $300,000 in support of refusers.
"They actively support the activities of organizations that promote draft-dodging such as 'Yesh Gvul,' 'Profil Hadash,' and of course 'Mesarvot,'" "Reservists on Duty added in its letter to Ambassador Dermer.
Reservists on Duty also argued that RSN's status as a 501 (C)3, allowing it to receive tax deductible donations, is illegitimate due to the special alliance between the US and Israel.
"We believe that it doesn't seem right for an organization that actively undermines the rule of law in an allied country to be given such a benefit," the NGO told Dermer.
"It is our belief that the direct financing of activities that endorse draft dodging is unacceptable, especially between respectable allies and friends like the United States and Israel."
You need to be logged in in order to post comments. Sign up or log in
You can find an organization for everything in the United States. There should be clear punishments for this kind of activity on the organizations themselves in regards to political interference.