Clashes erupt in Gaza as manhunt for West Bank attacker persists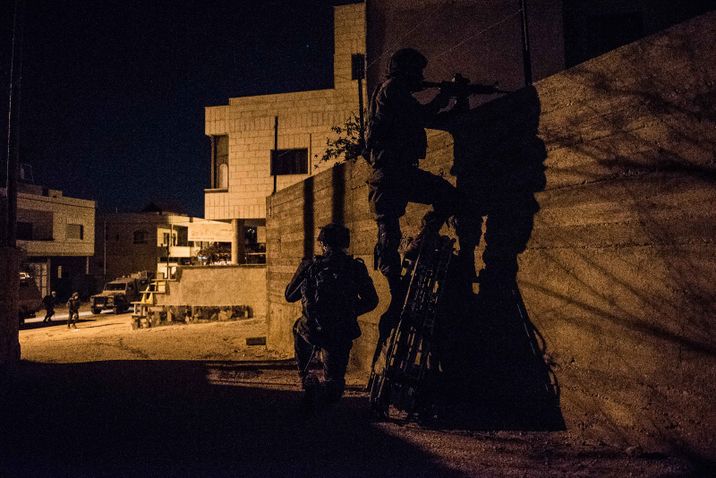 IDF soldiers carry out searches in the Nablus area
Israeli Defense Forces
Israeli security forces hunt for attacker who killed Rabbi Raziel Shevach on a West Bank road last Tuesday
Violent riots raged for a second day in the Gaza Strip and across the West Bank as parts remain under military lock down, the Israel Defense Forces reported Friday 
According to the IDF, rioters in four different locations along the Israel-Gaza border burnt tires and hurled rocks at Israeli security forces. In response, the IDF fired live rounds towards the main instigators who were believed to pose a threat to IDF soldiers and the security fence. 
Similar clashes took place in 17 different locations within the West Bank, the IDF said while also continuing efforts to catch the perpetrators of a terrorist attack which killed Rabbi Raziel Shevach on a West Bank road last Tuesday.
In a statement released on Thursday, the Israeli Army said "Entrances and exits to and from the villages surrounding Nablus and the city of Nablus will be possible only after security checks".
The attack happened on road 60, which crosses the West bank from North to South, next to the illegal Israeli outpost of Havat Gilad where the victim lived.
For close to a decade the Israeli army has installed gates at the entrance of Palestinian cities in the West Bank, which enables it to impose closures when it deems fit.
In the statement, the Army said Special Forces were assisting troops from the "Shomron" regional brigade, "in parallel to the ongoing investigation and intelligence activity".In addition, the army said they seized two illegal weapons in the village of Umm al-Tut, south of Jenin.
Hundreds of mourners attended the funeral of Rabbi Raziel Shevach on Wednesday and called for retribution, following the shooting attack the previous evening in the northern West Bank outpost of Havat Gilad.
The Local settlers have since urged Netanyahu to permit more Israeli construction in the area.