Netanyahu departs for India while son stays in Israel embattled in controversy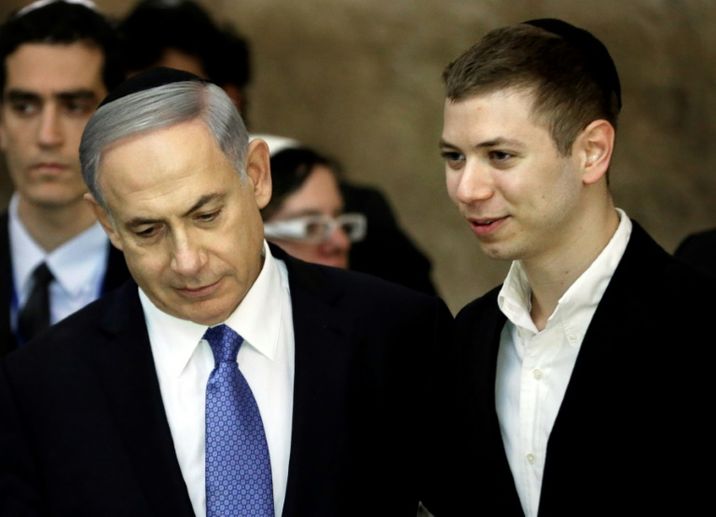 Le Premier ministre israélien Benjamin Netanyahu et son fils Yaïr le 18 mars 2015 à Jérusalem
THOMAS COEX (AFP/Archives)
Leaked recordings reveal PM's son asked for money to pay a sex worker
Israeli Prime Minister Benjamin Netanyahu and his wife will depart for an official visit to India on Saturday to strengthen diplomatic relations between the two countries and half a year after the visit of Indian Prime Minister Nerandra Modi.
Hebrew media reported Saturday that Netanyahu's son Yair was scheduled to join his parents on the official visit but was forced to remain at home as her remains entwined in controversy after the leaking of controversial recordings of Yair making crude remarks outside a Tel Aviv strip club in 2015.
26-year-old Yair Netanyahu came under fire last week after Israeli media made the recording public. He's heard asking for cash from a friend whose father, he suggests, has benefited enormously from Netanyahu's passing a multi-billion dollar gas deal through the Knesset.
"My father secured 20 billion dollars for your father, and you're arguing with me about 400 shekels?" Yair is heard saying in the recording of the conversation with his friend, the son of the gas magnate Koby Maimon.
The exchange, where Yair says he needs the money to pay for a sex worker, reportedly took place in 2015 outside a Tel Aviv strip club in an armored, state-funded car, in the presence of a driver and a security detail.
On his trip to India, the Israeli Prime Minister will visit Delhi, Mumbai and Gujarat and will hold meeting with prominent Indian officials and members of the business community. Prime Minister Modi is also slated to accompany Prime Minister Netanyahu in large parts during the visit.
"On this visit, I intend to strengthen the relations between the two countries even more," Netnayahu said in a statement released by the Prime Minister's office. "The visit is an opportunity to strengthen cooperation with a global superpower in the fields of economy, defense, technology and tourism."
"Prime Minister of India Modi is a close friend of Israel and mine and I appreciate the fact that he personally accompanies me in large parts of the visit, " Netanyahu added.