Israel's Netanyahu in India: The View from Delhi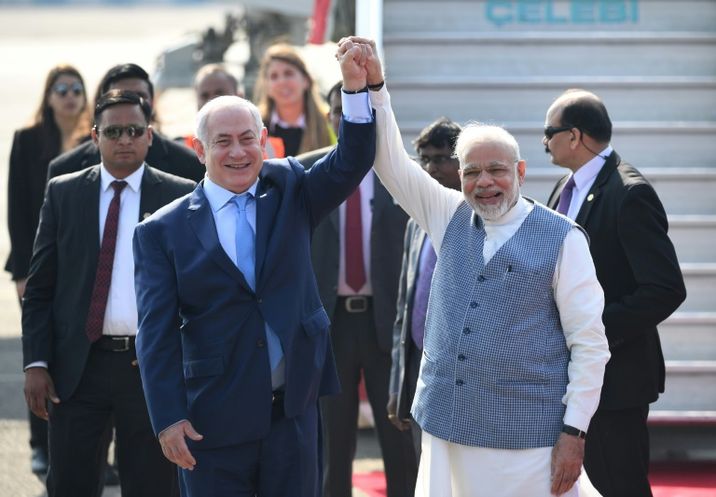 Israel's Benjamin Netanyahu told media he had a "special relationship" with India's Narendra Modi
PRAKASH SINGH (AFP)
There is genuine admiration in India for Israeli spirit if entrepreneurship and innovation
The bonhomie and mutual affection was on full display as Indian Prime Minister Narendra Midi broke with protocol to welcome his Israeli counterpart Benjamin Netanyahu on the latter's maiden visit to India on Sunday. This is only the second visit by an Israeli PM to India in 15 years, reciprocating Modi's visit to Israel last year – the first ever by an Indian PM to the Jewish state.
These high profile visits mark the 25 years of establishment of full diplomatic ties between the two countries and reflect the burgeoning ties between them.
While the beginning of the Madrid Peace process and the establishment of diplomatic ties between Israel and Arab states like Jordan paved the way for this – India after all was dependent on the Arab states for its energy security and had to be mindful of the sensitivities of its large Muslim population on the Palestinian issue – it is today an open secret that both sides had covertly cooperated much before that.
Israel had offered and India had accepted Israeli arms during the Sino-Indian war of 1962 and during the Indian-Pakistani wars of 1971 and then again in 1999. Defense ties thus of course is central to bilateral relations and India, the world's largest importer of arms is Israel's largest arms market. In April last year, India and Israel signed defense deals worth $2 billion — the largest defense contract in Israel defense industries' history — for the supply of medium-range surface-to-air missiles (MRSAM) and missile defense systems to the Indian Army.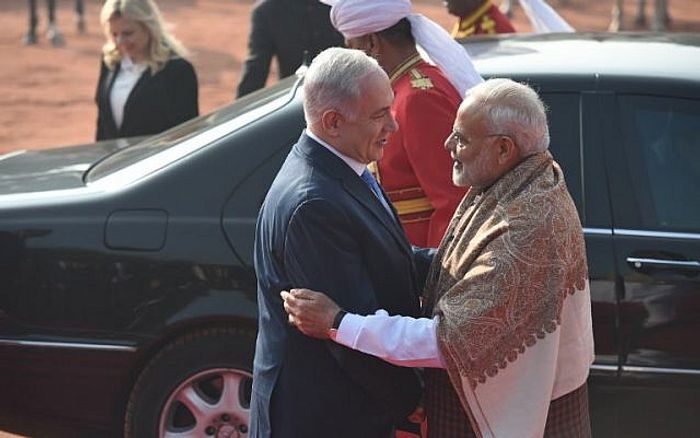 India is looking forward to Israeli cooperation in the Indian government's ambitious 'Make in India' scheme through collaboration and joint production of defense products, with the inauguration of India's first private sector missile sub-systems manufacturing facility—a joint venture between India's Kalyani Group and Israel's Rafael Advanced Defense Systems Ltd.
More recently, other areas of cooperation have emerged, namely counter-terrorism, cyber security, agriculture and irrigation. Twenty centers of excellence in agriculture and horticulture have been operationalized across India, demonstrating best practices and guide farmers to improve yields, with Israeli cooperation.
While these ties have long been in the making they have always been kept under wraps save whenever the nationalist Bharatiya Janata Party (BJP), with its known fondness for Israel - is in power. It was under a BJP-led government in 2003 when former Israeli PM Ariel Sharon visited India.
Modi, who is a personal friend of Israeli premier Benyamin Netanyahu, had visited Israel earlier during his tenure as Chief Minister of the Indian state of Gujarat. Bilateral ties have acquired greater visibility under him with numerous high profile visits which included the Indian president travelling to Israel in 2015 and the Israeli president visiting India in 2016.
Under Modi, India has also deviated from some of its conventional positions on the Israel-Palestine conflict. For instance, in 2014 India refused to condemn Israeli military operations in Gaza. The following year, it abstained from a vote against Israel at the UN Human Rights Council in Geneva. During his trip to Israel, Modi even dispensed with the long-held tradition whereby most leaders visiting Israel also visit the Palestinian territories.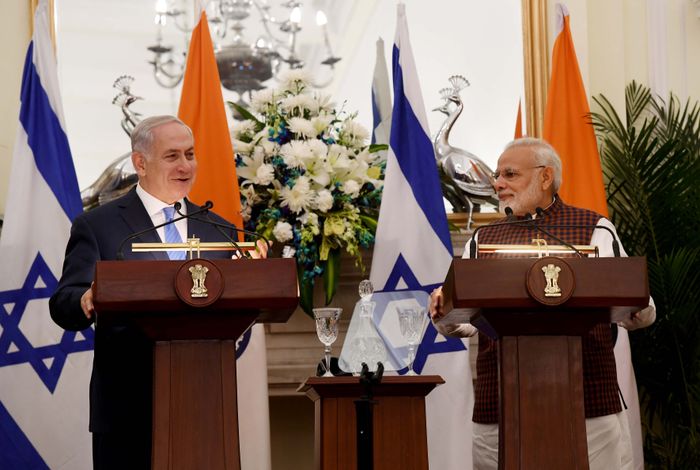 However, as India's vote in the UN General Assembly recently demonstrated – India is not about to entirely deviate from its decades held position on a two-state solution. What it had effectively done is de-hyphenate Israel from Palestine and instead emphasize on bilateral relations, which has been a hallmark of the current government.
So, what else has provided momentum to India-Israel relations? Some analysts have termed relations as being 'transactional'. Israel's export oriented economy needs a large market which India offers.
On the other hand, there is genuine admiration in India for Israeli spirit if entrepreneurship and innovation. India thus looks forward to cutting edge technology, not just in border management – cross border terrorism is a scourge that Indians suffer - but also in IT, agriculture, irrigation, space exploration, cyber security, which has emerged a major area of concern for India.
Thus the Israel India Innovation Initiative Fund for research and development in innovation was set up during Modi's Israel visit. While both sides signed an agreement on cyber security which according to an Indian official 'signals the start of this process.'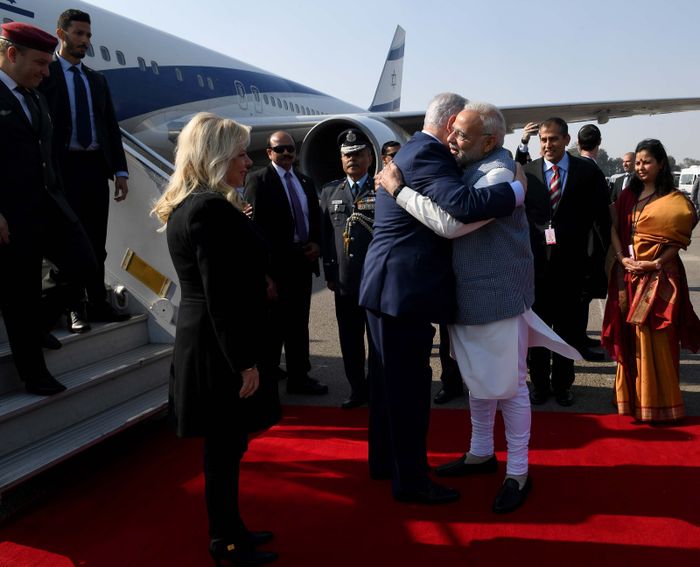 India and Israel also seek to increase bilateral trade which amounts to over $6 billion currently (excluding defense) and this current visit is expected to promote bilateral trade and business, given that the Israeli premier is accompanied by a large business delegation. Moreover, India seeks investments, especially in defense and there is certainly great scope for that from Israeli business, some of whom have opened up R&D centers in India.
Oil and gas exploration in Israel is also another emerging area of cooperation. But equally important is cooperation in counter-terrorism and homeland security, where both countries have been victims of Islamist terrorism and the joint statement issued by both sides in Delhi today reflect that.
Transactional ties, therefore, provide a solid foundation for forging long term strategic relations. This was evident when to a question by an Indian media house in India's recent vote in the UN on Jerusalem, he responded: "I don't think one vote affects a general trend you can see in many other votes and these visits."
So for instance, India participated last November in the multi-faceted air exercise 'Blue Flag 2017' held in Israel.
What further aids both sides is the changing geo-political dynamics in the Middle East, which Israel has used with alacrity to its advantage, forging ties with Arab states, especially those like Saudi Arabia and the United Arab Emirates.
This makes it easy for India, with enormous stakes in the region, to openly pursue ties with the Jewish state. At the same times issues of divergence – like Iran with which India seeks close cooperation – is kept aside.
And finally, there is in India, a genuine admiration for Israel's democracy in a turbulent region, ancient heritage, and optimism for the future, as they find parallels with their own legacy and aspirations.
Aditi Bhaduri is an independent journalist and political analyst based in New Delhi.