Abbas rhetoric serves Israel's goals, Netanyahu says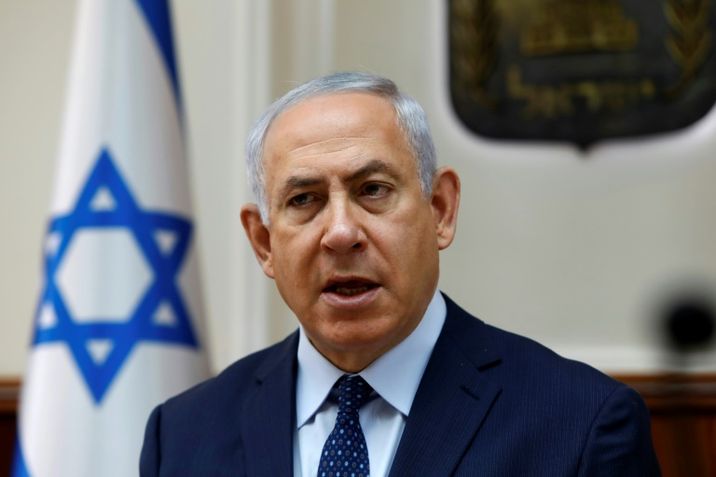 Israeli Prime Minister Benjamin Netanyahu opens the weekly cabinet meeting at his Jerusalem office on September 26, 2017
GALI TIBBON (POOL/AFP)
The Palestine Liberation Organisation voted earlier to suspend its recognition of Israel
The incendiary speech by Palestinian President Mahmoud Abbas claiming that the Oslo Accords are dead is to Israel's benefit politically, Prime Minister Netanyahu said early Tuesday, adding that Abbas's comments had "torn off" his "mask" as a supposed moderate.
The Palestine Liberation Organisation voted earlier to suspend its recognition of Israel until it "recognises the state of Palestine", cancels its annexation of east Jerusalem and stops settlement activity, a statement said. The PLO is considered the official representative of the Palestinians internationally and formalised its recognition of Israel in 1993.
In a statement, the delegates also backed comments on Sunday by Abbas that the Oslo peace accords of the early 1990s, which form the basis of the Palestinians' relations with Israel, were "finished."
Abbas had said that Israel had ended the accords through its actions, referring to activities seen as eroding the possibility of a two-state solution such as persistent settlement building.
Abbas has exposed "what we have been saying all along, that the roots of the conflict are opposition to a Jewish state within any borders it might have," Netanyahu was quoted by Haaretz as saying. Not only the way he spoke but the things he said help us show the truth. I think this serves our political goals more than anything else."
"For too long, the Palestinian Authority has been pampered by the international community, which didn't dare tell them the truth – not about Jerusalem and not about recognizing Israel. That has changed. I think Abbas was reacting to that. This is the first time somebody's told him the truth to his face."
Israel's s Ambassador to the United Nations Danny Danon voiced similarly harsh critique of Abbas's rhetoric. 
"Among the many vile fabrications in his address, Chairman Abbas repeated the lie that the reestablishment of the nation-state of the Jewish people in our historic homeland is 'a colonial project that has nothing to do with Judaism.'  Chairman Abbas also accused European powers of 'moving Jews from Europe to the Middle East' as part of a plan to further their economic interests.  These statements sadly remind us of the racist words of the worst regimes of the previous century." 
"It is unfortunate that, with his latest statements, Chairman Abbas has yet again responded negatively to serious initiatives for dialogue by Israel, the United States and other members of the international community," the Ambassador continued.  "The hateful words of the Chairman of the Palestinian Authority, which seem to question the very right of a United Nations member-state to exist, are completely unacceptable and must be unequivocally condemned," Ambassador Danon concluded.
You need to be logged in in order to post comments. Sign up or log in
and the anti-Semitic EU will of course ignore his statements and pretend he is anything but a Holocaust denying anti-Semitic terrorist. moderate. what a joke