Pence tells Netanyahu he's 'honored to be in Israel's capital, Jerusalem'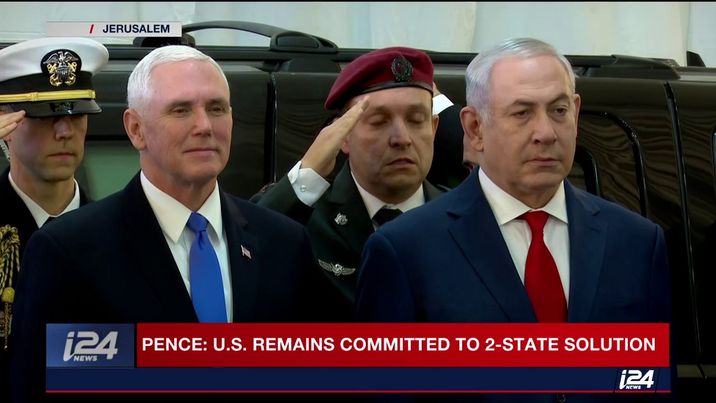 US Vice President Mike Pence arrives in Jerusalem, greeted by Israeli PM Netanyahu, Jan 22, 2018
i24NEWS
With emotions still raw over Jerusalem move, Palestinian protesters burn photos of Pence in Bethlehem
American Vice President Mike Pence said Monday that it was a "great honor" to be in "Israel's capital, Jerusalem", as he kicked off the first working day of his two-day visit to the Jewish State by meeting Israeli Prime Minister Benjamin Netanyahu.
Pence's visit comes amid outrage over US President Donald Trump's recognition of Jerusalem as Israel's capital on December 6 and controversy back home over a budget dispute that has led to a US government shutdown.
Israel is the final stop on a trip that has included talks in Cairo and Amman, where both Egyptian President Abdel Fattah al-Sisi and Jordan's King Abdullah II expressed their concerns over Washington's change in policy on Jerusalem.
Pence was received by Netanyahu at around 10:00 a.m. local time (0800 GMT) with a full head-of-state welcome, including an an IDF honor guard, attended by dignitaries including US Ambassador David Friedman, White House Mideast envoy Jason Greenblatt and Israeli ambassador to Washington Ron Dermer.
Following the ceremony, the two retreated for closed-door talks where Pence told Netanyahu it was a "great honor" to be in "Israel's capital, Jerusalem" and said he is hopeful that "we are at the dawn of a new era" of renewed peace efforts, Israeli media outlets reported.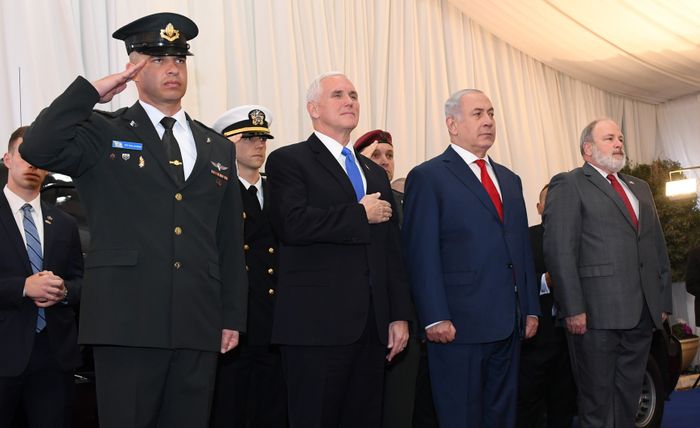 Netanyahu thanked Pence, whom he called a "dear friend", and said he looked forward to discussing "how to continue to strengthen the wonderful alliance between us."
"I have had the privilege over the years to stand here and welcome hundreds of leaders and welcome them in the capital of Israel," Netanyahu said at the start of their meeting. "This is the first time I have been here and we can both say these three words -- the capital of Israel, Jerusalem."
Netanyahu said that the two would discuss "how to promote peace and security in our region" calling it "our common goal."
Pence landed in Israel on Sunday evening accompanied by his wife, Karen, following visits to Egypt and then Jordan in the wake of President Donald Trump's controversial recognition of Jerusalem as Israel's capital in September.
He was greeted at Tel Aviv's Ben Gurion Airport by Friedman. Netanyahu welcomed Pence to Israel in a Facebook post, and later lauded the Vice President as "a great friend of Israel".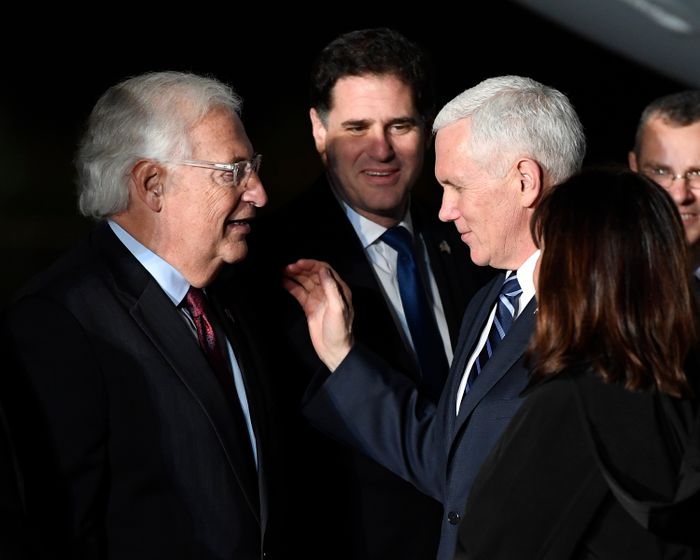 Pence is not scheduled to meet any Palestinian leaders on his trip, after officials vowed to snub the Vice President's visit -- which was originally slated for December but delayed as tensions soared over Trump's backing of Israel's claim over the city and vow to move the US embassy there.
In Bethlehem, several Palestinian protesters burned a photo of Pence outside the Church of the Nativity in Manger Square -- said to be the birthplace of Jesus -- in a symbolic demonstration against the devout Evangelical Vice President whose religious voter base is strongly pro-Israel.
The protesters brandished placards reading in English: "Pence you are desecrating our land" and "Pence go home".
A signal of the bitter acrimony between the Palestinian Authority and the United States, Abbas traveled to Brussels on Monday where he is expected to urge the European Union to officially recognize the state of Palestine "as a way to respond" to US President Donald Trump's declaration of Jerusalem as the Israeli capital.
On Sunday, Netanyahu rebuffed Palestinian Authority President Mahmoud Abbas' rejection of the US as an appropriate mediator in the wake of its Jerusalem decision, saying that "there is no alternative to American leadership" in the peace process.
"Whoever is not ready to talk with the Americans on peace does not want peace," he said.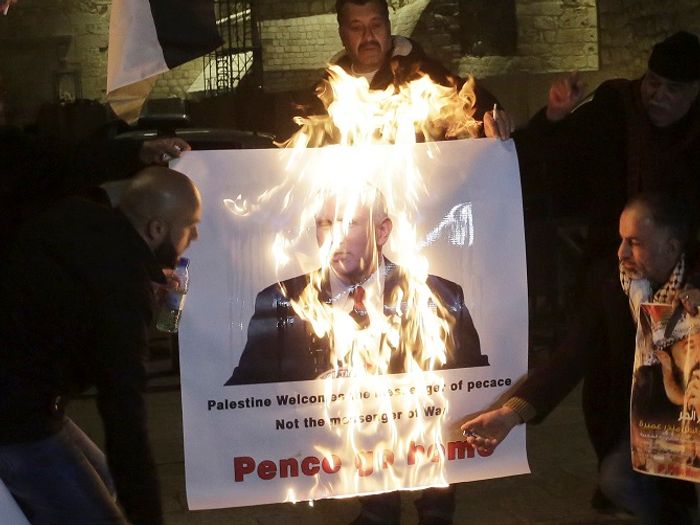 Later Monday, Pence will deliver a highly-anticipated speech to Israeli lawmakers at a special parliamentary session. Netanyahu, opposition leader Isaac Herzog, and parliament speaker Yuli Edelstein will also address the session.
Pence rejected, however, a request by Herzog to meet during the visit.
In solidarity with the Palestinians, Arab-Israeli lawmakers vowed to boycott the address with Joint (Arab) List party chairman Ayman Odeh calling Pence "a dangerous man with a messianic vision that includes the destruction of the entire region."
In a statement issued ahead of the speech, Edelstein called Pence's address "nothing less than a historic occasion" that "comes at a hugely significant time for Israel and the Middle East."
"We will listen intently to his speech and we in the Knesset will do everything we can in order to host Vice President Pence in the most fitting and impressive way possible," he added, in a veiled warning against any planned disruptions to the event.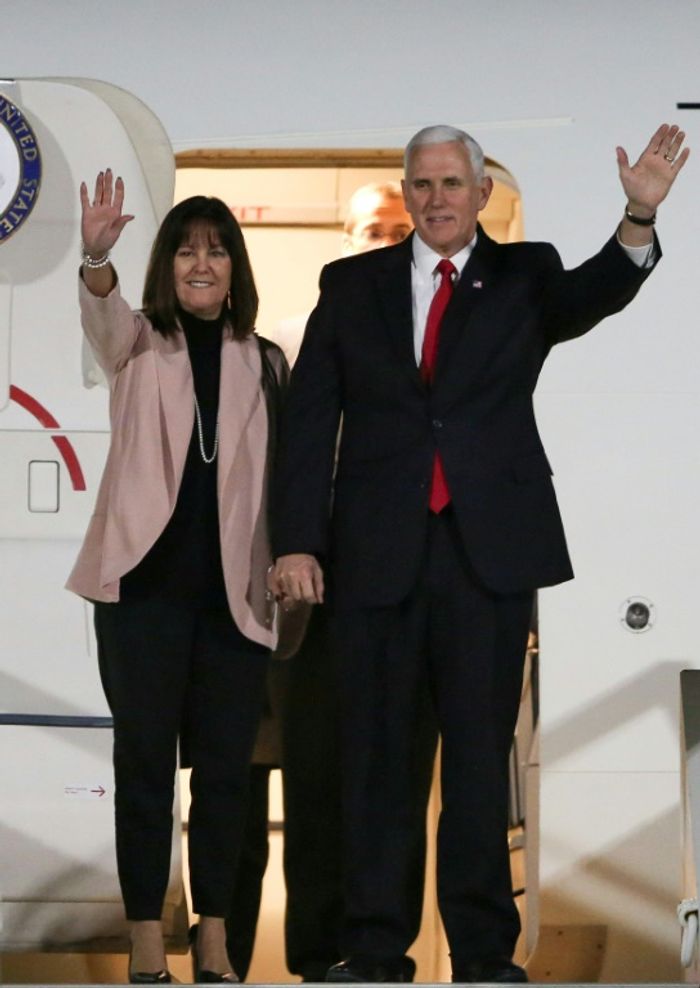 On Monday evening, Pence and his wife will join the Netanyahu's for dinner at the Prime Minister's Residence in Jerusalem.
On Tuesday, Pence will meet Israeli President Reuven Rivlin before laying a wreath at the Yad Vashem Holocaust memorial and visiting the Western Wall -- the holiest site in Judaism in the heart of Jerusalem's Old City.
The Vice President will also host a reception for US diplomats in Israel at the Jerusalem consulate before returning to Washington Tuesday evening.
This week reports surfaced that Washington may temporarily designate the US consulate general in Jerusalem as the embassy while the search for a secure and practical site for a long-term mission continues.
The status of Jerusalem is one of the most contentious issues in the Israeli-Palestinian conflict. Israel claims all of Jerusalem as its united capital, while the Palestinians see the eastern sector as the capital of their future state.
See also:
Jordan's King Abdullah tells Pence of concern over Jerusalem
Netanyahu slams Arab-Israeli lawmakers' plan to boycott Pence speech