Pence says US embassy in Jerusalem to open by end of 2019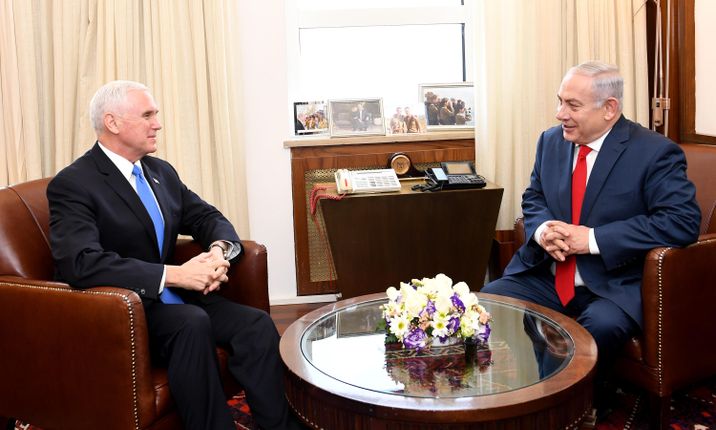 Israeli PM Netanyahu meets American VP Mike Pence
GPO
Pence promises scrapping of the Iran nuclear deal unless it is reworked
US Vice President Mike Pence pledged in front of Israeli lawmakers on Monday that the US would move its embassy from Tel Aviv to Jerusalem "by the end" of 2019.
In a speech to parliament he also urged Palestinians to "return to the table" of negotiations and resume long-stalled peace talks with Israel.
Referring to the 1948 founding of Israel, he said US President Donald Trump's decision to recognise Jerusalem as the country's capital last month "righted a 70-year wrong".
"In the weeks ahead, our administration will advance its plan to open the United States embassy in Jerusalem," Pence said.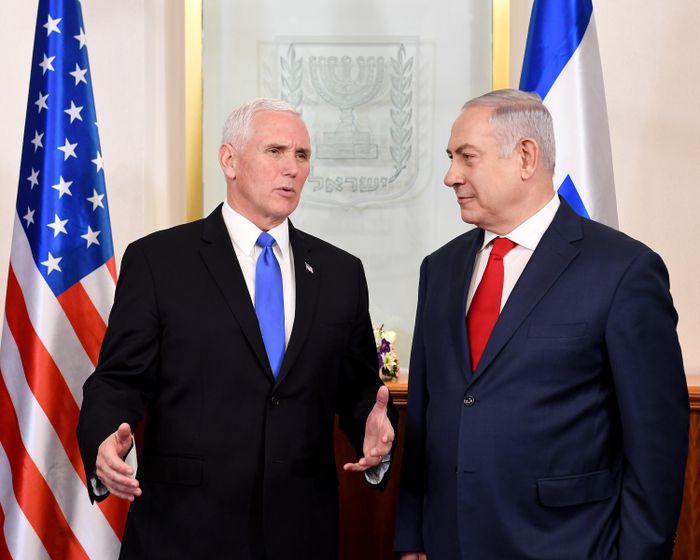 Members of the Joint List coalition of Arab parties had pledged to boycott the Pence speech in protest at a December 6 decision by US President Donald Trump to recognize Jerusalem as Israel's capital.
As Pence was set to begin his speech, a group of around a dozen Arab Israeli lawmakers shouted in protest, with some holding signs saying Jerusalem is the capital of Palestine.
They were escorted out by security agents as Netanyahu and others stood and applauded their expulsion.
Saeb Erekat, secretary-general of the Palestine Liberation Organisation, denounced Pence's speech as "messianic" and a "gift to extremists".
Pence's visit, initially scheduled for December before being postponed, is the final leg of a trip that has included talks in Egypt and Jordan as well as a stop at a US military facility near the Syrian border.
Arab outrage over Trump's Jerusalem decision on December 6 had prompted the cancellation of several planned meetings ahead of Pence's tour.
Abbas and other Palestinian leaders refused to meet Pence, making his visit a rare one by a high-ranking US official not to include talks with the Palestinians.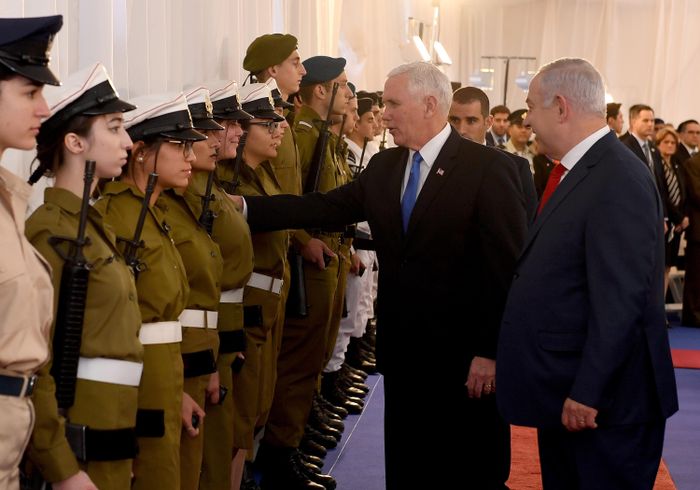 Pence spoke using many Biblical references, reminiscent of his evangelical background. He was applauded by lawmakers and granted a standing ovation at the end of his speech.
For instance, he said that "Winds of change can already be witnessed across the middle east...descendants of Isaac and Ismail are coming together in common cause like never before".
Netanyahu again lauded the Jerusalem decision.
"I've had the privilege over the years of standing here with hundreds of world leaders and (to) welcome them, all of them to Israel's capital, Jerusalem. This is the first time that I stand here where both leaders can say those three words, 'Israel's capital, Jerusalem,'" Netanyahu said.
On Tuesday, Pence, a devout Christian, will visit Jerusalem's Western Wall, one of the holiest sites in Judaism.
Trump became the first sitting US president to visit the site when he travelled to Jerusalem in May 2017.
The site is located in east Jerusalem, occupied by Israel in the 1967 Six-Day War and later annexed in a move never recognised by the international community.
Prime Minister Benjamin Netanyahu saluted with a round of applause the passage of Pence's speech where he said the United States would scrap the nuclear deal with Iran, unless it was "fixed".
"I have a solemn promise from me to all of Israel: the U.S. will never allow Iran to acquire a nuclear weapons," he said.
Pence says US will 'no longer certify' the Iran nuclear deal and that Trump waived agreement this year for 'last time' pic.twitter.com/XZjahu9h8v

— i24NEWS English (@i24NEWS_EN) January 22, 2018
"The Iran nuclear deal is a disaster and the United States of America will no longer certify this ill-conceived agreement," he added.
Pence, referring to the Iranian regime, said "History has proven that those who dominate their own people, rarely stop there...seeking to dominate the world."
"Even as its citizens cried out for basic necessities, Iran devoted money to terrorism," accused Pence.
Speaking of the common threat of international jihadi terrorism, Pence said that Israel and the United States can "together drive radical Islamic terrorism from the face of the earth".
WATCH: More than a dozen Arab-Israeli lawmakers removed by security and kicked out of Knesset right as Mike Pence started to speak. pic.twitter.com/oZBrsvBMy1

— i24NEWS English (@i24NEWS_EN) January 22, 2018
Ahead of the Pence speech, Israeli Prime Minister Benjamin Netanyahu called the American recognition of Jerusalem as Israel's capital "one of most momentous decisions in Zionism's history".
Leader of the oppposition Isaac Herzog, who did not meet Mike Pence bilaterally during the visit, called Jerusalem "the rock of our existence" ahead of the speech.
"For many decades we have awaited a recognition as Jerusalem as the capital...Trump's decision does justice to the Jewish people. We thank Trump for his integrity in keeping this promise," he said.
In his speech to parliament, Pence said "we strongly urge the Palestinian leadership to return to the table. Peace can only come through dialogue."
The 82-year-old Abbas said in Brussels that "we are keen on continuing on the way of negotiations because we believe it is the only way forward to reach a negotiated solution and peace between us and Israel."
Pence says Trump told state department to 'immediately begin preparations' to move US embassy pic.twitter.com/U4iYaa966M

— i24NEWS English (@i24NEWS_EN) January 22, 2018
He has however pushed for an internationally led process.
Netanyahu appeared more interested in talking with Pence on other issues, including Iran, Israel's main enemy.
Pence dedicated part of his speech to Iran, saying the United States "will never allow" it to acquire a nuclear weapon and pledging to "work with Israel and with nations across the world to confront the leading state sponsor of terror."
More to follow.