Report: Sheldon Adelson offers to help pay for U.S. embassy in Jerusalem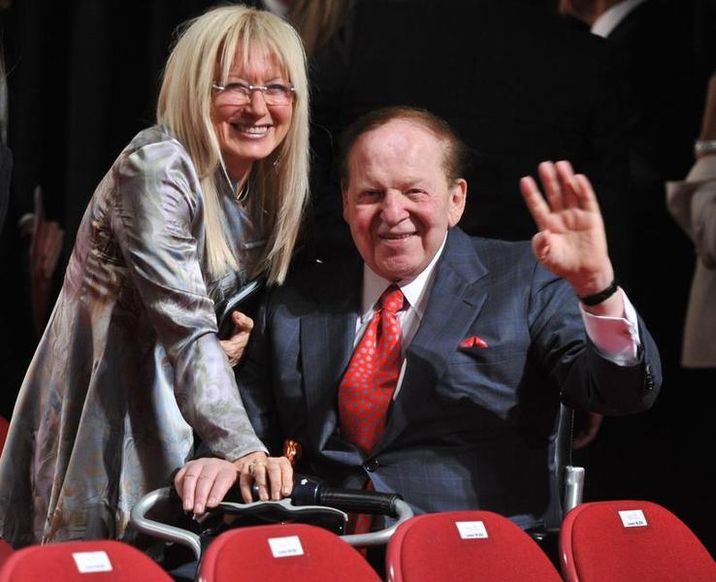 Sheldon Adelson and his wife Miriam
AFP
Accepting private donations in order to build an embassy is an unusual, if not unprecedented, maneuver
Republican mega-donor Sheldon Adelson has offered to subsidize the cost of building the U.S. embassy in Jerusalem, according to four U.S. officials who spoke to the Associated Press (AP).
Accepting private donations in order to build an embassy is an unusual, if not unprecedented, maneuver, marking a departure from previous U.S. practice. Building a full-fledged compex in Jerusalem could easily run over $500 million, according to official familiar with the process.
State Department lawyers are exploring the legality of utilizing private donations to cover the cost of building a new embassy, according to the officials. One proposal is to raise funds for the embassy, and any difference in the cost would be covered by Adelson and other donors in the Jewish American and evangelical communities.
The plan to move the U.S. embassy from Tel Aviv to Jerusalem has been quietly underway. After weeks of delays, Secretary of State Rex Tillerson signed off Thursday on a security plan for moving the embassy from Tel Aviv to the holy city, according to the officials.
Sheldon Adelson is one of the largest Republican donors, and donated $5 million to Trump's campaign. Adelson has been a major benefactor of right-wing causes, financing Israel Hayom, a free periodical that is known for sympathetic towards the policies of Israeli Prime Minister Benjamin Netanyahu.
Many member of Trump's administration have been vocally supportive of the embassy move. Last month, during a visit to Israel, U.S. Vice President Mike Pence announced that the U.S. embassy would move by the end of 2019 latest. The American ambassador to Israel, David Friedman, lobbied heavily for Trump to recognize Jerusalem as the capital of Israel, and has been an advocate of moving the embassy as soon as possible.
But actually implementing the embassy move is a complex process. According to officials who spoke to AP, the most likely plan of action will be to open the U.S. embassy in the Jerusalem neighborhood of Arnona, where a smaller U.S. facility handling bureaucratic issues like passports and visas already exists. This could house Friedman and several aides temporarily while other locations are vetted.
However, this plan could technically fulfill the promise from the Trump administration, while easing the process of moving the embassy piecemeal. If implemented, the U.S. can open an embassy in Jerusalem by April, when Israel celebrates its Independence Day, Yom Ha'atzmaut.
Meanwhile, America's current facility in Tel Aviv will still remain open, while the rest of the embassy staff wait for the expansion of the Arnona facility. Retrofitting the Arnona facility can be accomplished at a minimal cost, as a temporary measure.
You need to be logged in in order to post comments. Sign up or log in
February 23, 2018 3:15 PM