Netanyahu: 'West's zero-tolerance chemical policy should apply to nuclear arms'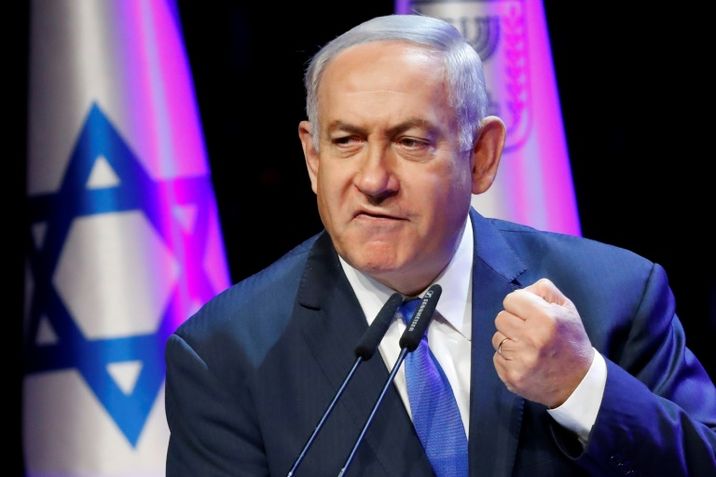 Israeli Prime Minister Benjamin Netanyahu addresses a conference in Tel Aviv on March 27, 2018
JACK GUEZ (AFP)
Netanyahu reiterates warnings over Iran's entrenchment in Syria days after airstrike attributed to Israel
Israeli Prime Minister Benjamin Netanyahu praised Western powers for launching missile strikes in Syria in response to the alleged use of chemical weapons there, and called for the same "zero-tolerance" policy to be adopted towards preventing "terrorist states" from acquiring nuclear weapons, referring to Israel's main enemy Iran.
"Israel fully supports [US President Donald] Trump's decision to act against the use of chemical weapons in Syria. Israel welcomes the participation of British Prime Minister Theresa May and French President Emanuel Macron in this action," Netanyahu said at the beginning of his weekly cabinet meeting on Sunday.
The premier said he spoke with May on Saturday night following the joint strikes, which targeted three alleged chemical weapons facilities in Syria.
"The important international message that came from the attack was zero tolerance for the use of non-conventional weapons," Netanyahu said at the start of a cabinet meeting, describing his discussion with May.
"I added that this policy needs to also be expressed in preventing terrorist states and groups from having nuclear abilities," he added.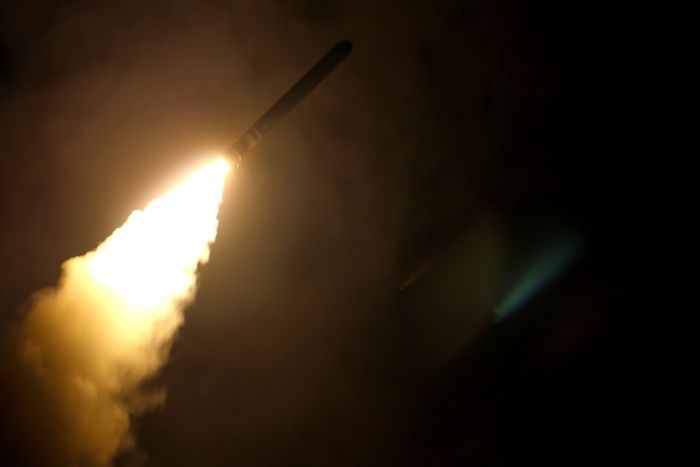 Netanyahu reiterated his warnings over Iran's presence in Syria after previously pledging not to allow the country to entrench itself militarily on its northern border.
"I reiterated that the main element that is subverting the Middle East more than any other is Iran, and that President Assad must understand that when he allows Iran and its proxies to establish a military presence in Syria, he is endangering both Syria and the stability of the entire region," the Israeli leader said of his phone call with the British premier.
Netanyahu's remarks and the joint US-Britain-France strikes came days after an April 9 airstrike on the Iran-operated T-4 airbase in Syria killed 14 people, including seven Iranians.
The attack was widely attributed to Israel, thought it has neither confirmed nor denied responsibility.
Also on Sunday, two Israeli ministers said their country would continue to act to prevent Iran from establishing itself militarily in Syria.
US-led missile assault which saw a barrage of 105 guided missiles launched towards three chemical weapons facilities in Syria in response to a suspected chemical attack on the rebel-held town of Douma was said to have been coordinated with Israel in advance.
Trump's new national security adviser, John Bolton, was according to the Haaretz daily in contact with his Israeli counterpart Meir Ben Shabbat in the days ahead of the strike.
Israel similarly coordinated its alleged attack in Syria on April 9 with the United States before it was launched, but not with Russia, despite the two countries having established a coordination hotline to avoid clashes over Syria.
Israel has sought to avoid direct involvement in Syria's civil war, but acknowledges carrying out dozens of air strikes there to stop what it says are advanced arms deliveries to Lebanese Shiite group Hezbollah, another of its enemies.
Hezbollah, like Iran and Russia, is backing Assad in the war.
(Staff with AFP)