Four Palestinians shot dead as Gaza protests resume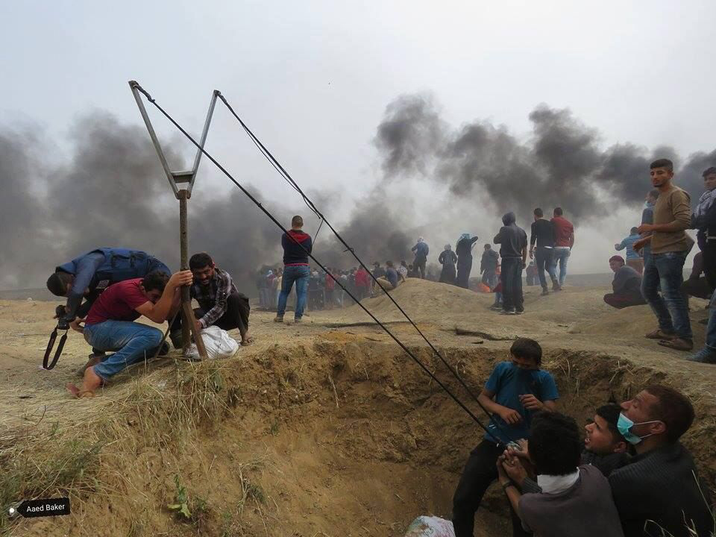 A group of Palestinian youths operate a large slingshot in the Gaza Strip on April 20 2018.
Aaed Baker
Flaming kites are the latest tactic used by Gazans, though small and unlikely to cause major damage
Four Palestinians were killed by Israeli fire and around 40 were reported wounded along the Gaza border on Friday as "Great March of Return" protests resumed for the fourth consecutive week.
Thirty-eight Palestinians have been killed by Israeli forces since protests and clashes erupted on the Gaza border on March 30, according to Gaza's health ministry.
Organizers say they are peacefully protesting the right to return to ancestral homelands in Israel, while the Israeli military says Hamas and other militant groups are using the demonstrations as cover to carry out terror attacks and attempt to break through the fence.
The Israel Defense Forces (IDF) said that "Approximately 3,000 Palestinians are participating in the riots, attempting to approach the security infrastructures, burning tires adjacent to it and attempting to fly kites with burning items attached to it."
"IDF troops are responding with riot dispersal means and are firing in accordance with the rules of engagement," the statement added, noting the kites were "extinguished."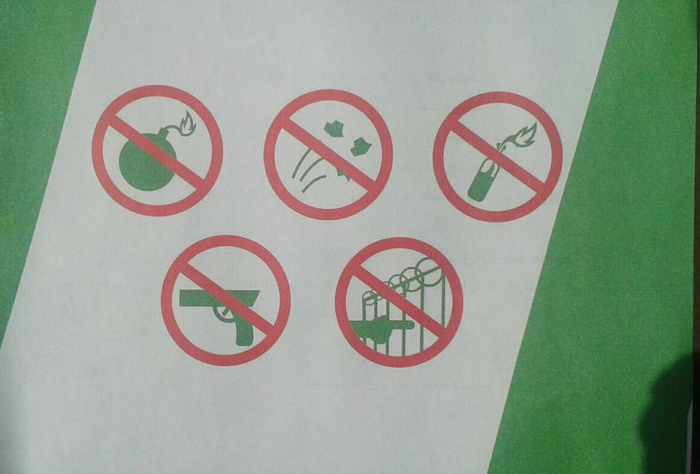 The Palestinian health ministry identified the men killed on Friday as 25-year-old Ahmad Aqel, 24-year-old Ahmad Rashad Al-Athamneh, 15-year-old Mohammed Ibrahim Ayoub and 29-year-old Sa'ad Abu Taha. 
The United Nations peace envoy for the Middle East, Nickolay Mladenov, wrote a blistering tweet in which he demanded the killing of Ayoub be investigated."
"It is OUTRAGEOUS to shoot at children! How does the killing of a child in #Gaza today help #peace? It doesn't! It fuels anger and breeds more killing. #Children must be protected from #violence, not exposed to it, not killed!"
Security sources in Gaza said Abu Aqel was standing near a group of people setting fire to tires near the border with Israel.
A graphic picture circulated of Aqel, shot in the head, who was also reported as a "special needs" individual.
Thousands of Gazans were gathered on Friday at various locations along the border in the blockaded enclave.
The office of Palestinian President Mahmoud Abbas repeated a call from previous protests that Gazans require "international protection."
"The Israeli occupation forces fired at peaceful demonstrations in the Gaza Strip and the attacks of settlers in Barqa and Burin requires requires the provision of international protection for our people," a statement said.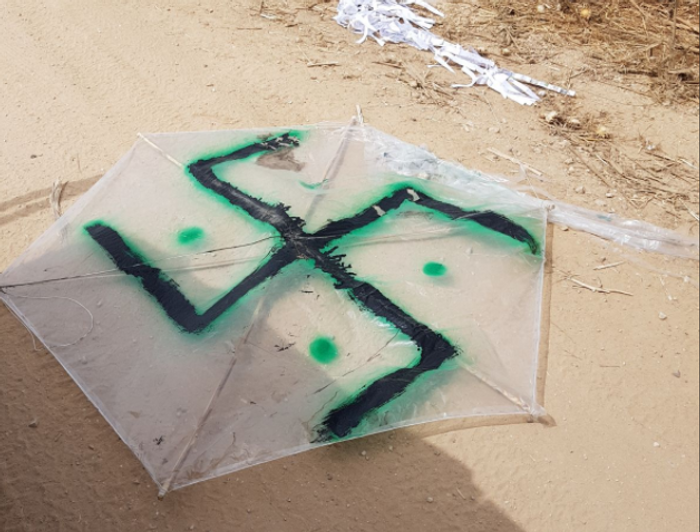 The IDF shared an image depicting a Molotov cocktail attached to a swastika-bearing kite that it said had crossed over the Gaza border into Israel Friday -- on the anniversary of Adolf Hitler's birthday, which was expected to prompt confrontations in Germany between neo-Nazis and anti-fascists.
Earlier in the day, IDF revealed that it had dispatched fliers over Gaza via planes with images of prohibited behaviors and warning locals not to participate in violent activities near the border.
Israel has pledged to stop damage to the fence, infiltrations and attacks, and alleges there have been attempts at all three.
"What we saw in these four weeks is that each week there are fewer and fewer people on the one hand, and on the other hand there are many more terrorist acts," Israeli Defense Minister Avigdor Liberman told reporters while visiting the border area on Friday.
He accused militants of pretending to be journalists and Red Crescent workers of taking part in the violence, but did not offer evidence.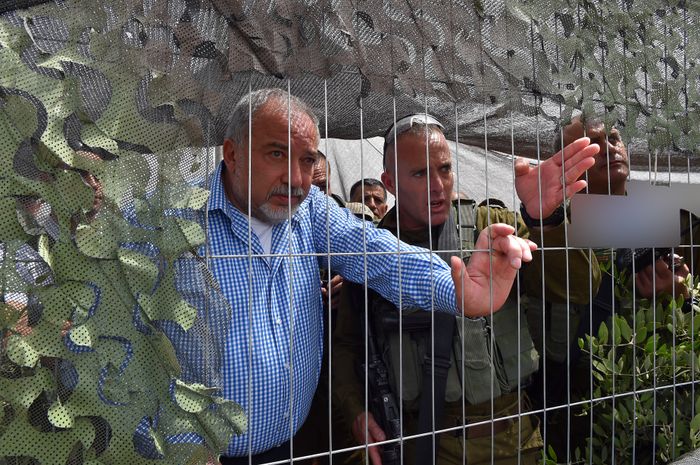 Israel's Intelligence minister, Israel Katz, said on Friday that targeted killings of Hamas leadership will be renewed if Islamic Jihad follows through on Thursday's threats to kill Israeli soldiers and generals.
"The threats by the PIJ Terror organization to shoot at IDF officers by snipers from Gaza, constitutes crossing a red line. Hamas must know that any attack on IDF commanders at the border to Gaza will immediately lead to a renewal of targeted killings of the Hamas leadership."
Katz thus holds Hamas responsible for Islamic Jihad's video which shows fighters from the militant group lining up their sniper rifles on a staircase and then go on to target IDF soldiers and generals.
"You're killing our people in cold blood and think that you're protected, but our snipers' sights are on your top commanders," a statement read at the end of the video.
The "March of Return" is set to climax on May 15, when Israel will mark 70 years of independence -- a day Palestinians mark as the "nakba" ("catastrophe" in Arabic) -- and the United States will cut the ribbon on its controversial new embassy in Jerusalem.
New tactics: burning kites
On the eve of Friday's protests, a group of young people worked with colored paper and empty coke bottles under a tree in an olive orchard hundreds of meters from the Israeli border east of Gaza City.
Some carefully created 60-centimeter-long kites in the colors of the Palestinian flag. When completed, a metal wire was attached at the bottom linked to a liquid-filled bottle.
As AFP watched, three young men carried one kite dozens of meters towards the border before stopping to set the bottle alight.
With the flame lit, they sent it into the air and cut the thread -- watching as it floated over the border and crashed, causing a small fire.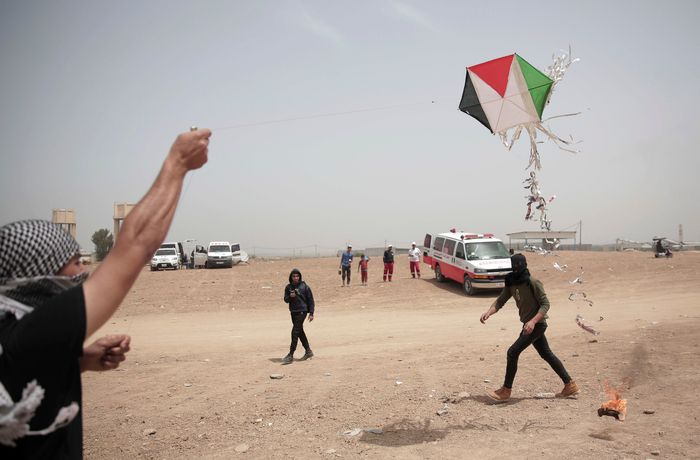 "We use the kites to send a message that we are capable of bothering the occupation," said 16-year-old Abdullah.
Gazans have used stones, firebombs and fireworks during clashes, but have also employed tactics such as creating a smokescreen by burning tires and Israeli flags.
Kites are now the latest, though they are small and unlikely to cause major damage.
Protest organizers have officially labeled Friday's protest in support of "martyrs and prisoners," but on social media some Palestinians have dubbed it the "Friday of Kites."
A small fire broke out in an Israeli farming area on Thursday afternoon near the border with central Gaza after a kite fell, witnesses said.
On Wednesday evening, about 20 young people were practicing flying kites attached to containers east of Bureij in the central Gaza Strip.
"They (the soldiers) are firing explosive bullets and tear gas, we are flying kites to burn the farmland," said a 17-year-old, who did not want to be named.
(Staff with AFP)