Israel closes main crossing to Gaza after protesters burn security fence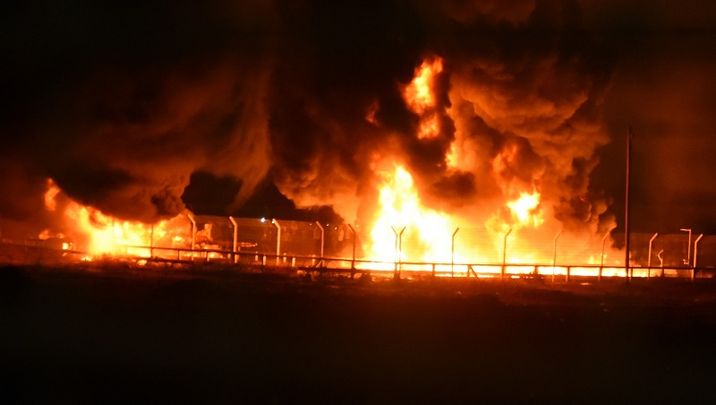 Kerem Shalom crossing in Gaza burning on Friday May 11
IDF
For the second week in a row, protesters damaged gas pipes at the Kerem Shalom border crossing
Israel's Defense Forces (IDF) announced on Saturday that Defense Minister Avigdor Liberman has approved closing the Kerem Shalom humanitarian crossing in Gaza from tomorrow (Sunday) until further notice, due to Friday's destruction of gas pipelines and the security fence at the crossing.
For the second week in a row, protesters damaged gas pipes at the Kerem Shalom border crossing on Friday, which are responsible for transporting gas into Gaza.
Israel's Defense Forces issued a statement on Friday, saying "The crossing will remain closed until the damages caused by the riots are repaired and will reopen in accordance with a situation assessment. The Hamas terror organization, which in recent weeks has been carrying out terrorist attacks in the guise of riots, is harming the well-being of Gazans and paralyzing their ability to go about their daily lives."
"Israel and many countries around the world work to deliver goods such as food, equipment and fuel to Gaza's citizens, initiatives which are prevented by the Hamas terror organization's actions," the statement added.
Saturday's statement from the IDF said that Hamas is responsible for everything that happens in the Gaza Strip.
#Israel has closed the Kerem Shalom border crossing into #Gaza until repairs are completed, after Palestinian rioters set fires in the compound which transfers fuel, gas and food into Gaza Friday. Damages to pipes + infrastructure estimated in the millions @i24NEWS_EN #IDF video pic.twitter.com/8Qv5XAr2fy

— Shai Ben-ari (@ShaiBenari) May 12, 2018
The following is a list of destruction done to the humanitarian crossing according to the IDF:
-The fuel terminal has been rendered totally unusable.
-Gas pipelines – Damage was caused to connection stations. The main gas line is not functioning at all.
-Fuel pipes – The fueling site sustained fire and fracture damages.
Aggregate conveyor belt - Not suitable for operation at all. Significant damage was caused to the entire structure.
-Grain conveyors, food and livestock - Damage was caused to electricity infrastructure.
-Security infrastructure of the humanitarian crossing* - Damage was caused to fences, light poles and cameras.
On Friday, Haaretz reported that a senior IDF security official warned that next week's Gaza protests, set to coincide with Nakba Day ('The Catastrophe in Arabic) and the US embassy move, are expected to be the most violent of the string of protests to date.
The army forecasts that there will be approximately 100,000 protesters across 17 different sites of confrontation along the border and has stationed 11 battalions to contain the unrest, the senior officer in the southern command told the Haaretz. In contrast, during last Friday's protests there were five flash points.