Liberman: Hamas is a bunch of cannibals, uses children as ammunition
Israel's Defense Minister Avigdor Liberman with top IDF brass, May 16, 2018
IDF
Monday's demonstrations in Gaza left more than 60 Palestinians killed, but Liberman defended the Israeli army
Touring the Gaza border with top military brass on Wednesday, Israel's Defense Minister Avigdor Liberman slammed Hamas, calling them a bunch of cannibals that treat Palestinian children as ammunition.
"The Hamas leadership is a group of cannibals that treats children and women as weapons. They want to lift the siege on Gaza, but they do not do so for the economic distress of the Palestinians or for the sake of coexistence," Liberman said.
Monday's demonstrations in Gaza left more than 60 Palestinians killed, but Liberman defended the Israeli army's conduct, saying they behaved in a professional manner and that they deserved a big thank you.
"Israeli soldiers did an amazing job. It is important to thank them for the hard work they have been doing since Passover. We have gone through several difficult events in the past month and a half without interruption, and that is only because of them. "
Although a report on Wednesday from the Hebrew media Walla! indicated that Hamas has conveyed a message to IDF, in which it offers quiet on the border in return for reduced Israeli airstrikes, Liberman stated that the de facto ruler of Gaza only has one goal;
"All they are talking about is to get the freedom to build up their military capabilities, to smuggle weapons without any willingness to recognize the State of Israel. They need to lift the siege so that they can smuggle weapons, continue building the force and build another Hezbollah model here," he said.  
Palestinian president Mahmoud Abbas accused Israel of "massacres," while Amnesty International called the violence an "abhorrent violation" of human rights. Human Rights Watch denounced a "bloodbath".
The surge in fatalities led South Africa to recall its ambassador in Israel "with immediate effect until further notice" while condemning the deaths "in the strongest terms possible".
"I suggest to everyone just to think about what would have happened the they had succeeded in breaking into one of the settlements. We saw what happened at Kerem Shalom, on the Palestinian side. They reached Kerem Shalom, and destroyed the gas pipeline," the defense minister said in response to the criticism that the Israeli army received around the world after Monday's clashes.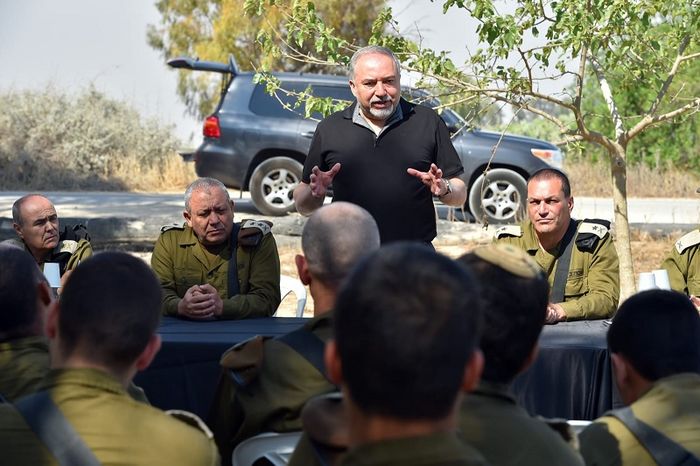 On Tuesday, Erdogan slammed Israel for its handling of the Gaza demonstrations, accusing the Jewish state of "state terror" and "genocide" over the killings.
Prime Minister Benjamin Netanyahu hit back at Erdogan, with a tweeted jibe in Hebrew that as a leading supporter of Palestinian Islamist group Hamas "there's no doubt he's an expert on terror and slaughter".
Responding on Twitter in English, Erdogan said: "Netanyahu is the PM of an apartheid state that has occupied a defenseless people's lands for 60+ yrs in violation of UN resolutions."
"He has the blood of Palestinians on his hands and can't cover up crimes by attacking Turkey," he added.
Liberman said on Wednesday that it was a big mistake to apologize to Turkey, and that he had predicted the outcome a long time ago.
"My opinion is very clear and consistent on this issue. Before the apology was given to Turkey, I was against it. I voted against it in the cabinet, and predicted exactly what would happen. Everything i said then is unfortunately what has happened now."
The current rift between Israel and Turkey, which culminated on Tuesday night when Turkey ordered Israel's consul general in Istanbul, Yossi Levi Safri, to leave the country immediately.
Israel responded by ordering the Turkish consul in Jerusalem, Hüsnü Gürcan Türkoğlu, to leave for an unspecified period of time, its foreign ministry said.
You need to be logged in in order to post comments. Sign up or log in
get going on this targeting killing of Hamas leadership. bomb all Hamas installations in gaza
bulldoze the Turkish consulate