Netanyahu warns Hamas of 'unbearable price' if it escalates Gaza situation

Israeli troops leave Gaza after Operation Protective Edge, August 6, 2014
AFP
Israel's Prime Minister Benjamin Netanyahu warned Hamas Tuesday that if it chooses escalation over calm, it will pay an "unbearable price" after months of sky-high tensions on the Israel-Gaza border. 
"I recommend that the leaders of Gaza choose calm. If they choose escalation, the price they pay will be unbearable to them," Netanyahu warned in his speech on Tuesday.
Weekly protests and clashes in Gaza -- in which at least 138 Palestinians were killed -- have been punctured also by rocket salvos fired from within the Strip toward Israel. 
Hamas' objective, which is trying to isolate Israel on the international stage has failed, Netanyahu said at a memorial ceremony for fallen soldiers during the 2014 Gaza war, also known as Operation Protective Edge.  
"Not only has that not happened, but the exact opposite has happened: Even the Arab states -- or leading states in the Arab world -- identified with our position, and I have reason to believe that today this is doubly true," he said.
"Netanyahu praised Operation Protective Edge in his speech on Tuesday, saying: "In light of the grave danger, we embarked on a justified operation, a moral operation, a promised operation. The attacker was attacked. (Hamas) was attacked before it could carry out its plot. Italso paid a heavy price."
The war in 2014 led to death of 74 Israelis and 2,251 Palestinians, about half of whom fighters for various terror factions.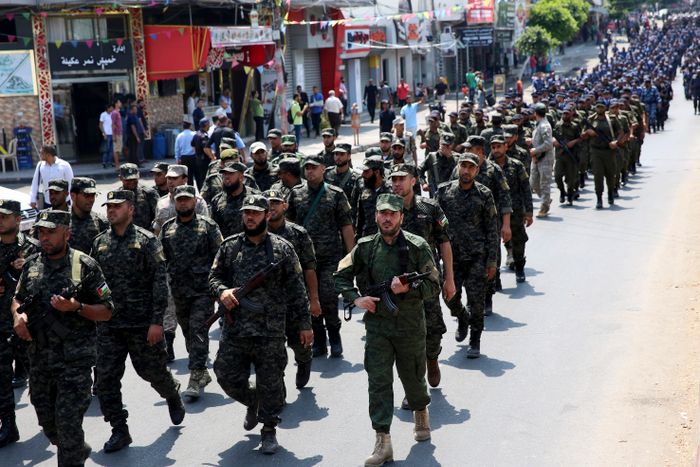 Netanyahu also promised that Israel is doing all it can to return the bodies of slain soldiers Oron Shaul and Hadar Goldin as well as the missing Israelis, Avraham (Avera) Mengistu and Hisham Al-Sayeed, who are believed to be held captive by Hamas in Gaza.
"We continue to invest great efforts in returning our fighters ... and not everything that is going on is known about," Netanyahu said.
The UN criticised Israel's conduct heavily and estimated that 1,500 civilians were killed during the 50-day war.
Israel accuses Hamas of using the protests as an excuse to carry out attacks on Israel and has responded with both lethal and non-lethal force, saying at least 50 of the 130 were identified as members of Hamas or other Gaza terrorist groups.
The weekly Gaza protests have been characterized by stone-throwing at Israeli soldiers, laying of explosive devices on the security fence and mass attempts to breach the border.
The prime minister concluded his speech by praising the courage of the fallen soldiers in the 2014 war.
"Their mission is engraved in our hearts. Their courage will guide us from generation to generation. May their memory be blessed forever."
You need to be logged in in order to post comments. Sign up or log in
Yes, long live Netanyahu, without him and his leaders, Israel will be attacked. But he needs to take firmer action against Hamas.