Netanyahu warns Hezbollah in message to Pompeo: report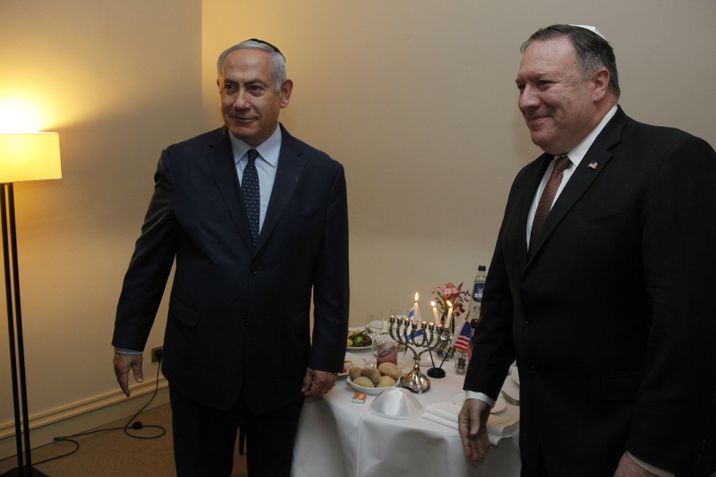 Israeli Prime Minister Benjamin Netanyahu and US Secretary of State Mike Pompeo in Brussels, December 3, 2018
Gabby Farkash
Meeting follows reports of 10,000 Iran-led Syrian troops to be stationed at border with Israel.
Israeli Prime Minister Benjamin Netanyahu met with US Secretary of State Mike Pompeo on a lightning trip to Brussels on Monday for talks focusing on joint efforts to curb Iranian aggression in the region.
Netanyahu -- who was joined by the head of Israel's Mossad spy agency Yossi Cohen, National Security Adviser Meir Ben Shabbat, and military secretary Col. Avi Blot -- reportedly told Pompeo that Israel will act to prevent Hezbollah from building precision missile factories in Lebanon, Channel 2 reported on Monday.
At the start of the meeting, Prime Minister Netanyahu said: "I want to thank you for everything that you're doing, for your strong statements on the latest violation by Iran on the ballistic missiles. I look forward to discussing with you how we can together curb Iran's aggression in the region, in Syria, in Iraq, in Lebanon and elsewhere and to continue our efforts to achieve peace and security for everyone."
A statement from the premier's office said that the meeting had been set "last week", but was brought forward in order for Pompeo to head back to the US to attend former president George HW Bush's funeral proceedings.
Unnamed officials from the PMO told the pro-Netanyahu Israel Hayom broadsheet that the sit-down was "urgent".
The meeting comes days after Pompeo accused Tehran of illegally testing nuclear-capable warheads and as Israel accused it of continuing to arm Lebanon's Hezbollah paramilitary group with heavy arms.
"As we have been warning for some time, Iran's missile testing and missile proliferation is growing. We are accumulating risk of escalation in the region if we fail to restore deterrence. We condemn these activities, and call upon Iran to cease immediately all activities related to ballistic missiles designed to be capable of delivering nuclear weapons," Pompeo said in a statement.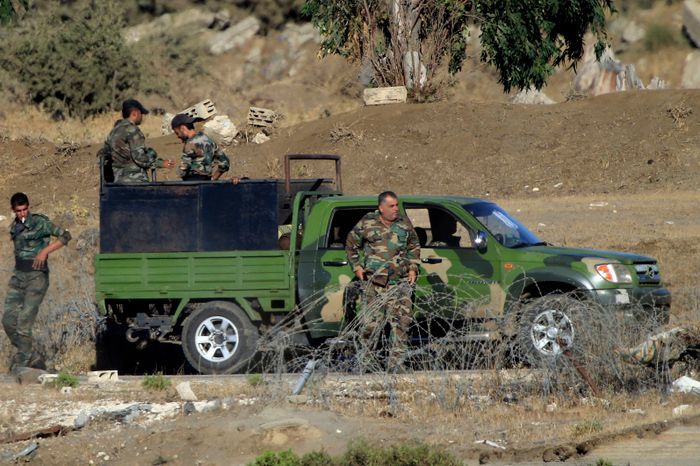 It also comes a week after UN Ambassador Danny Danon said that US officials had informed Israel that President Donald Trump's long-awaited peace plan was nearing completion and set to be unveiled early next year.
Netanyahu and Pompeo last met during the US secretary's visit to Israel in April, a month before Washington pulled out of the Iran nuclear deal and re-imposed crippling economic sanctions against the Islamic Republic.
On Sunday, the Syrian army accused US-led coalition forces of attacking one of its positions sending 14 missiles at a Syrian army convoy passing by the US and British Al-Tanf base.
Israel also reported that remains of a Syrian anti-aircraft missile was found in the Israeli-controlled Golan Heights on Friday.
Hezbollah is a growing concern to Israel due to its growing military capacity as well as the experience its fighters in Syria gained throughout the war.
Following the attack in Syria, Hezbollah issued a graphic video warning Israel not to attack in Lebanon, appearing to show several Israeli targets ready to be struck by the Lebanese group.
The video shows Hezbollah fighters aiming at Israeli targets and its leaders Hassan Nasrallah saying any attack on Lebanon would be responded to.
It also shows a number of Israeli sites, such an oil refinery, air force bases, the nuclear reactor in Dimona and IDF's military headquarters in Tel Aviv.
Last week, i24NEWS reported that 10,000 Syrian troops, trained and led by officers of Iran's Islamic Revolutionary Guard special forces, the Al-Quds Forces, were to be stationed at the border with Israel.
Netanyahu temporarily leaves domestic concerns at home, one day after Israeli police recommended his indictment for corruption in "Case 4000". The affair refers to accusations of bribery over allegations that he pushed regulations benefiting Bezeq telecoms in exchange for positive coverage from its Walla news site.