Israeli dronemaker's export license suspended over alleged live-fire demo on Armenian forces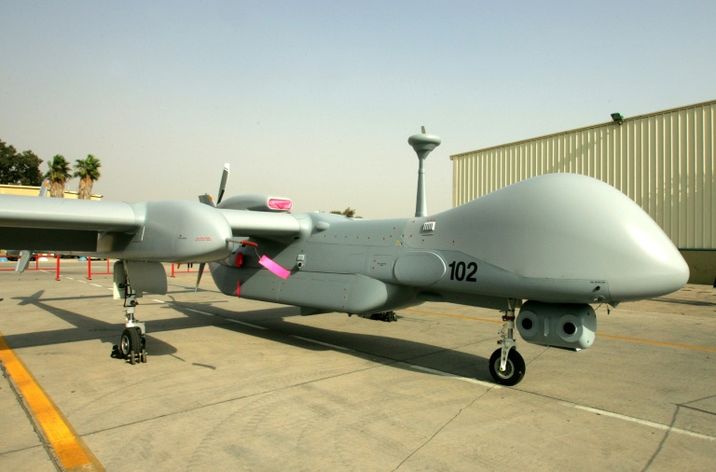 A file photo taken on October 8, 2007 shows an Israeli Heron TP surveillance drone
JACK GUEZ (AFP)
Israel's defense ministry has suspended the export licenses of three senior officials from an Israeli dronemaker that allegedly carried out a live-fire test against Armenian forces while conducting a demonstration of one of its unmanned aerial vehicles (UAVs) on behalf of Azerbaijan in fall of 2017.
Aeronautics Defense Systems Ltd. was informed of the decision early Sunday, and the defense ministry later confirmed that it was suspending the export licenses of three senior officials in the firm -- CEO Amos Matan, deputy CEO Meir Rizmovitch and a third unnamed, employee -- pending a formal hearing.
The firm was summoned by Israel's State Attorney to a pre-indictment hearing in August, a year after a criminal investigation was opened into the defense systems firm for "a deal with a key client" that allegedly involved an attempted bombing of a manned position of the Armenian military on behalf of Azerbaijan during a live demonstration of a kamikaze UAV.
CEO Amos Matan, deputy CEO Meir Rizmovitch, development director Haim Hivashar, and marketing director David Goldin were among those summoned before the State Attorney's Office's Economics Division.
Most details of the alleged incident remain subject to a court censorship order and Aeronautics has denied ever carrying out any live-fire demonstrations.
In August 2017, Aeronautics lost its license to export its Orbiter 1K model UAV to a "significant customer" after a criminal investigation was launched following a complaint filed with the Israeli defense ministry.
Aeronautics was reportedly set to make NIS 71.5 million (approximately $20 million) over a two year period in this deal with the "significant customer", which was identified as likely being Azerbaijan.
According to the original complaint, a copy of which was first leaked to Israel's Maariv newspaper, one of Aeronautics Orbiter 1K model UAVs was launched at the Armenian military in the contentious Nagorno-Karabakh mountain region claimed by Armenia and disputed by Azerbaijan.
Aeronautics was reportedly demonstrating the suicide drone's system for Azerbaijani forces in October and was asked to show the system's live-fire capabilities against an Armenian position.
Two Israeli drone operators reportedly refused to hit the Armenian position due to it "never carry[ing] out demonstrations on live targets".
Senior representatives of the company then took over the demonstration and fired on the targets requested, but lacking operational experience, missed them. No injuries or damage were reported following the incident.
Azerbaijan is one of the largest importers of Israeli ammunition, yet due to reported human rights violation amid the regional conflict, Israel has been criticized for its cooperation. Bordering Iran, Azerbaijan is also viewed as an important ally to the Jewish state in its intelligence gathering efforts.
Nagorno-Karabakh is internationally recognized as Azeri territory, though many see it as a de facto independent state due to its Armenian ethnic majority. The Organization for Security and Cooperation in Europe (OSCE) has brokered peace talks between the two ex-Soviet nations in hopes of reaching a solution to a more than 25 years long conflict.