Protective Edge averted massive tunnel attack by Hamas, IDF says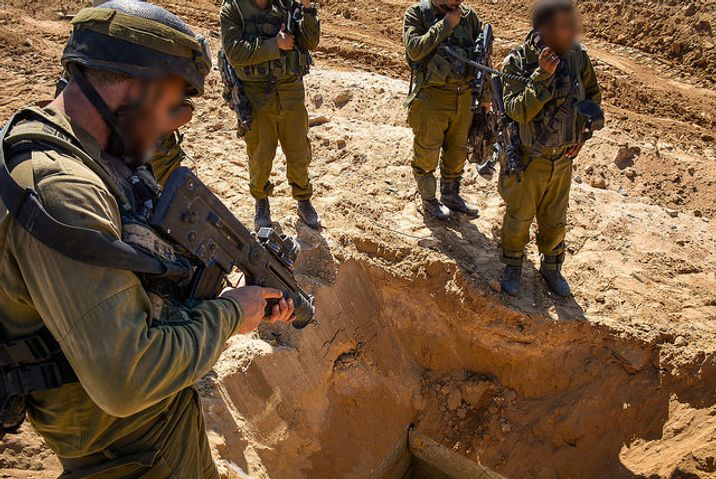 Soldats israéliens devant un tunnel terroriste
Tsahal
Military confirms earlier reports, saying some 200 militants intended to infiltrate and kill, kidnap civilians
Top Israeli Defense Forces officials on Tuesday said the military has prevented a massive-scale attack by planned by Hamas on Israeli territory that would have seen some 200 Palestinian militants infiltrate through underground tunnels to kill and kidnap Israeli citizens.
Israeli forces demolished a large network of clandestine tunnels leading into Israel from the coastal enclave during the 50 day-long bout of fighting with Gaza militants which killed more than 2,140 Palestinians and 73 on the Israeli side.
"Hamas had a plan," the army's foreign media spokesman, Lt. Col. Peter Lerner, was quoted by Vanity Fair as saying. "A simultaneous, coordinated, surprise attack within Israel. They planned to send 200 terrorists armed to the teeth toward civilian populations. This was going to be a coordinated attack.
"The concept of operations involved 14 offensive tunnels into Israel. With at least 10 men in each tunnel, they would infiltrate and inflict mass casualties."
During the summer's Operation Protective Edge, Israeli media of an attack was planned to coincide with the Rosh Hashanah in September 2014; however an unnamed IDF senior official told Vanity Fair the plan never come to be realized as the kidnapping and murder of three Jewish teenagers in June by a Hamas cell in the West Bank set off the chain of violent events that led to the Israeli ground incursion into the enclave.
The official told the US magazine the attack was aimed to inflict the greatest possible human toll, to "pull off something they could show on television," and to grab hostages which can later be used as bargaining chips for the release of Palestinian prisoners.
In an interview with the same magazine also published Tuesday, Hamas leader Khaled Mashal denied his organization was planning the mass attack.
He insisted that the tunnels leading into Israeli territory "may have been outwardly called 'offensive tunnels,' but in actual fact they are 'defensive' ones.'"  
Asked by the interviewer why the majority of the tunnels lead to civilian communities, Mashaal said "Yes, true. There are Israeli towns adjacent to Gaza. Have any of the tunnels been used to kill any civilian or any of the residents of such towns? No. Never! . . . [Hamas] used them either to strike beyond the back lines of the Israeli army or to raid some military sites . . . This proves that Hamas is only defending itself."
On Sunday an unnamed Hamas military wing chief was quoted by Israeli press as saying the group has resumed the construction of underground tunnels leading into Israeli territory.
Since the end of Operation Protective Edge on August 26 with an open-ended truce agreement the militant group has claimed that the terrorist group still has access to Israel via its tunnel network, and that there will be "no security" in Israel as long as there is none in Gaza.
However in the interview on Sunday with the terror group's mouthpiece the Al Risala, the military chief said that his men are busy reconstructing the tunnels, adding that "we have no time to lose. We have plenty of work ahead of us, which necessitates great human resources."
During his tour of Israel and the Gaza Strip on Tuesday, United Nations chief Ban Ki-moon entered an underground tunnel dug by Hamas, saying he "condemned time and time again Hamas' rocket attacks and their use of tunnels. It is not acceptable. Nobody should live in constant fear and under the threat of rockets and tunnels."