Israel: Defense Ministry removes family's plaque from soldier's grave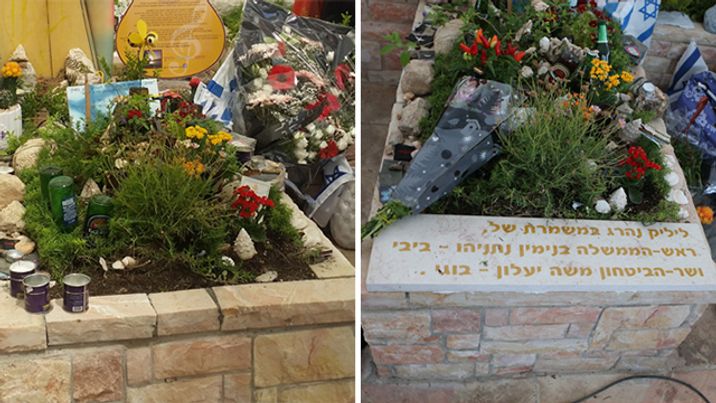 The grave on Friday, after the removal of the text (L), and on Thursday (R)
Eli Mandelbaum, Alex Kolomoisky (Ynet)
Li Mat's family placed slogan criticizing PM Netanyahu, defense minister Ya'alon on grave at military cemetary
Representatives from Israel's Defense Ministry on Thursday removed a plaque criticizing Prime Minister Benjamin Netanyahu and Defense Minister Moshe Ya'alon from the grave of an IDF soldier killed during last summer's Operation Protective Edge. 
The message at the site of Staff Sgt. Li Mat's ("Lilik") grave read: "Lilik was killed under the watch of Prime Minister Benjamin Netanyahu – Bibi – and Defense Minister Moshe Ya'alon – Bogi."
Due to a conflict between the family of the fallen soldier and government officials, there is no headstone on the grave, which is located in Israel's main official military ceremony - Mount Herzl in Jerusalem. 
The Defense Ministry confirmed Friday morning it had removed the plaque, with a spokesperson explaining it did so in response to requests from other bereaved families who said the inscription upset them.
Inscriptions on gravestones may not include "expressions that insult, among other things, the values of the State of Israel, the security of the country, the dignity and feelings of others and good taste, or expressions of a political nature," the ministry added. 
The family insists on including his brother's names on the headstone, but as this goes against regular protocal, the Defense Ministry has refused to fulfil this request. 
The family held a memorial service at Mount Herzl on Thursday to mark a year since Mat was killed at the age of 19 during Israel's bloody conflict with Gaza militant groups during which seventy-three people were killed on the Israeli side, including 67 soldiers. Some 2,251 Palestinians were killed, at least half of which estimated to be fighters of various terror groups.
Li's father, Motti, spoke against Ya'alon and Netanyahu at the service, saying they had marked the family as the enemy, according to Ynet.  
You need to be logged in in order to post comments. Sign up or log in
Despicable to remove something from the grave that helps them account for his death. It's the State, not the person then that matters in Israel. Shades of Russia?