Defense Min. slams attempt to block settler leader's appointment as ambassador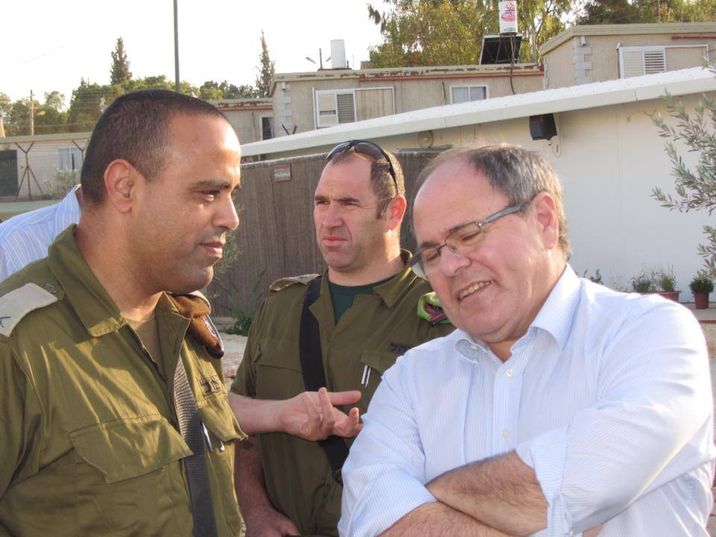 Dani Dayan with military officers in the West Bank
Facebook
Leftists pressure Brazilian government over appointment of Dani Dayan as Israel's ambassador to Brazil
Israel's Defense Minister Moshe Ya'alon has hit back former senior ambassadors and left-wing activists who asked the Brazilian government not to consent to the appointment of former Israeli settlement leader Dani Dayan as ambassador to Brazil.
"These are Israeli citizens who have lost all shame and who belong to the political fringes," Ya'alon wrote on Facebook. "It is because of such behavior that Israel is under attack in the world and subject to attempts to delegitimize it."
Ya'alon continued that Dayan is worthy of representing Israel abroad. "The attempt by forces from within to slander Israel in this way is embarrassing, dangerous and ugly," Ya'alon wrote. "Someone who has a political dispute with someone else ought to keep the argument about it at home, and not act in malicious ways that end up hurting Israel and its citizens first and foremost."
Controversial choice
Dayan served as chairman of the Yesha Council - the umbrella organization of Jewish settlement councils in the West Bank – from 2007 to 2013.
The group of activists, which includes three former Israeli ambassadors, met with Brazilian ambassadors to Israel and the Palestinian Authority, according to Israeli daily Haaretz.
The activists are part of the diplomatic committee of the Peace NGO Forum, an organization that coordinates activities between Israeli and Palestinian NGOs that support a two-state solution.
The activists said that agreeing to Dayan's appointment would help legitimize the settlement enterprise.
The three former Israeli top diplomats campaigning against Dayan's appointment are Alon Liel, former ambassador to South Africa, Eli Bar-Navi, former ambassador to France, and Ilan Baruch, also a former envoy to South Africa.
Liel is also a former Foreign Ministry director-general and was responsible for the Israeli Embassy in Turkey.
Brazilian President Dilma Rousseff has said that she opposes the appointment of Dayan, Israeli daily Ynet reported. It is rare for a head of state to voice their disapproval of the nominated individual, with diplomatic spats such as this usually taking place behind closed doors.
Brazil views Israeli settlements in the West Bank as illegal under international law.
If Netanyahu withdraws Dayan's nomination, it could be seen as a slap in the face to the settler movement. However, if Israel stands by the appointment, it could lead to a crisis in relations between the two countries. Ynet reports that Netanyahu's advisers hope that Rousseff can be persuaded to withdraw her objections.
Brazilian organizations and parliament members had sent a petition to Rousseff, asserting that Israel's selection of Dani Dayan as ambassador is a "violation of the international legitimacy and sovereignty of Brazil."
In the petition they condemned the appointment, describing it as a challenge to Brazilian sovereignty and the country's official diplomatic positions and as an "attack on Brazilian diplomacy."
Dayan is one of three recent controversial appointments made by Israeli Prime Minister Benjamin Netanyahu.
Likud hardliner Danny Danon was named as Israel's next ambassador to the United Nations, an appointment described by the opposition Zionist Union party as "another nail in the coffin that Bibi is putting in Israel's foreign relations."
Netanyahu has also made the controversial decision to appoint Fiamma Nirenstein, a former member of the Italian Parliament and journalist who immigrated to Israel, as the Israeli ambassador to Rome. Nirenstein's appointment led to concerns in the Italian Jewish community that this will bring accusations of dual loyalties.
You need to be logged in in order to post comments. Sign up or log in
September 21, 2015 5:36 PM
Ya'alon states ""It is because of such behavior that Israel is under attack in the world and subject to attempts to delegitimize it." Is Ya'alom deliberately foolish. The proposed ambassador is a illegal settler championing illegal settlements in occupied Palestinian territories. Given that this man has therefore flouted International humanitarian law AND led a movement encouraging others to do the same he is completely unfit to represent ANY country in International affairs. A foolish attempt by Netanyahu to legitimise Israel's illegal actions.