Palestinian woman shot by Israeli forces while trying to stab soldier in W. Bank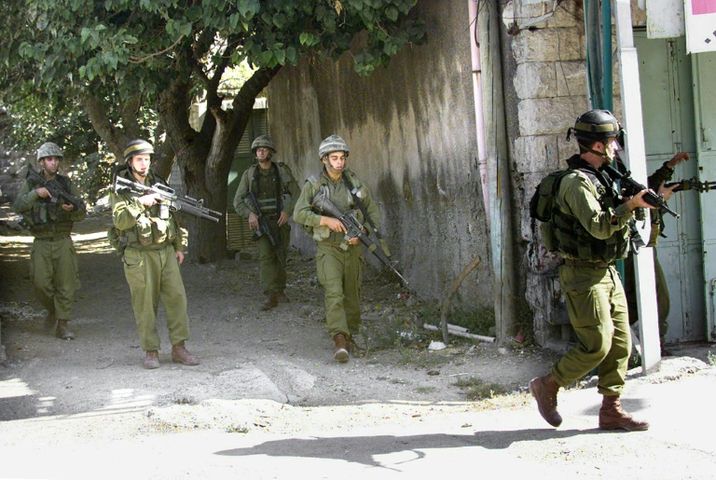 Des soldats de l'armée israélienne patrouillent à Hébron en Territoires palestiniens, en octobre 2003
Hossam Abu Allan (AFP/Archives)
West Bank and Gaza closed for Muslim, Jewish holidays; Abbas reportedly will not renounce Oslo Accords
A Palestinian woman is reported to be in critical condition after being shot by Israeli forces after she attempted to stab a soldier in the West Bank city of Hebron.
"An attack was thwarted when a Palestinian attempted to stab an (Israeli) soldier at a military position in Hebron," an army statement said.
"(Israeli) forces responded, fired towards the perpetrator and identified a hit."
A Palestinian man was killed late Monday near Hebron, apparently as the explosive he was trying to hurl at Israeli forces detonated prematurely in his hands, Palestinian and Israeli media outlets reported. 
The Jerusalem Post website quoted a Israeli military spokesperson as saying "Initial inquiries suggest the suspect attempted to hurl an IED at an army vehicle when it detonated."
The army spokeswoman said a patrol had been deployed to clear stones blocking a road outside Hebron.
"The soldiers heard an explosion and during a search of the sector they found the body of a Palestinian killed by the explosive device he intended to throw at one of our vehicles," she said.
Palestinian security officials however said he was shot dead by Israeli troops in the village of Dura near Hebron. They named him as Dia al-Talahmeh, 21.
Israeli media reported that the man was a member of Palestinian Islamic Jihad.
The incidents played out against a backdrop of tensions in Jerusalem and the West Bank ahead of the Yom Kippur and Eid al-Adha holidays
Israel said Monday thousands of police would be deployed in Jerusalem after three days of clashes rocked the city.
Police announced on Monday that a further 27 people had been arrested in Jerusalem overnight, bringing the week's total to 66. Most of those were detained in connection with the unrest in East Jerusalem, where last week masked Palestinian youths threw firebombs and rocks at Border Police, wounding three officers. Others were detained in connection with the unrest at Al-Aqsa which saw Israeli police clash with rioters.
Closures
The IDF announced on Monday that it will impose a closure on the West Bank and Gaza from Tuesday at noon until Wednesday, one minute before midnight.
The closure is an annual security precaution.
"The lifting of the closure will occur in two days... in accordance with a situation evaluation," the IDF added.
From Monday night, traffic will be restricted around the Old City and checkpoints will be set up.
The Al-Aqsa compound will be open to visits as usual on Wednesday, but only Muslims will be allowed access during the four-day Eid holiday, police said.
Israeli authorities said they would decide on Tuesday whether to impose age restrictions on Muslims entering the compound. They have previously prevented younger people from entering to reduce the risk of violence when tensions have run high.
Al-Aqsa, the third holiest site in Islam, is also venerated by Jews as the Temple Mount and is considered the most sacred in Judaism.
Muslims have been alarmed by an increase in visits by Jews to the site and fear rules governing the compound will be changed. Jews are allowed to visit but not to pray to avoid provoking tensions.
Yom Kippur begins on Tuesday night and lasts until Wednesday evening, with thousands of Jews expected to visit the Western Wall below the Al-Aqsa compound in Jerusalem's Old City.
The Muslim Eid al-Adha holiday begins on Wednesday evening and continues until Sunday.
Letter and meetings
Palestinian Authority President Mahmoud Abbas sent a message to Prime Minister Benjamin Netanyahu warning of the severe consequences of the ongoing diplomatic stagnation.
The message was sent via former cabinet minister Meir Sheetrit, whom Abbas invited to a secret meeting in Ramallah two weeks ago, according to Israeli daily Haaretz. He asked Sheetrit to pass on details regarding his upcoming speech at the United Nations
On Monday, Abbas met in Paris with four retired Israeli diplomats who served in the past as ambassadors to France: Daniel Shek, Nissim Zvili, Elie Barnavi and Yehuda Lancry.
Abbas also told the diplomats that he does not intend to announce the dissolution of the Palestinian Authority or the cancellation of the Oslo Accords at the UN.
Shek said the impression he got from Abbas' statements was that he hopes either Israel or the international community will give him some straw he can grasp to enable him to refrain from creating a serious crisis. "There's still time for things to change on the ground, and if they change, I have no problem changing the content and style of my speech, even at the last minute," Shek quoted him as saying.
Shek, who served as ambassador to France in 2006-2011, told Haaretz that the Israelis asked Abbas why he hasn't responded to Netanyahu's recent requests for a meeting and appeals for a renewal of negotiations.
Abbas said that he was willing to meet with Netanyahu, however was prevented from doing so by "a third party who isn't Israeli."
(Staff with AFP)
For more on this story, see: The cynical Palestinian use of the al-Aqsa plot
You need to be logged in in order to post comments. Sign up or log in
September 22, 2015 2:09 PM
Funny how i24news gives so much news space to this muslim terrorist story, one muslim blows himself up whilst trying to kill jews, another a woman is shot by IDF forces after stabbing a jew. NOT ONE WORD ABOUT THE ARAB MUSLIM YOUNG MAN BEATEN UP BY ABU MAZENS POLICE FOR PROTESTING SOMETHING..HE WAS UNARMED AND GOT BEATEN BY A POSSE OF ARAB MUSLIM POLICE WIELDING CLUBS AND BATONS. see the video on UNITED WITH ISRAEL. yes it was the 21st of September.