Israel condemns BBC headlines of stabbing attack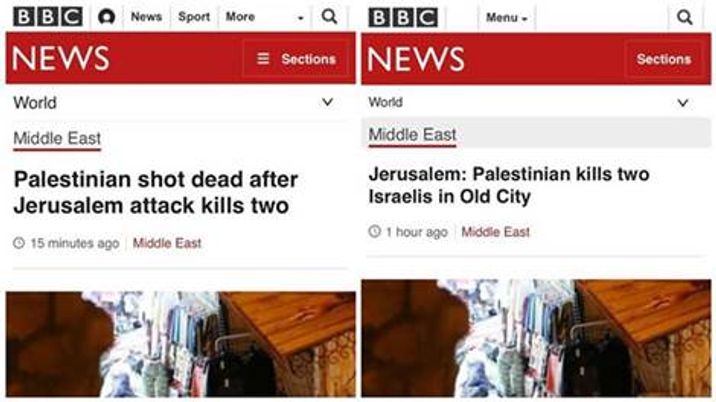 BBC
Capture d'écran
Al Jazeera English apologizes for poorly worded tweet regarding Jerusalem terror attack
The head of Israel's Government Press Office issued a stern warning to the BBC Saturday evening, following outrage over the station's online coverage of the deadly terrorist attack in Jerusalem last night in which two people were killed and three more, including a toddler, were injured. 
The attacker - a 19-year-old law student and Islamic Jihad member, stabbed to death 21-year-old Aharon Benita and critically wounded his wife. The couples 2-year-old son was also hurt in the attack.
An additional man, Nehemia Lavi, who rushed to the family's help, was also killed.
The attacker then grabbed Lavi's gun and opened fire on nearby police, who shot him to death.
The BBC however, ran its initial story regarding the attack with a headline which read "Palestinian shot dead after Jerusalem attack kills two."
Following outrage over the inaccurate depiction of events on social media, the channel later changed its headline to "Jerusalem: Palestinian kills two Israelis in Old City."
GPO head Nitzan Hen harshly criticized the BBC for its biased reporting Sunday.
"There is a limit to the lack of objectivity in press coverage, and this time we are talking about an outrageous title, which reminds one of the headline given by the CNN TV station after the slaughter at the synagogue in Har Nof, which introduced the attack as 'an attack on an Israeli mosque,'" said Hen Saturday night.
"While the BBC corrected its title later this evening, tomorrow I intend to reprimand the head of their office in Israel and to warn him directly that we do not intend to let this pass unchallenged," he added.
'Under the pressure of breaking news'
Al Jazeera English, meanwhile, said it regretted "the wording of a tweet posted regarding an attack in Jerusalem" after receiving a  wave of criticism from their audience.
"Palestinian shot dead after fatal stabbing in Jerusalem; 2 Israeli victims also killed," read the tweet posted on Saturday, which the news site said was "written under the pressure of breaking news."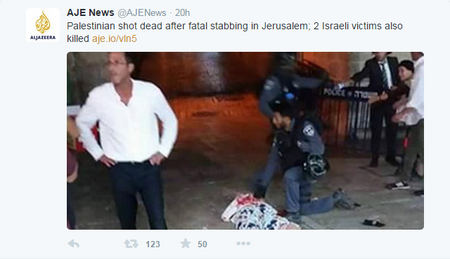 Israeli military spokesman Lt. Col. Peter Lerner also criticized the misguided tweet, writing on his own Twitter channel: "As I said yesterday AlJazeera outjazeerad itself. Now they apologize."
Al Jazeera noted that "many people in our audience pointed out" that the tweet diminished the killing of the two Israeli victims and "leaves out the context that the Palestinian man was the attacker."
The Qatar-based news agency said that its viewership's criticism was "valid," and later amended the story.
"Al Jazeera depends on accurate reporting and strives to promptly correct all errors of fact and misjudgements in tone," the statement noted, adding, "We are committed to accountability and transparency and are grateful for this feedback."
You need to be logged in in order to post comments. Sign up or log in
Throw their sorry a$$ from Israel and close their office. This will be a lesson for these anti Israel and biased news.
A rare mistake with an headline and the pro-Israel lobby who have tried for years to rubbish the world's no. 1 broadcaster sream and cry 'foul'. That it is so far is what is making the news. Eat your hearts out other pale comparison broadcasters. Anti-Israeli? Anyone who criticises this evil state receives such an excusing retort.
Number 1 by whose standard Michael Farmer? BBC is notorious for its pro-Palestinian reporting and headlines