Greece to defy EU directive on Israeli settlement product labeling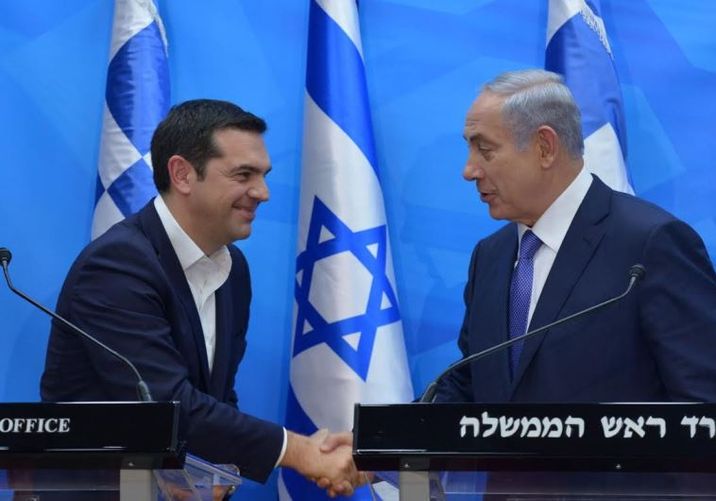 Prime Minister Benjamin Netanyahu (L) and Greek Prime Minister Alexis Tsipras, November 25, 2015
Kobi Gideon/ GPO
Greek PM Tzipras called Jerusalem Israel's 'historical capital' on two day visit to region
Just days after Greek Prime Minister Alexis Tsipras visited Israel, Greece decided that it will not label goods made in the West Bank, The Times of Israel reported on Monday.  
According to the report, Israeli Prime Minister Benjamin Netanyahu was informed of the decision by a letter from Greek foreign minister Nikos Kotzias.
Tzipras was elected prime minister in January 2015, and on his first visit to the region, Tzipras met with the Israeli leadership and praised the importance of the relations between Israel and Greece.
While in Jerusalem for a meeting with Israeli President Reuven Rivlin, Tsipras took an opportunity to sign the President's guestbook, writing, " With great honor to be in your historic capital and to meet your excellencies."
Because of the ongoing Israeli-Palestinian conflict and dispute over Jerusalem, many countries refuse to recognize Jerusalem as Israel's capital, much to Israel's displeasure.
A former Israeli diplomatic official said that Tzipras' reference to Jerusalem as Israel's capital was "unprecedented, especially for a European leader."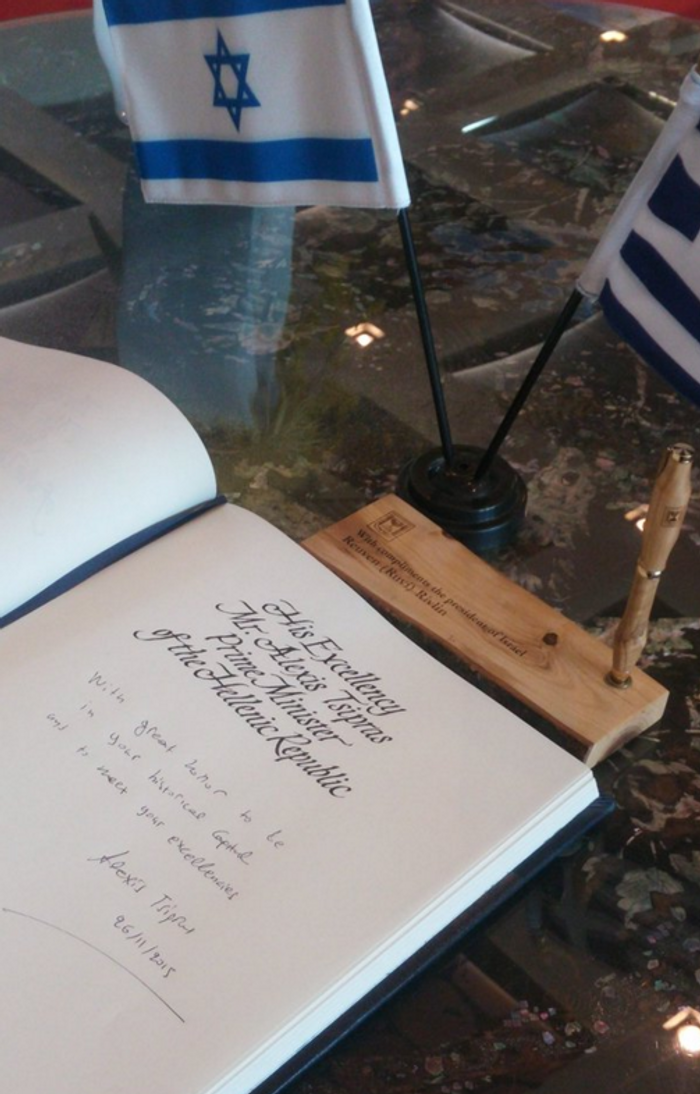 Hungary has also said it will defy the guidelines,  branding the decision "irrational."
Foreign Minister Péter Szijjártó, who also serves as his country's trade minister, said in early November that Hungary does "not support that decision. It is an inefficient instrument. It is irrational and does not contribute to a solution [to the Palestinian–Israeli conflict], but causes damage."
Israeli Prime Minister Benjamin Netanyahu last week instructed the Foreign Ministry to reassess the EU's involvement in the peace process with Palestinians.
According a statement released by the foreign ministry, Netanyahu "ordered suspension of diplomatic contacts with the institutions of the European Union and its representatives on this issue."  A number of scheduled EU meetings have also been suspended. 
Until the Foreign Ministry reaches an official decision on the matter, all diplomatic ties with EU institutions concerning the conflict will be suspended.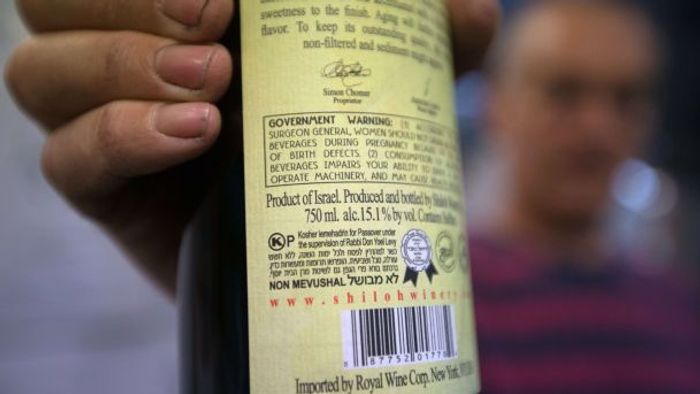 The European Commission announced at the beginning of November their approval of a new labeling policy for identifying so called 'settlement products' – referring to goods produced in disputed territories including the West Bank, East Jerusalem, and the Golan Heights.
The EU maintains the position that these areas do not fall within recognized borders of Israel. The commission therefore adopted a new legal policy for the labeling of products originating from these areas to inform consumers that they were produced in settlements (which the bloc considers illegal) and not in Israel.
The settlements, deemed illegal under international law, are one of the main stumbling block to peace efforts, as those in the West Bank and east Jerusalem are built on land Palestinians see as part of a future state.
The EU has insisted it was only clarifying existing rules on the place of origin for goods that will go on sale in the 28-nation bloc, adding that it had nothing to do with a boycott, which it says it does not support.
Read more: 
In unprecedented move Greek PM calls Jerusalem Israel's 'historical capital'