Ukrainian president meets Netanyahu during first official visit to Israel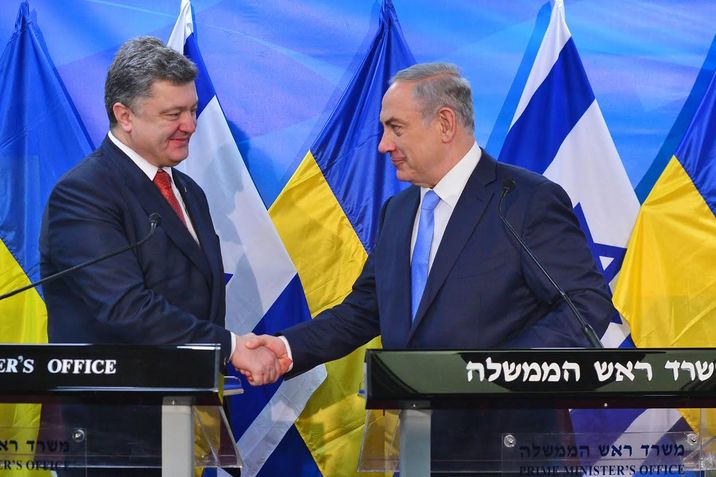 Prime Minister Benjamin Netanyahu greets Ukrainian President Petro Poroshenko.
Kobi Gidon/GPO
Poroshenko says Ukraine and Israel share similar struggles
Israeli Prime Minister Benjamin Netanyahu met with Ukrainian President Petro Poroshenko Tuesday as part of a two day visit to Israel by the Ukrainian leader.
At the beginning of the meeting, the two countries signed several bilateral agreements including cooperation in science and technology. The two leaders discussed widening cooperation in the fields of agriculture, free trade, health and mental health.
"The history of the Jewish people and the Ukrainian people have been intertwined for over a thousand years," Netanyahu said. "This is a history of huge benefits and tremendous tragedy."
On Tuesday morning Poroshenko met with Israeli President Reuven Rivlin in Jerusalem.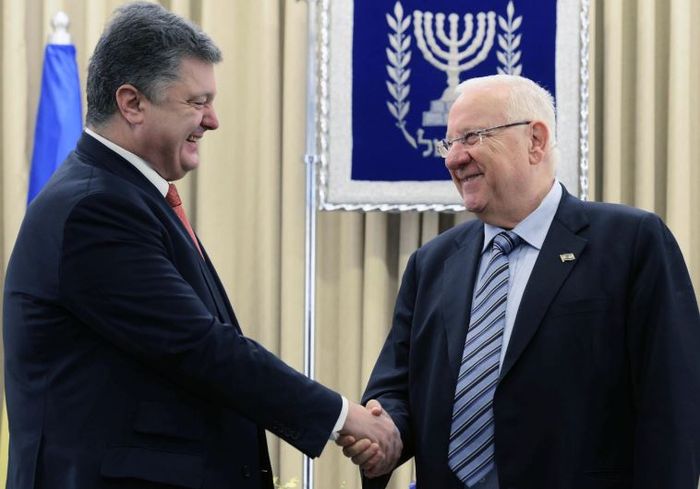 During his two day visit, Poroshenko will address the Israeli parliament, as well as visiting the Yad Vashem Holocaust Museum and meeting with Theophilos III, patriarch of the Church of Jerusalem.
While this is Poroshkenko's first official visit to Israel as president, he did visit the country secretly last year before he was elected, meeting with Israeli leaders. During that visit he urged Israel to declare support for Ukraine in the bloody conflict with Russia, however Jerusalem has remained tight-lipped on the topic, and this visit sets a tricky path that might anger or at least aggravate Moscow.
In the past two years since Ukraine's revolution and the conflict with Russia, Israel has attempted to maintain neutrality on the issue, resisting US pressure to take a stand against Russia's invasion of Crimea, fearing it could cause damage to relations with Moscow.
In the wake of the Russian military presence in Syria, that position is enhanced even more with Jerusalem and Moscow having established a deconfliction mechanism. But Russia's presence in the region and influence on Iran is a key factor in defining Israeli moves, and Jerusalem prefers not to confront Moscow over an issue that does not directly concern it.
A senior Israeli official told i24news that "Jerusalem will be very cautious not to find itself in the crossfire between Russia and Ukraine during this visit. From our point of view, this is a procedural visit. We have had 25 years of good diplomatic and economic bilateral relations with Kiev, and we would like to keep ourselves out of the Russian story."
The official predicted that Poroshenko will be reluctant to bring up the issue as well, as "Ukraine does not want to embarrass us."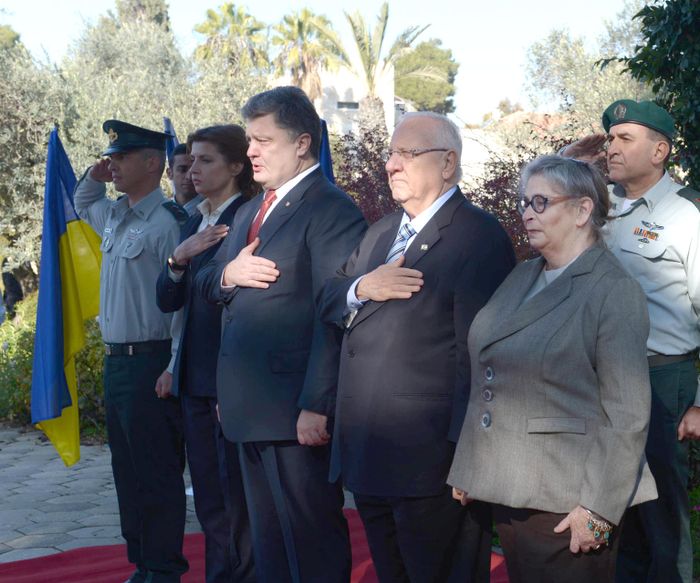 In the official ceremony opening the visit, Poroshenko said that he came as president of a country which is "struggling every day for independence, sovereignty and territorial integrity," stressing the similarities between Israel and Ukraine.
"The two countries have been built up against the reality of the turbulent region, and both are under constant terrorist attacks. These days we deal with these challenges in Ukraine and you have been dealing with them for several years."
Rivlin praised the "excellent cooperation" between the two countries, in education, medicine, culture, trade and economy, and expressed hope that the relationship "will continue and be strengthened in the future."
Rivlin emphasized the long Jewish history in Ukraine which was "wiped out by the Nazis who did all they could to destroy Jewish life and the Jewish people," but praised the Ukrainian government for the recent return of Jewish Torah scrolls to Kiev synagogues.
"This is a sign of our good relations and should be just one step in the strengthening of those ties. Our future depends on us learning the lessons of the past, and we must together condemn hatred and racism in any form."
Poroshenko invited Rivlin to visit Ukraine next year, saying that he would be delighted to welcome him to his hometown of Odessa, concluding his remarks by stating that "Ukraine stands with Israel."
Tal Shalev is the diplomatic correspondent at i24news